Major Cedric Charles Dickens
File reference: CWGC/8/1/4/1/4/31-1 and CWGC/8/1/4/1/4/31-2
Casualty Name(s): Major Cedric Charles Dickens
Nationality: United Kingdom
Where buried: Thiepval Memorial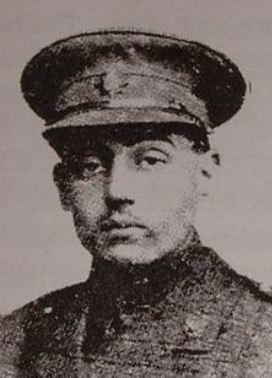 Major Cedric Charles Dickens, 13th London Regiment (Kensington Battalion) was the grandson of the famous Victorian author Charles Dickens, but his newly released CWGC archive files really focuses on another individual - Lady Marie Dickens – Cedric's mother and Charles's daughter-in-law – and her determination to ensure her son's grave was looked after.
Cedric was born on 8 March 1889, and educated at Eton and Trinity Hall, Cambridge. In 1913 he qualified as a solicitor, but, having joined a territorial battalion in 1909, he was quickly mobilised when war broke out in August 1914. Initially serving as a captain, he was promoted to Major in December 1915, a rank he held until his death on 9th September 1916, felled by machine gun fire from a German strongpoint at Bouleaux Wood. He was buried where he died by his men, who later returned to the spot to erect a wooden memorial for their officer.
Cedric's grave was to be the focal point of a correspondence between Lady Marie Dickens and the IWGC which was to last 20 years, and which would then be carried on with other family members following Lady Dickens death in 1940.
Marie Dickens was determined that her son's body should not be moved, and in February 1919 made a personal visit to the War Office to inform them that she would make arrangements to purchase the site of his grave. She then made several visits to the IWGC to ensure her wishes were understood, meeting Fabian Ware on a number of occasions.
In one letter written to Ware by Lady Dickens in July 1919, seemingly after meeting while travelling on the same ship, she wrote:
"I enjoyed our long talk on board, & although we don't agree on certain points, I felt you were ready to do all you could to help me…..Don't be afraid, because you have been good enough to let me buy the grave, that in a few years it will be unvisited & uncared for. I am proud to think my influence will have taught my children & grand children to love that spot, & that for many many years to come that grave will be cared for & tended by loving hands"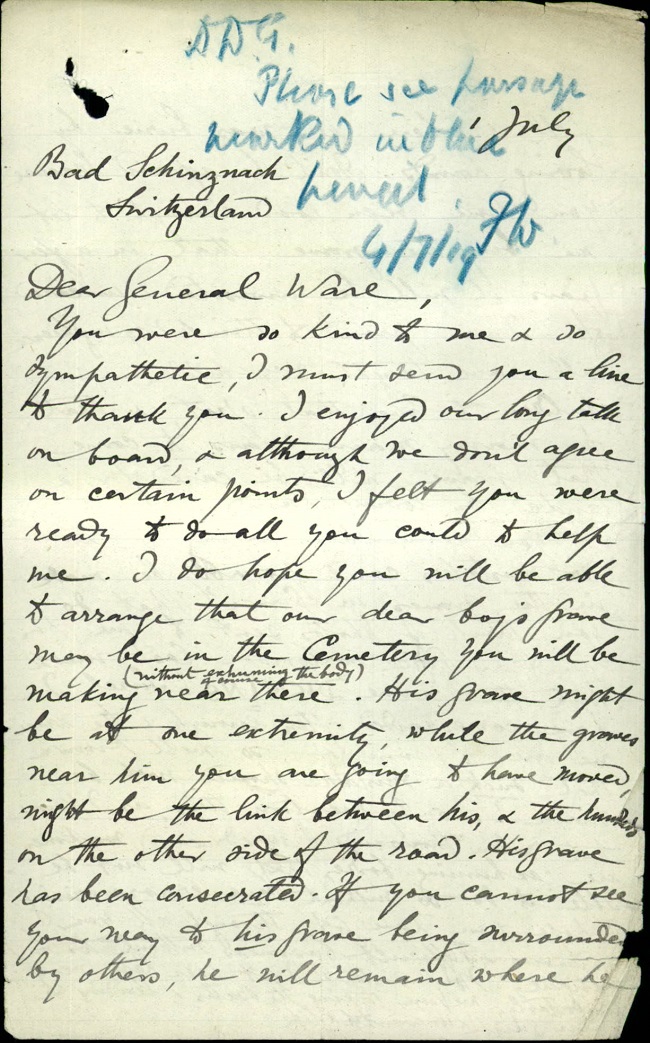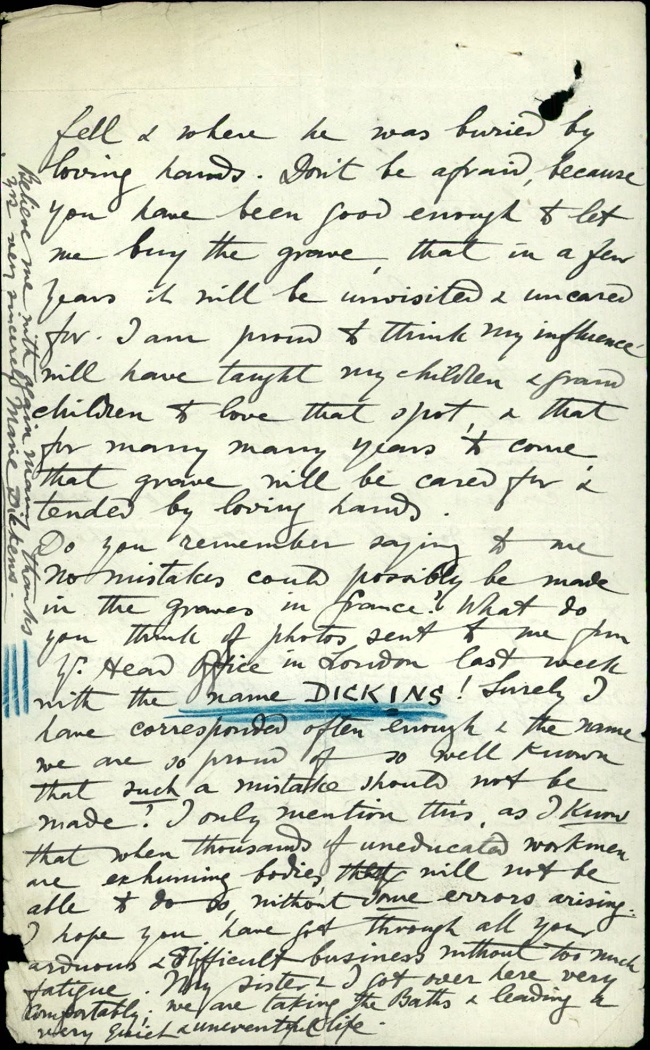 How right Lady Dickens would prove to be. Once she had purchased the land, and paid for a private memorial to be erected, she made annual visits to the grave, and also arranged for the IWGC to carry out regular maintenance on her behalf.
Ginchy, the small village near her son's memorial, also held a special place in her heart, and she donated £150 to the village for the construction of a water mill to help the inhabitants.
Lady Dickens's visits, and the annual maintenance of the memorial by IWGC gardeners continued uninterrupted until 1940, when first Lady Dickens died, and then the impact of the Second World War prevented any further activities.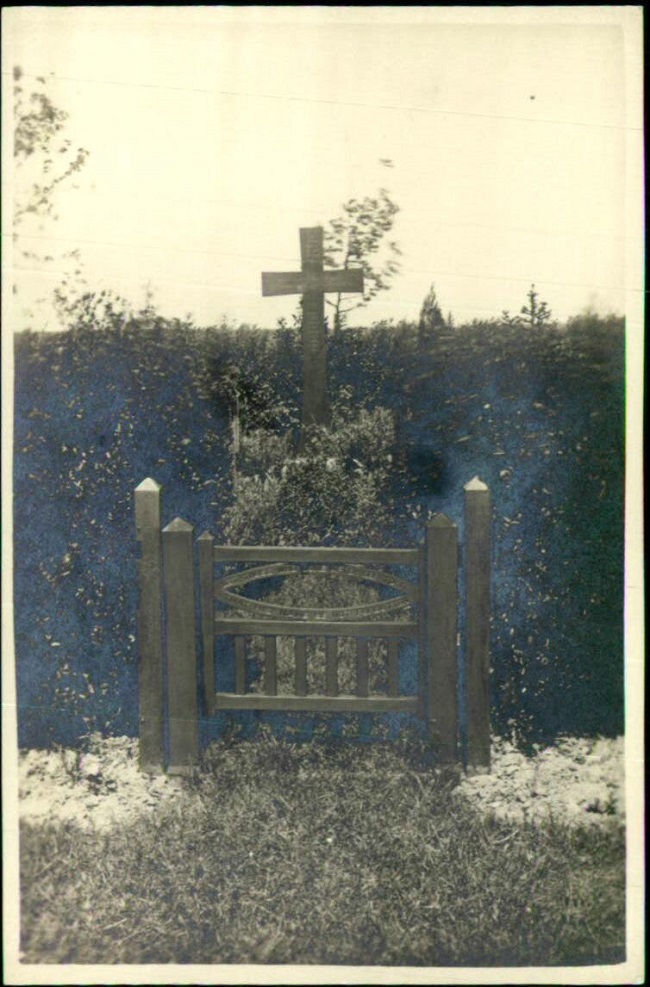 Following the end of the Second World War, the Dickens family were contacted to see what their wishes were with regard the future maintenance of Cedric's grave, and his siblings unanimously agreed that his body should now be exhumed and transferred to a 'recognised war cemetery'.
The exhumation was approved and work commenced on the 16th September 1947 – but despite searching the entire area enclosed by the fence surrounding the memorial, and further investigations in the adjoining fields, no trace of Cedric's remains could be found. The Dickens family were informed of this surprising development and took the news well, even going so far as to apologise to the Commission for making them carry out the work….
"I feel how sincerely I should apologize to the Commission and its staff for....unwittingly subjecting it to such useless work and trouble"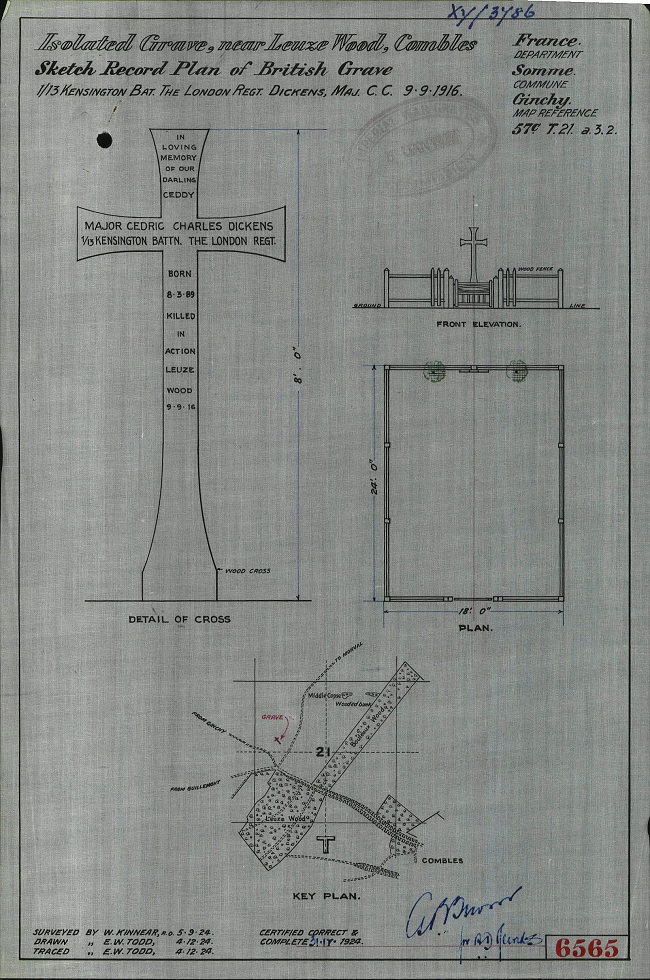 This then led to the question as to what to do with the original oak memorial cross and the adjoining land, which the family wished to be preserved. With echoes of the gift Lady Dickens once made to Ginchy, Cedric's brothers and sisters offered the memorial and plot as a gift to the Commune, who gratefully accepted and turned the whole site into a memorial garden.
It therefore only remained to provide a final place of commemoration for Cedric, and in June 1950 his name was added onto an addenda panel at Thiepval Memorial, joining the other 72,000 missing of the Somme.
View record one in our archive