Find war dead with our War Graves search tool
Find war dead records of the 1.7 million Commonwealth men and women that we commemorate
Need help getting started? Explore our bitesize guides, designed to help you research an individual who died in the First World War. 
PLEASE NOTE - HEADSTONE PHOTOGRAPHS
We are in the process of collecting images for our casualties' headstones but are not able to accept images from the public at this time. Thank you for your understanding.
How to use our war DEAD search tool
Our search tool will allow you to interrogate our database to find the various war casualty records we maintain. There are a range of different fields that will allow you to create the right search terms for you. For a more detailed search, you can add further fields by using the Additional Fields. You do not have to use every field in our search tool.
All of our results are sorted by Relevance. This means that we will attempt to give you the most relevant casualty at the top of the list, with further results listed down the page. The fields that allow you to enter text manually have an option called 'Match this search term exactly'.
This allows you a level of flexibility in the search terms. For example, if you searched for First name: Clive, Last name: Smith, you'd get Clive Smith at the top of the list, with other Clives and Smiths in order of relevance down the list.
If you use Match Term Exactly on the same search, you would only get the result for Clive Smith.
You do not have to search purely by name, you could, for example, run a search for all casualties listed in a particular cemetery or war memorial, or all that served for a particular regiment.
FIND WAR GRAVES IN ENGLAND
Use the Served With (Country) drop-down menu to search for war dead by the country they served in.
FIND WAR DEAD IN EUROPE
You can also search by Country Commemorated In to find records that relate to a particular county.
FIND WAR DEAD RECORDS WORLDWIDE
The Commonwealth War Graves Commission records cover countries across the globe. 
FIND A GRAVE WW1
If you are looking for records of war dead from the Great War, select First World War at the bottom of the search box.
FIND A GRAVE WW2
For Second World War Dead records, tick the Second World War box.
You can search by name, Service Number, which regiment of the armed forces they served in and by country.
CIVILIAN WAR DEAD REGISTER
You can also search for records including Civilian War Dead 1939-1945 under the Served In drop-down menu.
TELLING THE STORIES OF THE WAR DEAD
Our work aims to commemorate the men and women of the Commonwealth who lost their lives during the World Wars. 
Part of this is telling their stories to ensure they are not forgotten. We do this through the CWGC Archive, our projects, our latest news and search tools. 
Advances in digital technology offer new ways to connect the next generation with the work of the CWGC and the individuals we commemorate. Find out how we use tech to tell the stories of the war dead.
If you have questions or feedback, our Enquiries Team can handle them. Their blog on listening to the stories of the war dead features moving tales behind some of our records.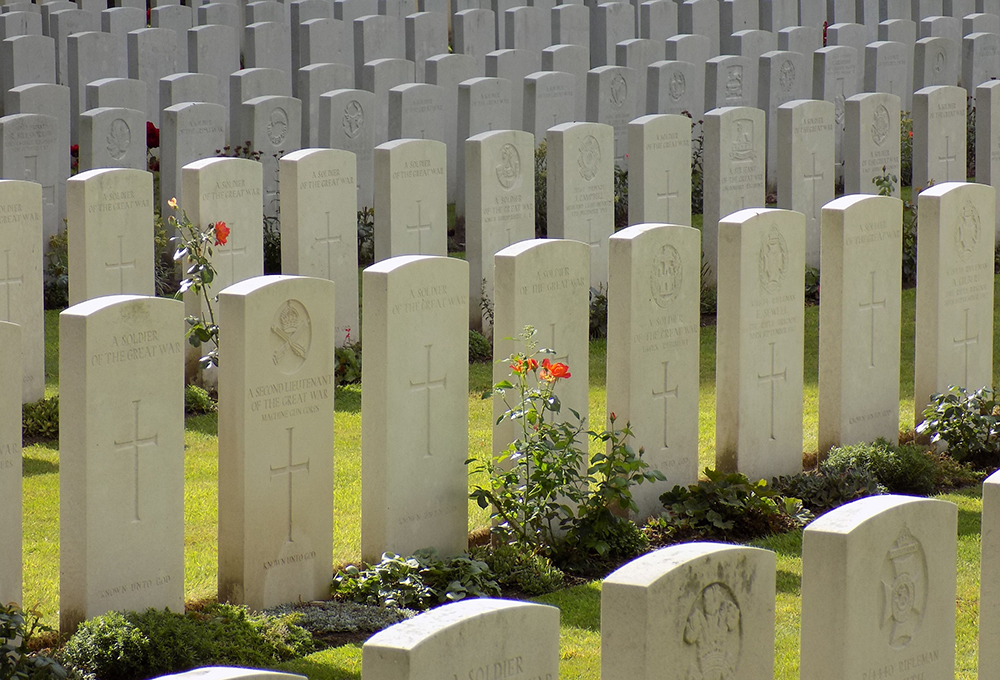 Want to visit one of our sites? Find cemeteries and memorials
Find your nearest CWGC site or plan a visit to one of our emotive cemeteries or iconic memorials.
Find War Cemeteries & Memorials