Seaford Cemetery
This seaside town has a surprisingly large number of war graves in its cemetery: the CWGC commemorates close to 280 servicemen here, most gathered together in plots and marked by the familiar CWGC headstone. Approach closer and see maple leaf upon maple leaf carved into the Portland stone.
Seaford's position on the Channel coast and proximity to the port of Newhaven has brought military personnel here for hundreds of years, whether to defend potential landing beaches or to train for offensive operations across the Channel. Close to 280 servicemen of the two World Wars are buried in this war cemetery. Only a few of them came from Seaford – most were from other parts of the UK and the British Empire – and their presence reminds us that there were once large army camps and training grounds here, with hospital provision attached. Three-quarters of those we commemorate in Seaford are far from their homes indeed, having come to serve in the First World War from the other side of the Atlantic: Canada or the Caribbean.
Find out more about the history of this cemetery
Given its vulnerable coastline and its proximity to the continent, Seaford has had a long association with the military stretching back to Napoleonic times and culminating in the Second World War. In 1914 the area was transformed when a huge army camp was constructed to be used as accommodation and a training base for tens of thousands of volunteers, the first group of whom formed the 22nd Division here in September 1914.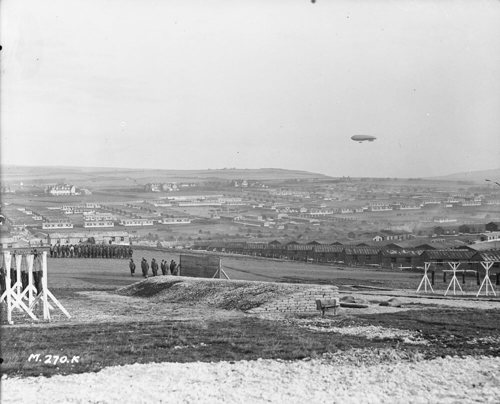 South Camp, Seaford, 1917. LAC PA004857
At first, tented accommodation was provided on the open fields between Seaford and the Downs, but the land was sodden and conditions through the autumn led to complaints. The camp was improved with wooden huts and better roads and subdivided into two areas known as South or Chyngton Camp and North Camp. The eastern boundary of North Camp reached the side of Seaford Cemetery. In the early war, the camp could house some 18,000 men at any one time. The first serviceman of the war to be buried here was from Birmingham, a member of 22nd Division, Serjeant Daniel Feasey of the Royal Welsh Fusiliers. He was 43 and left a wife and three children.
The 22nd Division was joined by the 36th 'Ulster' Division in July 1915. When these two divisions left Seaford for the continent, sailing from Newhaven to Dieppe, they were replaced by the 1st Battalion the British West Indies Regiment (BWIR), arriving from the Caribbean for training.
A group of BWIR soldiers, Seaford Camp.
Over 16,000 men from the West Indies served in the First World War. Despite some initial reluctance on the part of the British Army to recruit them, the BWIR was created in 1915 and served for the rest of the war. Most of their fighting was done in Palestine and Jordan against Ottoman Forces, but others served on the continent, though as labour battalions rather than in combat roles. Nineteen men of the BWIR were buried here from October 1915 to January 1916, the largest group of BWIR graves in a single site in Britain. The first was Private Thomas David Primo, a chemist and pharmacist from British Guiana, who would be joined by men from Saint Vincent, Jamaica, St. Andrew, St. Lucia and Belize. Over 1,400 men of this regiment are commemorated by the CWGC in cemeteries or on memorials in over twenty countries.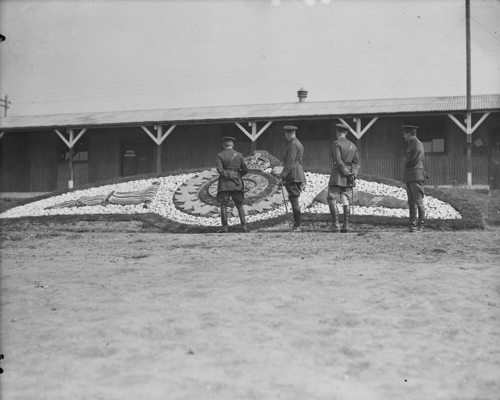 A Canadian Corps badge, Seaford. LAC PA005218
Physical training instructors, Seaford, Oct LAC PA004861
In 1916, Seaford became one of the main Canadian army training centres in Britain. In January 1916, the Canadian 10th Stationary Hospital arrived. Infantrymen training for the Western Front used practice trenches on the downs and in Cuckmere Valley, ranges for weapons training, and a gas hut to prepare them to face chemical warfare. Engineers trained in bridging, with a variety of usefully tricky terrain on hand in the area. Some men would die of sickness or in accidents during training, others of wounds, evacuated from the fighting front to hospital here. But most of the Canadian servicemen buried here died of influenza in the global pandemic of 1918-1920.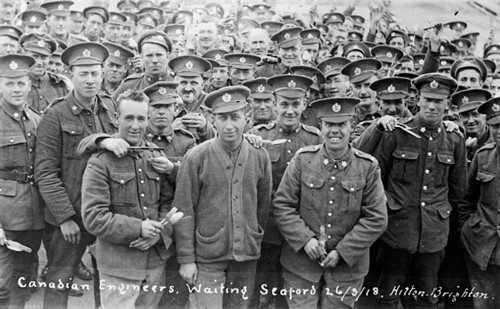 Canadian Engineers, Seaford, 1918. LAC PA008199
This cemetery, which had very slowly accrued 125 service burials over four years of war, would receive 75 servicemen in just two months: October and November of 1918, the first wave of the pandemic. The Canadians were still here, awaiting ships home and demobilisation, when the second wave struck, leaving a further 31 men behind in February-March 1919.
Service graves in Seaford Cemetery, First World War. LAC PA008043
Twenty years later, war came to Sussex again. Expecting a seaborne invasion, men of the Royal Sussex Regiment and Royal Engineers were posted to the area to build and man coastal defences. On 22 September 1940, four were killed when a mine they were laying as part of beach defences at Cuckmere Haven exploded. Captain Pickard-Cambridge and Serjeant Lewis were laid to rest near each other in this cemetery.
Ten members of the Merchant Navy would join them, six whose names remain unknown, recovered from beaches nearby in July and September 1944. The four named merchant seamen all came from a single vessel, SS Stanwold, a steamship carrying coal from the Tyne to Cowes on the Isle of White in February 1941 when she disappeared. Bodies washed ashore some days later and four of them were buried near each other here, but far from their families in Sunderland, Gateshead and South Shields.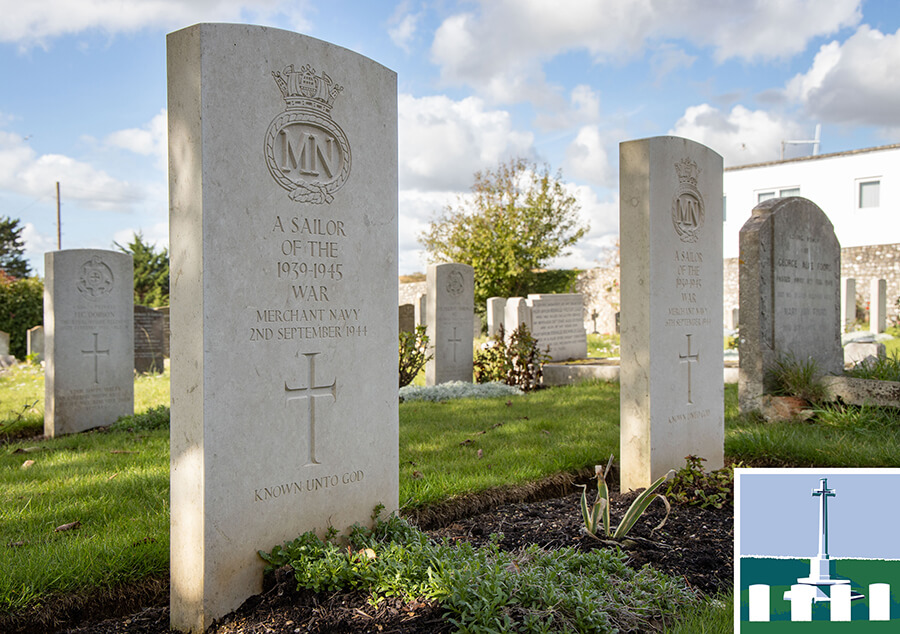 Visit Seaford Cemetery
This cemetery managed by Seaford Town Council and before visiting we recommend you consult their website for up to date information.