Falmouth Cemetery
Located on the southwestern tip of England, during both World Wars Falmouth became an important Naval base, and during the Second World War, a Royal Naval Air Service station. Today, Falmouth Cemetery is the final resting place of almost 180 service personnel who died during the World Wars.
Situated in the seaport of Falmouth, on Cornwall's south coast, Falmouth Cemetery contains 87 burials from the First World War. There is a war graves plot containing 74 of the 111 Second World War burials here, whilst the rest are scattered throughout the war cemetery. Lying apart at the southernmost tip of the plot are five graves containing the remains of 27 unidentified sailors who died in the bombing of HMS Registan on 27 May 1941. A further 4 are the graves of unidentified seamen of the Merchant Navy. There are also 13 war graves of other nationalities here, including American, Belgian, Dutch, French, Indian, Norwegian and even a Greek donkeyman who served on a British Merchant Navy vessel.
Find out more about this cemetery
Expanded in the late 19th century and again in the early 20th century, today this cemetery comprises 4.5 hectares. The cemetery is enclosed within stone walls and traditional Cornish hedges and is situated on sloping ground, with views west towards the Swan Pool, and east across Falmouth Bay towards Pendennis Castle.   
Prior to the outbreak of the First World War, in August 1914, preparations were made to establish auxiliary hospitals around Britain in anticipation of potential casualties. The auxiliary hospitals were run by the British Red Cross and staffed by qualified nurses supported by members of the Voluntary Aid Detachment. These hospitals occupied a range of different premises from town halls and schools to private homes. An auxiliary hospital operated near Falmouth at Trefusis House, Flushing, during the war.  
Following the outbreak of the First World War, Falmouth was designated as a Defended Port, with Pendennis Castle becoming its military headquarters. Several strongpoints, fortifications and trenches were placed around the approaches to the town, and Falmouth became a destination for thousands of troops for training before going off to war.  
In January 1915, Falmouth became a drifter base and in 1918, a centre for repairing damaged ships. There are two unidentified firemen from the S.S. "Clan Cumming" buried in Falmouth Cemetery, who were killed in a U-boat attack on 5 November 1917, which led to the loss of the lives of 13 of her crew. 
Many of the First World War graves here are of Royal Navy and Merchant Navy seamen as well as the Duke of Cornwall's Light Infantry (DCLI) regiment, including Private James Henry Staunton, a retired Naval Pensioner who re-enlisted in 1914 and died on 19 May 1915, aged 56.  
A particularly interesting First World War casualty buried here is Chaplain 2nd Class the Rev. Benjamin Garniss O'Rourke. Born in Nottingham in 1875, Benjamin was the son of hotelkeeper. Educated at Nottingham High School and Exeter College, Oxford, he took Holy Orders after completing his education at Oxford University.  
Benjamin enlisted as a Chaplain during the Boer War. During the First World War, he served as a Chaplain with the Army Chaplain's Department but was captured during the retreat from Mons on 25 August 1914, at Landrecies, France. Benjamin was a prisoner of war in Germany for 10 months and wrote an account of his capture and imprisonment in Germany, with illustrations, entitled "In the Hands of the Enemy". After his return to the United Kingdom following a prisoner exchange, Benjamin returned to France as senior chaplain with the 33rd Division. Benjamin was Mentioned in Dispatches and awarded the Distinguished Service Order (DSO) for his military service. He was later admitted to Falmouth Military Hospital where he died on Christmas Day 1918 from pneumonia, aged 43. Benjamin was buried in Falmouth Cemetery where his grave is marked with a Celtic cross private memorial. 
During the Second World War, Falmouth was a significant naval base and Royal Navy Air Station. There was also a military hospital in the town. To prevent enemy U-boats from entering the harbour, an anti-submarine net was laid from Pendennis to St Mawes.  
In June 1940, Falmouth became a destination for more than 6,000 Allied troops, civilians and evacuees from France during Operation Aerial which took place two weeks after the Dunkirk evacuation. In 1943 and 1944, Falmouth was also a staging point for American troops embarking for the D-Day landings during the invasion of Normandy.  
Troops on the quayside at Falmouth after being evacuated from France, June 1940. © IWM F 4830  
On 28 March 1942, Falmouth was the launching point for Operation Chariot, famously remembered as "The Greatest Raid Of All". At 1400 hours, the destroyer HMS Campbelltown departed Falmouth for the port of St. Nazaire, France. The Campbelltown was full of explosives, and the plan was to ram the gates of the dry dock at St. Nazaire and destroy only facilities able to accommodate the powerful German battleship Tirpitz, which was a significant threat to Allied shipping in the Atlantic at the time.  
As a result of the raid, the dock gates were destroyed and were not repaired until after the war. Of the 241 Commandos who participated, 59 were reported killed or missing and 109 captured. There were also 85 Royal Navy personnel killed or missing and a further 20 were captured.  Five servicemen were awarded the Victoria Cross for their actions during the St. Nazaire Raid, including Able Seaman William Alfred "Bill" Savage who is buried in Sec. K. Row C. Grave 15 in Falmouth Cemetery.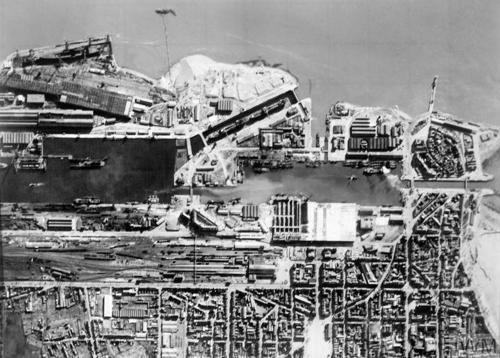 Aerial reconnaissance photograph of the docks at St Nazaire taken before the operation. © IWM C 2351  
William was born on 30 October 1912 in Smethwick, Staffordshire. He enlisted in the Royal Navy on 18 December 1939 and was posted to Chatham where he trained as a Gunner and participated in several missions aboard small motorboats to transport Allied agents to France and Norway.  
William was then selected for Operation Chariot and operated a pom-pom gun during the raid, laying down cover for the Commandos and engaging enemy positions whilst under heavy fire.  Sadly, he was killed in action, in the midst of carrying out his duty with great devotion and courage.  William was posthumously awarded the Victoria Cross for his actions in the raid. The citation that appeared in the London Gazette on 19 May 1942 records the following:  
'For great gallantry, skill and devotion to duty as gun layer of the pom-pom in a motor gun boat in the St. Nazaire raid. Completely exposed, and under heavy fire, Able Seaman Savage engaged positions ashore with cool and steady accuracy. On the way out of the harbour he kept up the same vigorous and accurate fire against the attacking ships until he was killed at his gun' 
William was laid to rest in Falmouth Cemetery. His grave is marked with a Commission headstone inscribed with the Victoria Cross emblem and the personal inscription on the headstone, as chosen by his next of kin, immortalises the character of William by those who knew him best: 
A BEAUTIFUL LIFE COME TO A SUDDEN END, HE DIED AS HE LIVED, EVERYONE'S FRIEND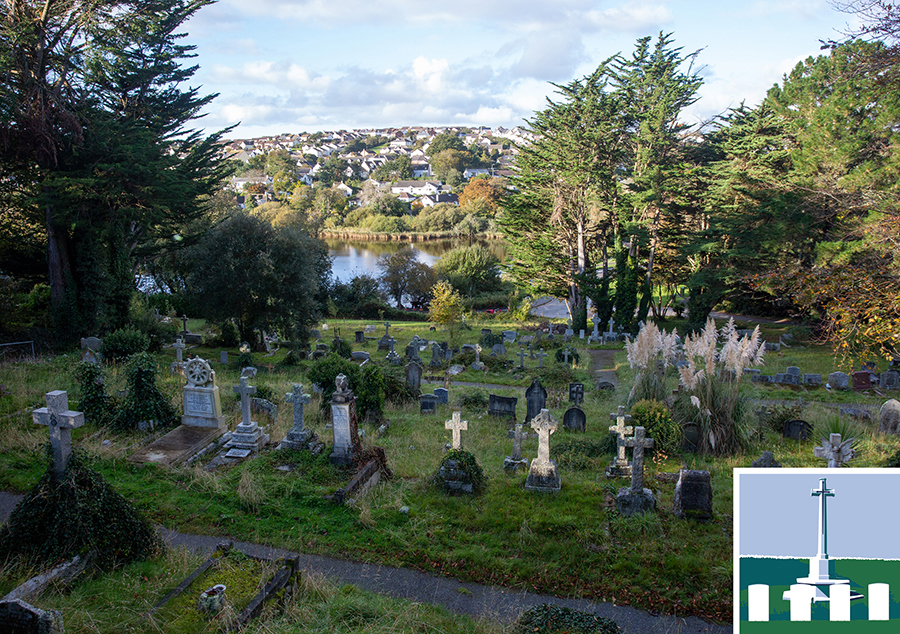 Visit Falmouth Cemetery
This cemetery managed by Falmouth Town Council and before visiting we recommend you consult their website for up to date information.