Your guide to our work
When people think of war graves they usually think of the row upon row of headstones in cemeteries across the former battlefields of France and Flanders. But there are in fact a great number of war graves in Great Britain. Over 300,000 servicemen and women are buried or commemorated on a memorial here, more than in any other country except France.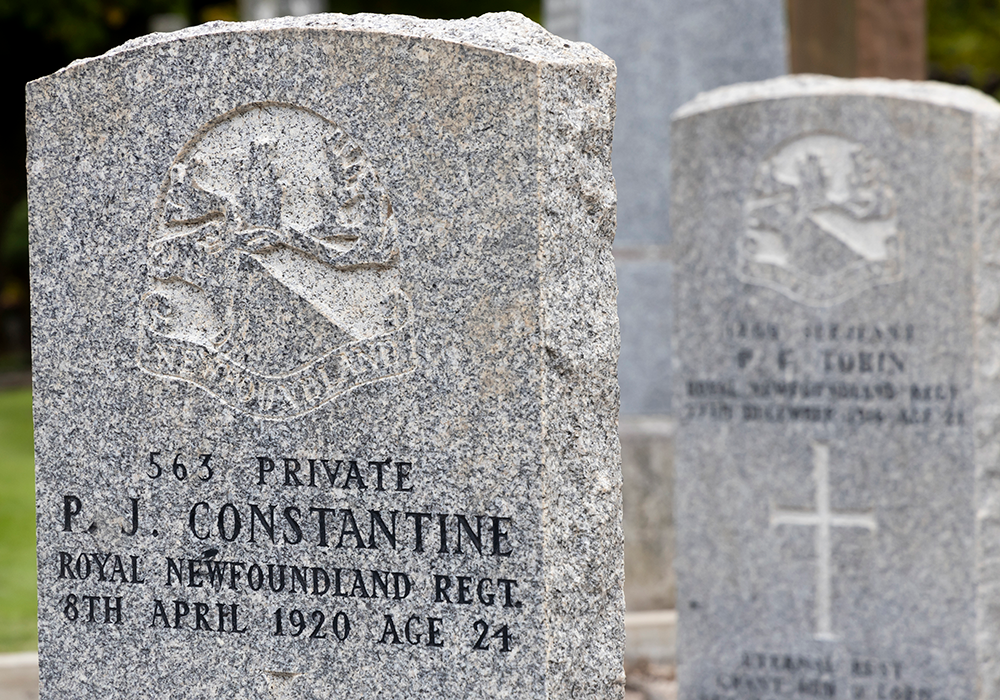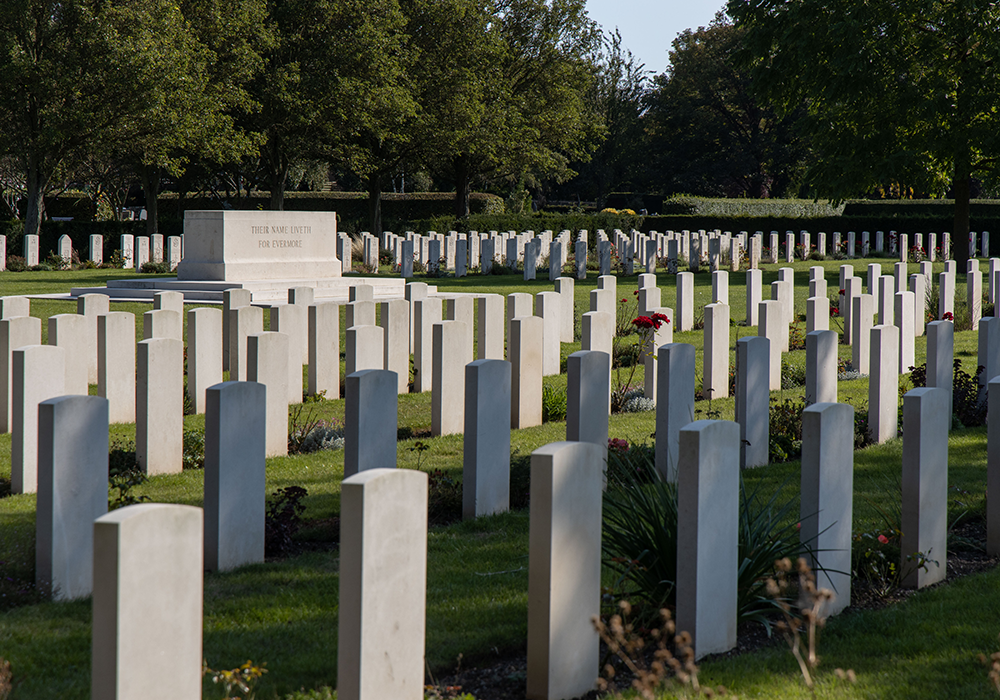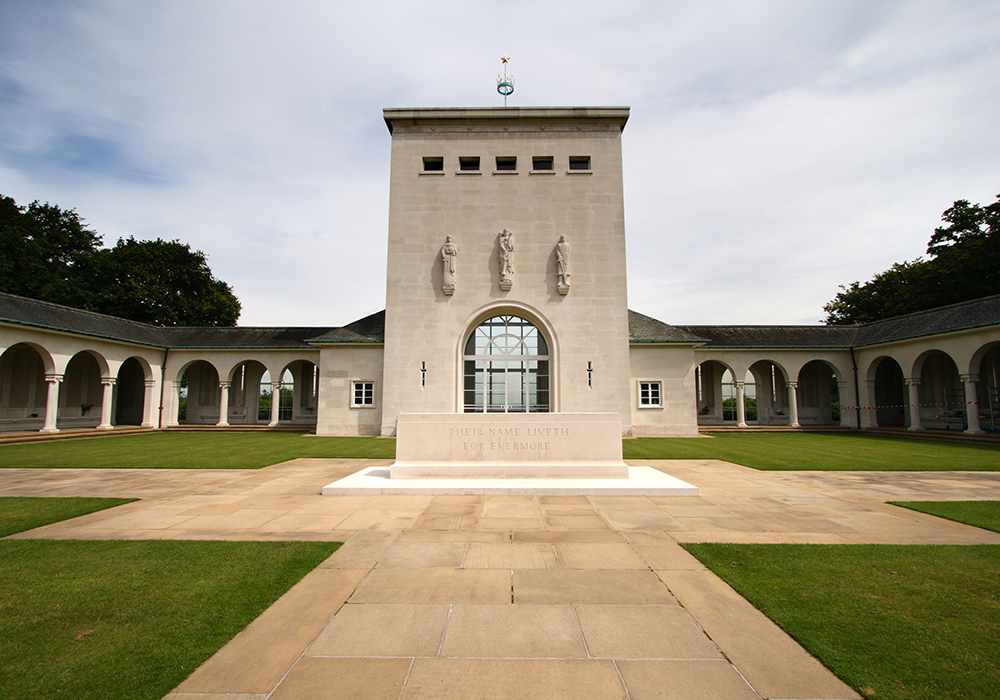 Discover more about our work across Great Britain
During the two world wars Britain became an island fortress and a base for equipping and training troops and launching land, sea and air operations. In both conflicts, the skies above and the surrounding seas became the scene of fierce fighting involving aircraft, submarines and warships.
Royal Navy recruits, Portsmouth during the First World War © IWM Q 22649
Britain was also the main centre for the medical care of men and women serving in the armed forces. Thousands of hospitals located across the country were used to treat service personnel who were wounded, fell victim to disease, or were injured in accidents at home or overseas.
Many of the servicemen buried in Great Britain were killed in action in the air while defending the home front. Others drowned in British coastal waters. However, the majority were wounded or contracted disease on active service, were transported back to Britain, and subsequently died while undergoing hospital treatment or recovering in private homes.
The GB-based families of those who died in Britain were able to lay their relative to rest where they wished, unlike men and women who died overseas.
Burial service, Brookwood Military Cemetery
Who is commemorated in Great Britain?
All manner of servicemen and women from the three branches of service - land, sea and air - as well as ancillary units and organisations which supported the war effort, such as the British Red Cross Society. They came from across the Britain and Ireland, the British Empire/Commonwealth and beyond.
Member Government commemorations in Great Britain
Australia over 7,100
Canada over 12,500
India over 400
New Zealand over 2,000
South Africa nearly 1,400
United Kingdom* over 281,000
Total over 304,700
*Includes units recruited from Burma, the Caribbean, China, Cyprus, East & West Africa, Fiji, Hong Kong and Malaya.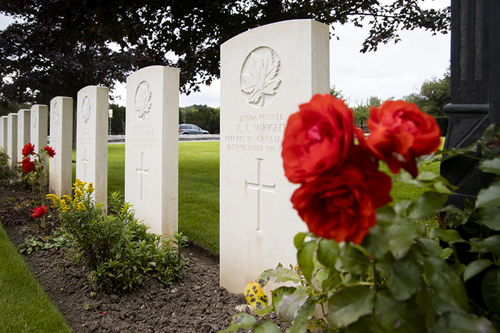 Bodelwyddan Churchyard, Wales
Our work in Great Britain
The CWGC commemorates over 304,000 men and women of Commonwealth forces in Great Britain, at over 12,000 locations
Around 170,000 of these are burials, with the remainder being honoured on memorials to the missing
Most sites are owned, operated and maintained by local authorities, churches, private companies or individuals: before we can undertake any work, we liaise with local councils, parishes or private landowners
Each site is unique, and we care for our war graves via a programme of planned inspection and maintenance
We have teams of gardeners and craftspeople across Britain who inspect and care for war graves and our memorials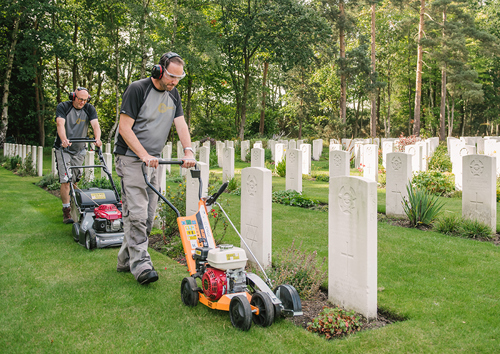 Brookwood Military Cemetery
Our Aims in Great Britain
We take a conservation approach to caring for our headstones and memorials
Inscriptions should be legible at reasonable light levels and viewing distances
Headstones should be upright, clean and accessible
The area surrounding the grave should be neat and tidy
Badges and emblems should be clear enough to be recognisable
On average we clean our headstones every two to three years but more often if necessary
Conservation and care are our priority; headstone replacement is the last option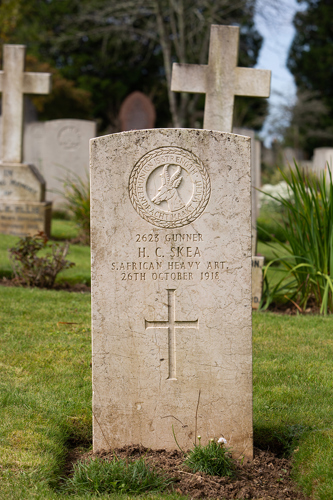 Plymouth (Efford) Cemetery
The CWGC maintains graves and memorials across Great Britain at over 12,000 locations, from small country churchyards to large inner-city cemeteries and a few specially constructed CWGC cemeteries and memorials.
Glasgow (Western) Necropolis
During the world wars, GB-based families of service personnel who died in Britain usually had a say in where and how their loved one was buried. Sometimes this would be left to the military authorities but, in many cases, the family made arrangements for the burial of the loved one and so many are buried in privately owned graves close to where the family lived.
This means that today you can find war graves in virtually every city, town and village in Britain.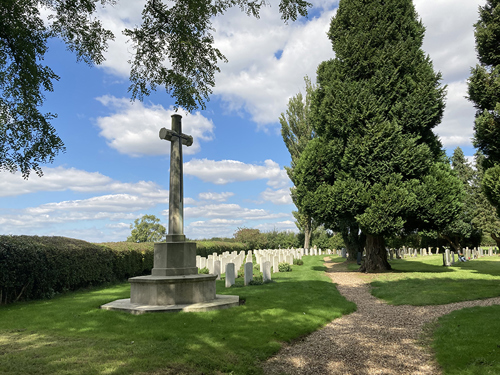 Cottesmore (St Nicholas) Churchyard Extension
Use our interactive map to see some highlights across Great Britain
Or
Download our app to find war graves and CWGC memorials near you
Scattered graves
Allowing families to decide the arrangements for the burial of their loved one means that today there are war graves in almost every cemetery and churchyard across Britain
Some large cemeteries have hundreds of war graves, others, usually smaller rural churchyards or village cemeteries, have only a single war grave
Solitary graves make up the majority of war burials in Britain, with 90% of sites having fewer than 10 war graves, scattered amongst the other graves
When looking for scattered graves, the distinctive CWGC headstone shape will help, but many scattered war graves bear the private markers originally installed by families
Scattered grave, Leicester (Welford Road) Cemetery
War plots
There are more than 500 war plots within cemeteries across Britain. At these sites the planting and uniform headstones resemble cemeteries more commonly seen in France and Belgium
These plots are situated in land set aside within local authority cemeteries and churchyards
In many sites you will see a CWGC Cross of Sacrifice and, in larger sites, our Stone of Remembrance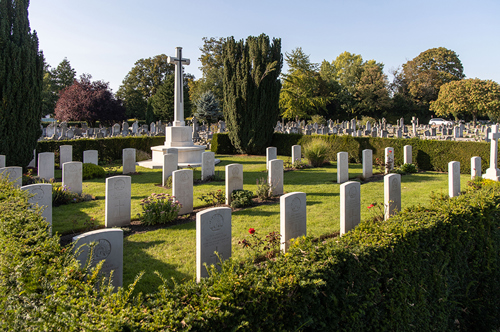 Dominion plot, Cambridge City Cemetery
As the scale of both world wars increased, formal war grave plots in cemeteries were set aside for service burials by the local or military authorities. It is often the case that these plots have a distinct character, containing a high proportion of Australian, Canadian, New Zealand or South African servicemen, or air force or naval personnel, usually as a result of them being stationed nearby or their being treated in a nearby hospital.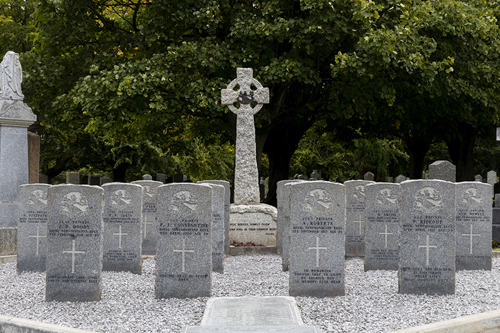 Newfoundland plot, Ayr Cemetery
Military, Royal Naval & War Cemeteries
There are over two dozen military, Royal Naval and CWGC war cemeteries in Britain, ranging from Kilchoman Military Cemetery on the Isle of Islay where there are just 31 identified graves, to the vast Brookwood Military Cemetery in Surrey with over 5,000 Commonwealth graves.
Some like Portland Royal Naval Cemetery were begun by the Navy or Army before the First World War, while others such as Hatfield Park War Cemetery were created during the war years.
These cemeteries are often similar to those found in France and Flanders, with a more formal arrangement of graves, cemetery features and horticulture.
Cannock Chase War Cemetery
Grave markers in Great Britain vary considerably. Many graves bear a standard CWGC headstone, but this is by no means universal.
Polish headstones, Newark-Upon-Trent Cemetery
CWGC Headstones
The familiar white Portland CWGC headstone – the kind frequently seen in France and Belgium, for instance - is widely used in Britain. Each is inscribed with the details of the individual, including name, rank, awards, service number (except officers), and a personal inscription, if one was provided by the family. Pedestal style CWGC markers can also be seen, often in combination with what remains of a private memorial. The CWGC provides different headstone shapes for foreign nationals and non-war graves we mark.
Cambridge City Cemetery
Across GB the type of stone used to make the CWGC headstone differs. While many are of Portland limestone, a number of other kinds are also used including granite and slate.

Private Memorials
Over 37,000 graves are marked with private memorials chosen by family instead of a CWGC headstone
CWGC does not own or maintain private memorials but we do monitor their condition to ensure the individual's name is legible
Private memorial, Norwich Cemetery
A great many war graves in Britain are not marked by Commission headstones. Instead their graves are marked by headstones and other grave markers arranged by the family, 70-100 years ago. These privately erected stones vary greatly in size, shape, design and condition. They often commemorate more than one member of the family buried beneath.  
After both wars, the War Graves Commission endeavoured to contact the relatives of the deceased to offer them a CWGC headstone. This may have been several years after the death, by which time the family had made their own arrangements or did not want the CWGC grave marker.
Today these original markers remain private property and the CWGC does not have the right to remove or replace them if they become worn or damaged without family consent.
If a private marker becomes too degraded, the CWGC seeks permission to add one of our markers to the grave to ensure the war casualty is properly commemorated. Today's conservation principles support adding a pedestal (or 'Gallipoli') marker within the remaining original features.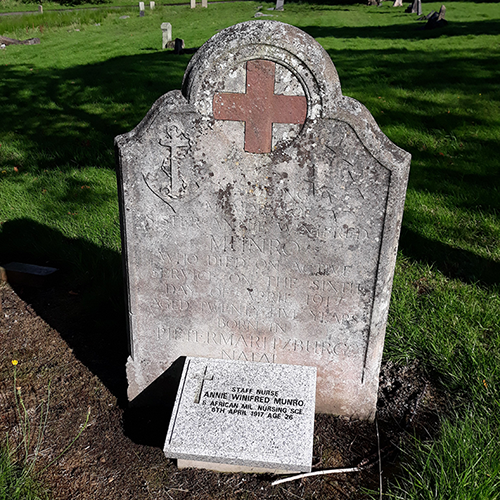 Private memorial, Glasgow Western Necropolis
Screen Walls
Where conditions prevent the marking of individual graves, screen walls are placed to commemorate individuals by name. There are over 50 of these in the UK and Ireland
Casualties who were cremated are also commemorated on these walls
Casualties whose graves can no longer be maintained may also commemorated this way
It is not always possible for the CWGC to mark the grave of a serviceman or woman. In the case where a number of graves within a cemetery cannot be marked their names are inscribed upon an alternative commemoration memorial or 'screen wall'.  These vary in size, form and design: some take the form of an over-sized headstone with multiple individuals named upon it, while others are substantial structures with hundreds of names.
Screen wall memorial, Leeds (Lawnswood) Cemetery
Foreign Nationals
At some sites we care for the graves of servicemen and women of our allies and our former adversaries. Termed 'foreign nationals' - service personnel of the forces of non-CWGC member countries – their graves are marked by differently shaped headstones. The design, layout and even type of stone can differ substantially from the standard CWGC Commonwealth headstone.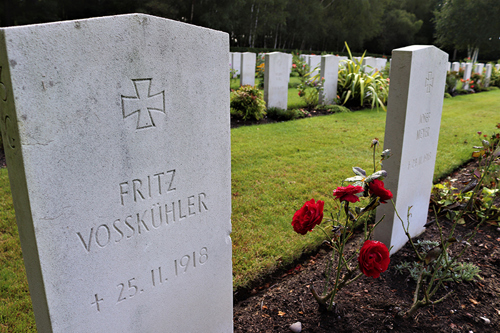 German war graves, Cannock Chase War Cemetery
Non-War Graves
You will see headstones which look very similar to CWGC Commonwealth headstones but have a slightly different shape created through 'notches' cut from the top right and left corners of the headstone, and/or having a distinctive swept curve to the top of the headstone. These mark Non-War Graves.
A 'non war grave' is any grave that the CWGC maintains but which falls outside of the terms of our charter: either the individual died outside of our dates of responsibility or was not part of the armed forces of the British Empire/Commonwealth or other recognised organisations.
There nearly 10,000 such graves in the UK, most of which the CWGC maintains on behalf of the United Kingdom's Ministry of Defence.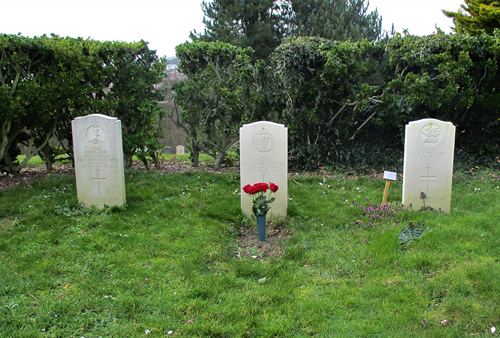 Non-war RAF graves, Shorncliffe Military Cemetery
Other military headstones – Admiralty crosses etc.
There are a number of sites which have bespoke designs of headstones such as Harefield (St. Mary) Churchyard or Great Yarmouth Cemetery. These sites and the grave markers here pre-date the foundation of the War Graves Commission in 1917. The markers were created by the servicemen's comrades or by a military authority like the Royal Navy, and these headstones have been retained to conserve the unique history and heritage of these sites.
Admiralty crosses, Great Yarmouth Cemetery
Over 130,000 Commonwealth servicemen and women with no known grave are commemorated on our memorials to the missing across Britain.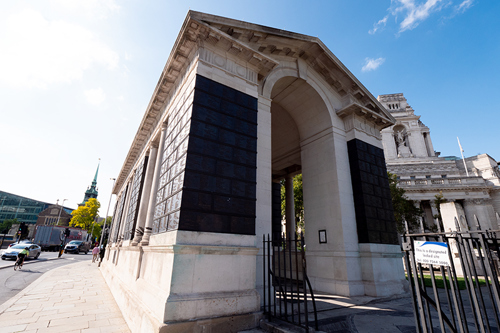 Tower Hill Memorial
Our main memorials are:
Brookwood 1914-1918 Memorial
Brookwood 1939-1945 Memorial
Chatham Naval Memorial
Hollybrook Memorial
Lee-on-Solent Memorial
Liverpool Naval Memorial
Lowestoft Memorial
Plymouth Naval Memorial
Portsmouth Naval Memorial
Runnymede Air Forces Memorial
Tower Hill Memorial
 
More than one in three of those commemorated in Great Britain are named on a memorial to the missing. The largest group commemorated in this manner are the men and women of the Royal Navy, who having been lost or buried at sea, had no grave to mark. To give their families somewhere to visit and remember their loved ones, their names were recorded on the three great naval memorials at Chatham, Plymouth and Portsmouth.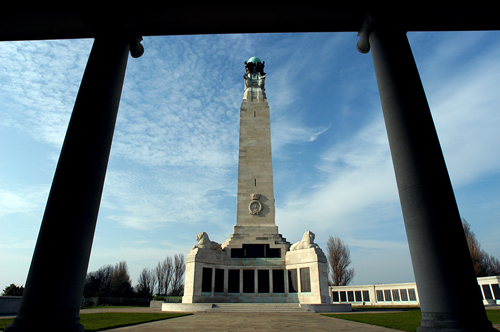 Chatham Naval Memorial
Men and women from other branches of service are also commemorated on memorials in GB. The layout and design of each varies, however, all record the names of the fallen grouped together by either unit, date of death or ship on which they served, and are then listed according to rank and then alphabetically by surname.
Runnymede Memorial
Green Sign
At many cemeteries and churchyards around Britain you will find a green and white sign at the entrance which states that "At this location there are Commonwealth War Graves."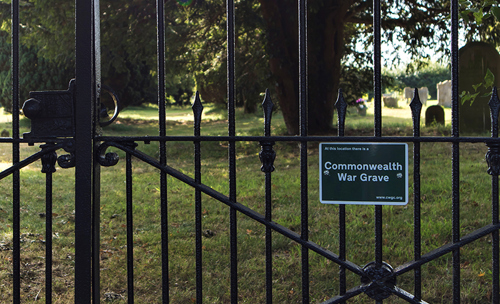 Green CWGC sign, East Bridge Primitive Chapel yard
Cross of Sacrifice
Designed by Sir Reginald Blomfield, the stone cross with downward sword reflects the faith of the majority of those commemorated in the cemetery.
Initially known simply as the 'Great Cross', it later became known as the Cross of Sacrifice. The cross is usually found in war cemeteries with over 40 commemorations and it varies in size depending on the size of the cemetery. We use four different sizes, which range in height from 4.4 metres to just over 9 metres, depending on the size of the cemetery in which it is placed.
In the UK the Cross of Sacrifice, if one is present, may be close by to a war graves plot or it may be placed elsewhere in the cemetery to signal the presence of war graves – often at central location, at a junction between pathways, or close to the cemetery entrance.
Chester (Blacon) Cemetery
Stone of Remembrance
Also known as the 'War Stone' or 'Great Stone', this feature is usually only found in much larger sites or dedicated military cemeteries. Designed by Sir Edwin Lutyens, it is carved out of a single piece of Portland stone and is inscribed with words chosen by Rudyard Kipling: 'Their Name Liveth for Evermore'.
Each stone is the same size regardless of the size of the cemetery. Measuring 1.067m high by 3.658m long and 844cm wide at the base, it weighs around eight metric tonnes. To the naked eye, it may seem like a straight edged piece of stone, but the top of the stone is slightly curved. This is an architectural technique called Entasis. If you continued the curve of the stone, it would form a sphere with a radius of nine hundred feet. This technique helps to give the stone a feeling of solidity and gravitas.
The stone evokes a general religious or spiritual sentiment which can appeal to multiple faiths and none, symbolising the sacrifice made during both world wars.
Cambridge City Cemetery
CWGC Horticulture
Where enough war graves are grouped together, we can provide full horticultural treatment, including our famous planted borders and carefully maintained turf. In some places we can't plant things because of pests, like rabbits or deer, or because cemetery rules require turf or stone chippings only. In some cemeteries we can surround war plots with carefully maintained hedges. In very large plots or wholly maintained sites our horticulture ranges from large trees to small anti-splash plants.
Chester (Blacon) Cemetery