10 January 2023
5 ANZAC cemeteries & memorials to visit worldwide
ANZAC troops fought all over the world and the sites where we commemorate them. Here are five ANZAC cemeteries & memorials you should know about.
ANZAC cemeteries & memorials to visit around the world
Who were the ANZAC troops?
ANZAC refers to the Australian and New Zealand Army Corps.
This unit was originally formed in World War One, composed, as the name suggests, of personnel from Australia and New Zealand. ANZAC troops would serve with distinction in World War Two too.
As well as those of European descent, amongst the ANZAC ranks were Aboriginal, Māori, Torres Strait, and Pacific Island personnel.
Just over 416,000 Australians enlisted in the Great War, representing around 39% of the country's 18-44 male population. Around 222,000 New Zealand, Māori and Pacific Island troops had either been conscripted or enlisted during World War One.
Around 140,000 New Zealand personnel served in World War Two. Australia enlisted one million men and women with around 500,000 sent to overseas battlefields. 730,000 personnel served in the Australian Army during the conflict, representing some 10% of the total population.
Where did ANZAC troops fight?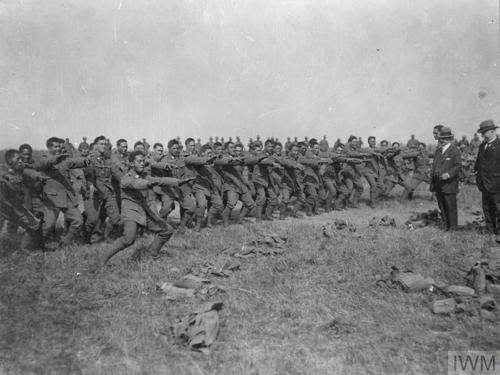 Image: NZ Māori Pioneer Battalion perform a fearsome haka on the Western Front (© IWM NZH 678)
Pick a theatre from either World War and chances are ANZAC troops were there campaigning in some capacity. Their participation in air, land, and sea battles reinforces that both conflicts were truly global affairs.
From the mud, blood and wire of the Western Front, rapid campaigns in Palestine and the Middle East, to steaming jungles of Asia and the Pacific, and rugged, craggy mountains of Greece and Italy, ANZAC troops were there.
Commonwealth War Graves Commission memorials and cemeteries commemorating these men and women can subsequently be found across the globe.
ANZAC Casualties commemorated by the Commonwealth War Graves Commission
We commemorate approximately 133,027 ANZAC troops from both World Wars.
Those with known graves will be buried in a Commission cemetery. If a casualty has no known grave, then they will be commemorated on an appropriate war memorial.
It is possible that someone commemorated on a war memorial may also be buried in a CWGC cemetery. Identified casualties will have a headstone bearing their name, unit, and other details.
However, not all casualties were identifiable at the time of burial. If they have a grave, their headstone will bear the inscription "Known only to God".
Here is a breakdown of ANZAC casualties by country troops served with and conflict commemorated by the CWGC:
Australia
World War One: 62,335
World War Two: 40,696
Total casualties: 103,031
New Zealand
World War One: 18,070
World War Two: 11,926
Total Casualties: 29,996
WHERE ARE ANZAC TROOPS COMMEMORATED?
Image: ANZAC sentry on the Western Front (© IWM Q 679)
You will find CWGC war cemeteries & memorials commemorating ANZAC personnel across the globe.
As well as at home in Australia, Torres Strait, Pacific Islands, and New Zealand, sites where ANZAC troops are remembered sit in Asia, Europe, the Middle East, and more locations.
As we touched on earlier, ANZAC troops were present at some of both World Wars' most important battles. From fighting alongside American allies in the Pacific during World War Two to leading cavalry attacks in the Middle East during World War One, these troops fought bravely all over the world.
Let's look at five sites that represent the global reach of ANZAC troops during the World Wars.
ANZAC war cemeteries & memorials
Lone Pine Memorial, Turkey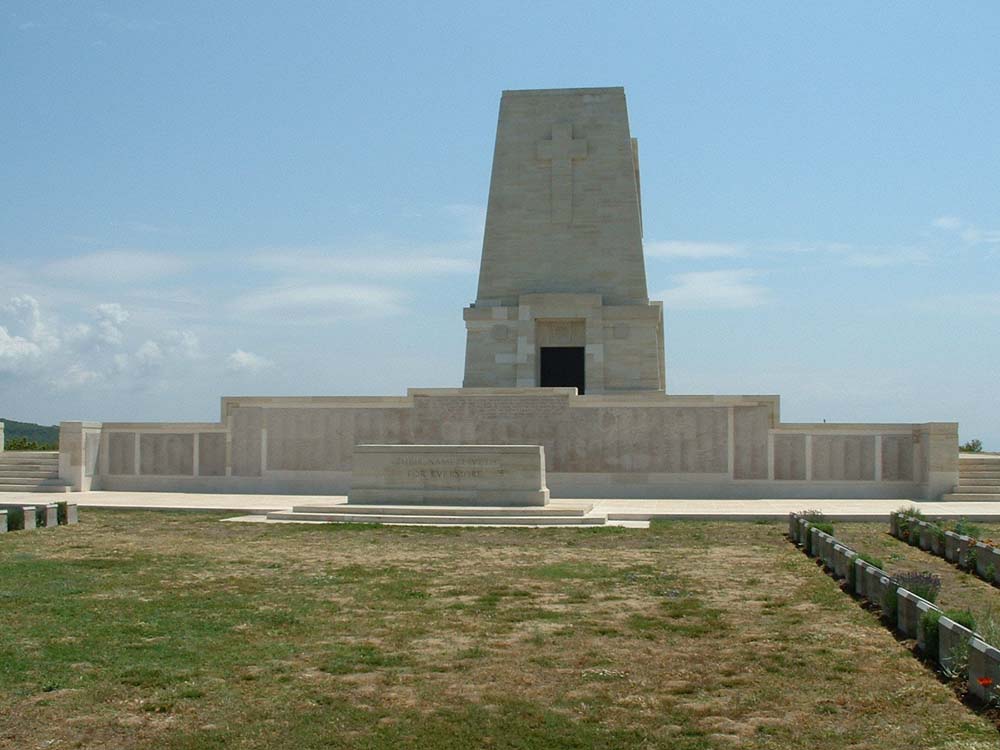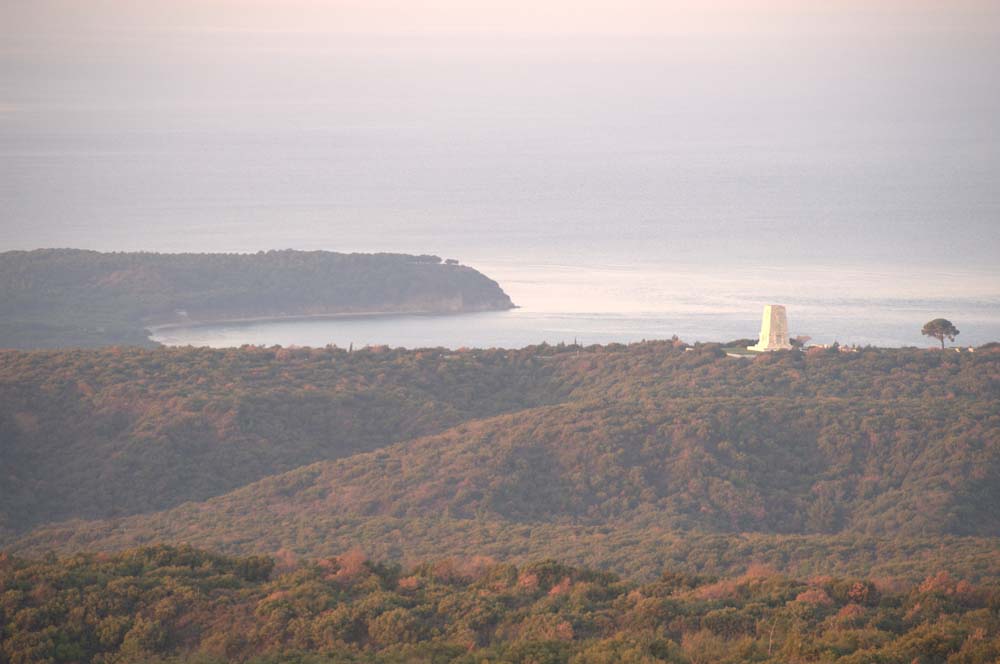 When thinking of the ANZAC experience in the Great War, one campaign is unescapable: Gallipoli.
Gallipoli was a gruelling eight-month campaign where British, French, and of course ANZAC, forces attempted to knock the Ottoman Empire out of the war.
Additional campaign objectives were to relieve pressure on the stalemate-hit Western Front and to open supply lines to Imperial Russia through the Dardanelles into the Black Sea.
16,000 ANZAC soldiers fought in the first wave of Entente assaults on the Gallipoli Peninsula in Western Turkey between 25th-26th April 1915. Australian and New Zealand forces landed at Gaba Tepe on the west of the Peninsula with further landings taking place on the 6th of August.
Ottoman resistance was stiff from the off. Fighting was bloody. Conditions on the Gallipoli beaches were tough. On the headland, Ottoman troops had built a web of strong defensive trench networks, gun emplacements, and machine-gun nests. Getting the amphibious troops up and onto the mainland would be difficult and ultimately fail.
Lone Pine in the southern part of the ANZAC zone of attack was a strategically important plateau. Australian forces had briefly captured it during the April landings, but it was retaken and held by Ottoman forces between May-July. By then, Lone Pine was known as Bloody Ridge ("Kanli Sirt" in Turkish).
Mines were pushed towards Gallipoli by the Australians in late May up to August. On 6th August, mine explosions ripped through the land while naval big guns pounded Lone Pine.
The 1st Australian Brigade took Lone Pine in a storm of Steel and Gunfire. Four days of Ottoman counterattacks failed to dislodge the Aussies. Lone Pine would remain in ANZAC hands until the eventual Allied withdrawal from the Dardanelles in December 1915.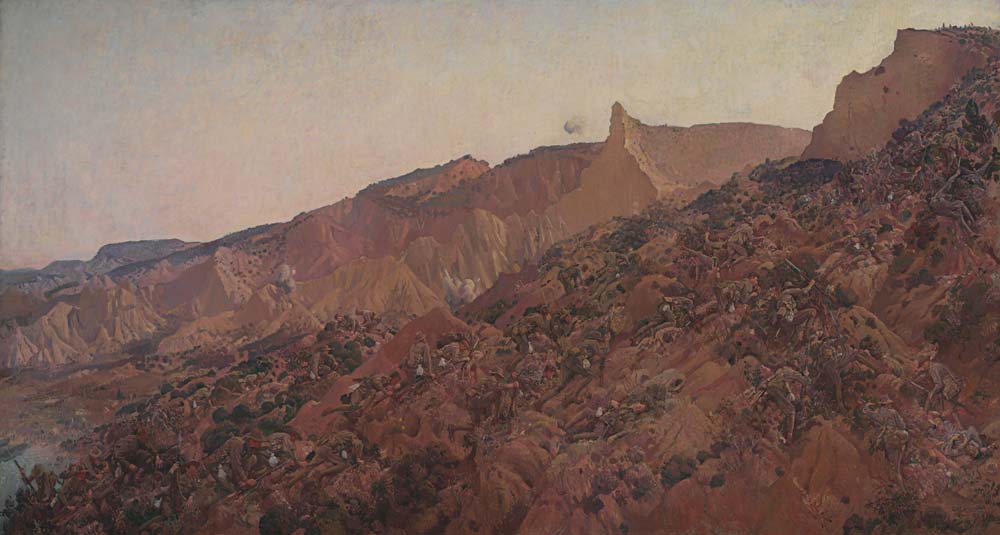 Lone Pine Memorial sits within the grounds of Lone Pine Cemetery. Its location marks the site of the fiercest fighting for control of the Peninsula. The tall, proud limestone memorial overlooks the former frontline area.
Upon its panels are the names of nearly 5,000 Australian and New Zealand casualties who died in the ANZAC area of the Gallipoli Peninsula. The men commemorated here have no known grave.
In total, around 8,700 Australian servicemen died during the 250-day Gallipoli campaign. New Zealand suffered just shy of 2,780 dead.
Gallipoli marks a foundational myth for both Australia and New Zealand. Each year on April 25th, both nations remember the sacrifice of the men who fought there.
Several other memorials to the missing in Gallipoli commemorate ANZAC casualties with no known grave, including:
Hill 60 (New Zealand) Memorial
Helles Memorial
Chunk Bar (New Zealand) Memorial
Twelve Tree Copse Memorial
Caterpillar Valley (New Zealand) Memorial, France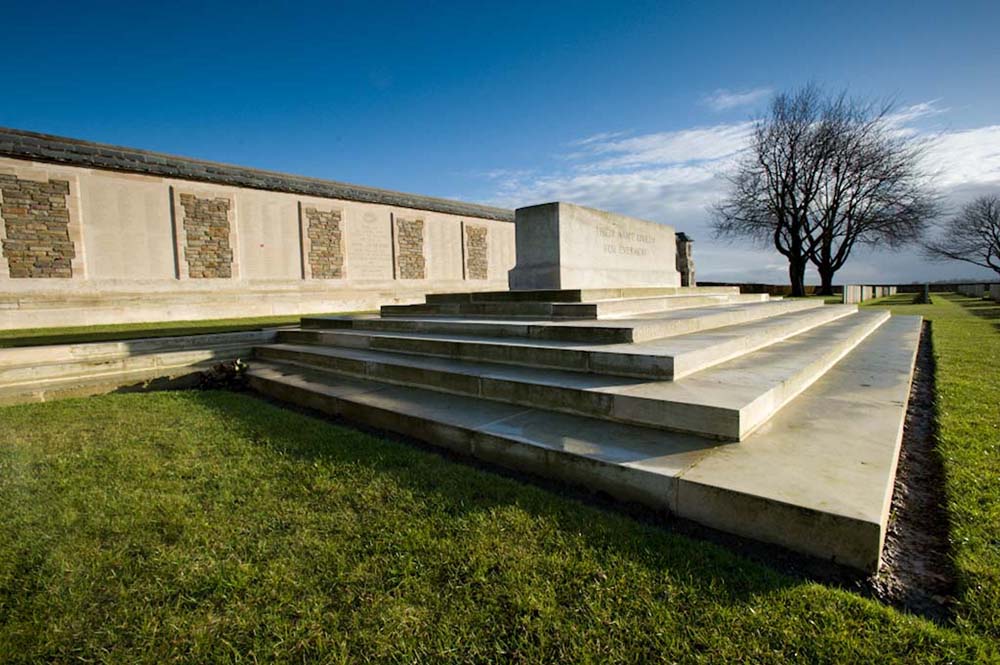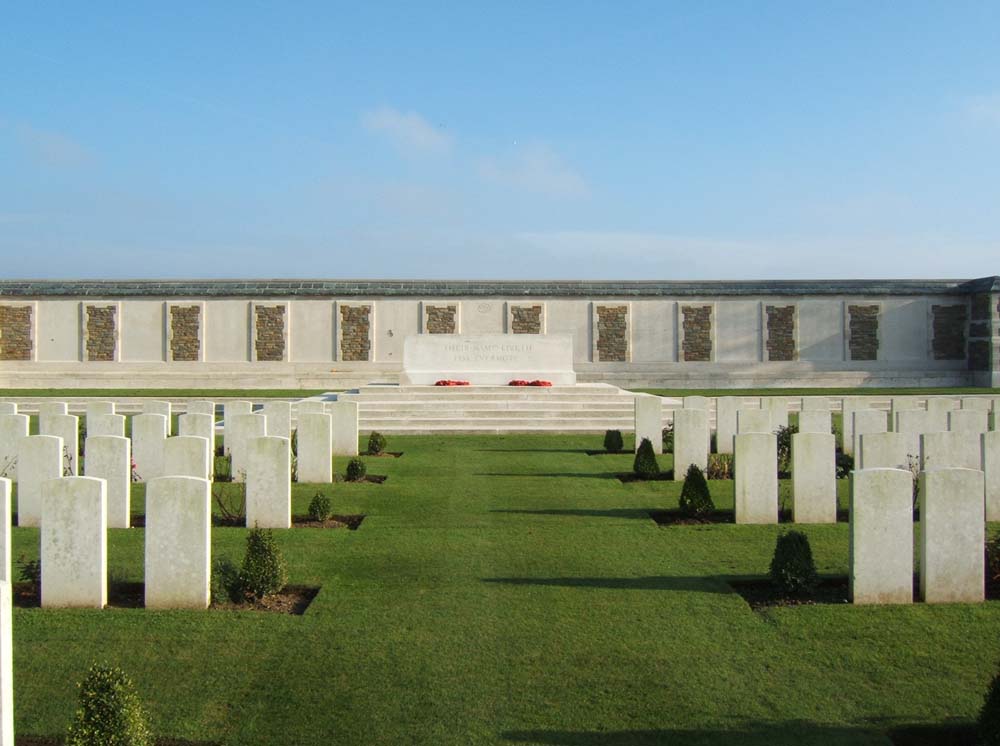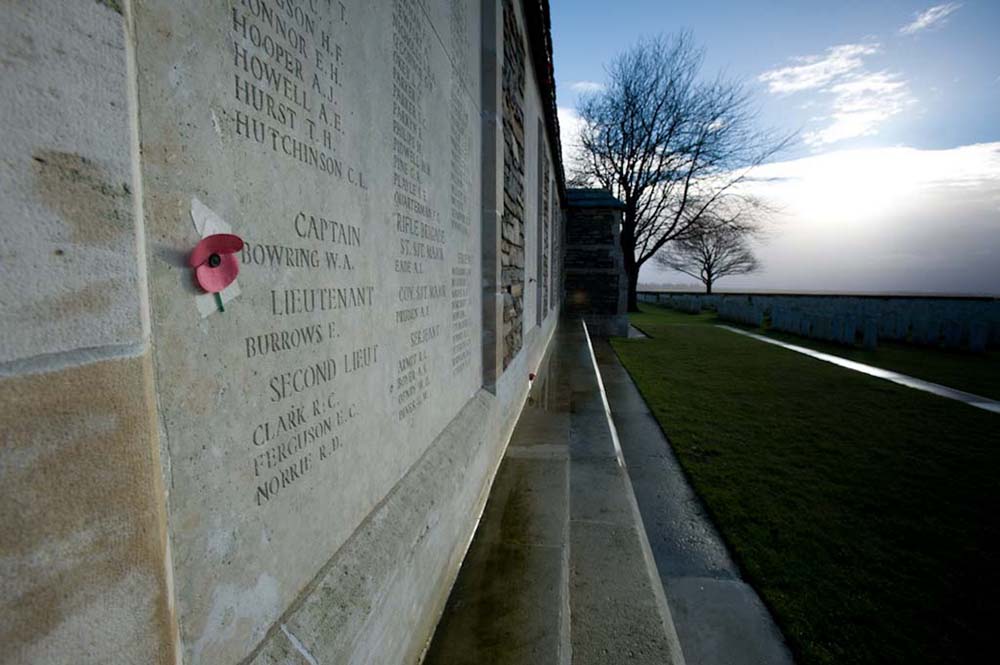 For many, the Battle of the Somme only conjures images of the horrific casualties sustained by British casualties on 5th July 1916. The truth is the Battle was much more than one day.
The Battle of the Somme drew in over 3.5 million men from the Entente and Central Powers, with combatants drawn from the French, British, and German Empires.
Over a torrid six months of fighting, both sides sustained horrendous casualties. The attacking Allied forces made minimal gains while young men were cut down in their primes all over the front.
By the time the Somme ground to a halt, the killing fields had claimed the lives of more than a million servicemen.
New Zealand infantry joined the fight on September 11th, 1916. The Division took over a section of the frontline between Delville Wood and High Wood, northeast of Albert.
The Kiwis were to form part of the Fourth Army attack to push further north and east towards Bapaume, slated for launch on September 15th. This action, taking place between 15th-22nd September, would become known as the Battle of Flers-Courcelette.
Alongside the British 41st Division, the New Zealand contingent made progress on the attack's first day, capturing the village of Flers, before pushing onwards.
This marked the start of several successes for the New Zealand Division on the Somme.
The attack was renewed on 25th September during the Battle of Morval. During the fighting, the Kiwis captured an area called Factory Corner on the road between Guedecourt and Eaucort-l'Abbeye.
By October 1st, it had captured a series of three strategically important trenches north of Factory Corner. While the Division's infantry pressed North on 10th-11th October, its artillery stayed behind to continue to support the Somme offensive.
During its time on the Somme, the New Zealand Division had advanced two miles, captured five miles of the Imperial German frontline, and taken nearly 1,000 prisoners and machine guns. The cost? 7,000 casualties including 1,560 killed in action or dying of wounds.
The Caterpillar Valley (New Zealand) Memorial is the largest of seven memorials dedicated to New Zealand soldiers in France and Belgium.
Just over 1,200 New Zealand officers and men are commemorated on Caterpillar Valley's memorial panels. The memorial itself sits within Caterpillar Valley Cemetery, which holds a further 5,500 Kiwi burials. Of these, around 1,780 are identified.
The Caterpillar Valley sites were both designed by Sir Herbert Baker. Baker was one of the Commission's earliest architects who helped to define the look and feel of our cemeteries and memorials.
Villers-Bretonneux Memorial, France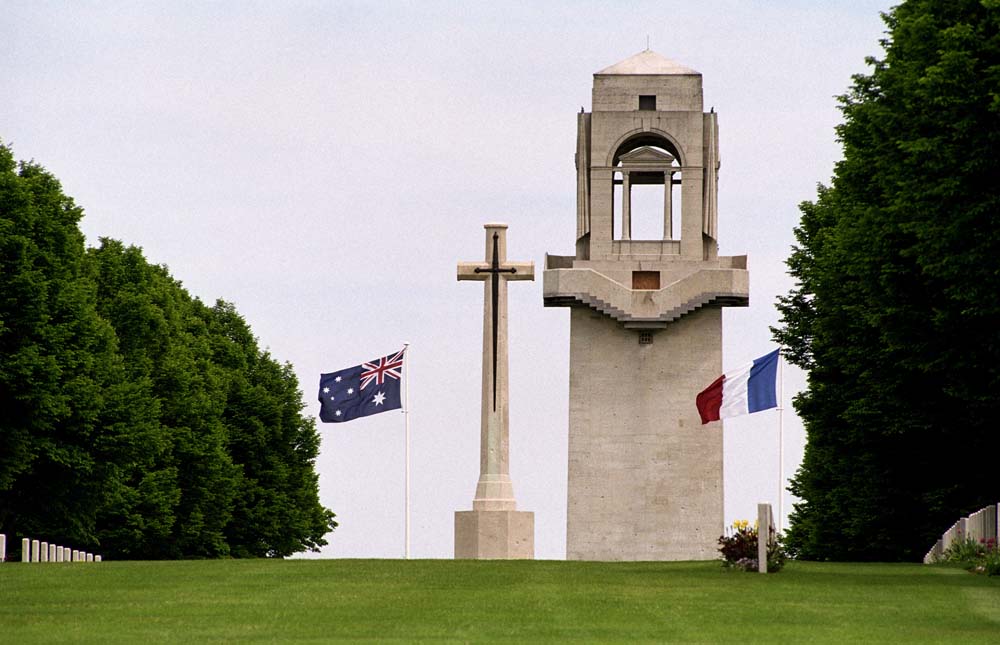 The small, quiet village of Villers-Bretonneux sits roughly 10 minutes away from Amiens in Northwest France. It's a small place, where just over 4,500 townsfolk live out their lives in the rolling greenery that characterises this part of the world.
Drive a little further out of the village centre and you'll spot a commanding limestone tower rising over the countryside. This strong white building marks the time when, 100 years ago, Villers-Bretonneux was anything but peaceful.
This is the Villers-Bretonneux Memorial also known as the Australian National Memorial.
The memorial to the missing commemorates roughly 10,801 Australian officers and men who fell fighting across various Western Front campaigns between 1916 and 1918.
It also pulls double duty as a focal point for Australian remembrance in France, signifying the huge sacrifice of those who died so far from home.
Australian servicemen fought in some of the Great War's key engagements.
Men commemorated on the Villers-Bretonneux fought on Somme battlefields, fought at Ypres, at Arras, at Messines, at Polygon Wood, Passchendaele, at Amines, Albert, at the Marne, and of course at Villers-Bretonneux, to name just a few.
Villers-Bretonneux was the sight of a fierce clash between German and Australian forces in April 1918.
Image: A German tank captured at Villers-Bretonneux (© IWM Q 29582)
German forces smashed into the village with a combined infantry and tank attack. Tank warfare, which had been pioneered at Cambrai in 1917, was still in its infancy. However, the lumbering metal beasts were proving effective at breaking lines and taking ground.
Villers-Bretonneux was captured by the German Army on 23rd April 1918. They wouldn't hold it for long.
On the 24th, The 4th and 5th Australian Divisions, supported by elements of the British 8th and 18th Divisions, recaptured the village. German machine gunners reaped a heavy toll on the attacking Aussies with the Australians taking approximately 2,470 casualties.
Villers-Bretonneux remained in Allied hands until the end after the Australians took the town.
The Villers-Bretonneux Memorial was designed by Sir Edwin Lutyens, the architect behind iconic CWGC sites like Thiepval and Delhi (India) Gate. It was unveiled in July 1938 by King George VI.
The King's speech was broadcast live to Australia, with the King capping his speech with the words: "They rest in peace while over them all Australia's tower keeps watch and ward."
Another interesting fact about Villers-Bretonneux is that this was the last of the Commission's monumental memorials to be built. Sadly, World War Two broke out just over a year after its unveiling.
El Alamein War Cemetery, Egypt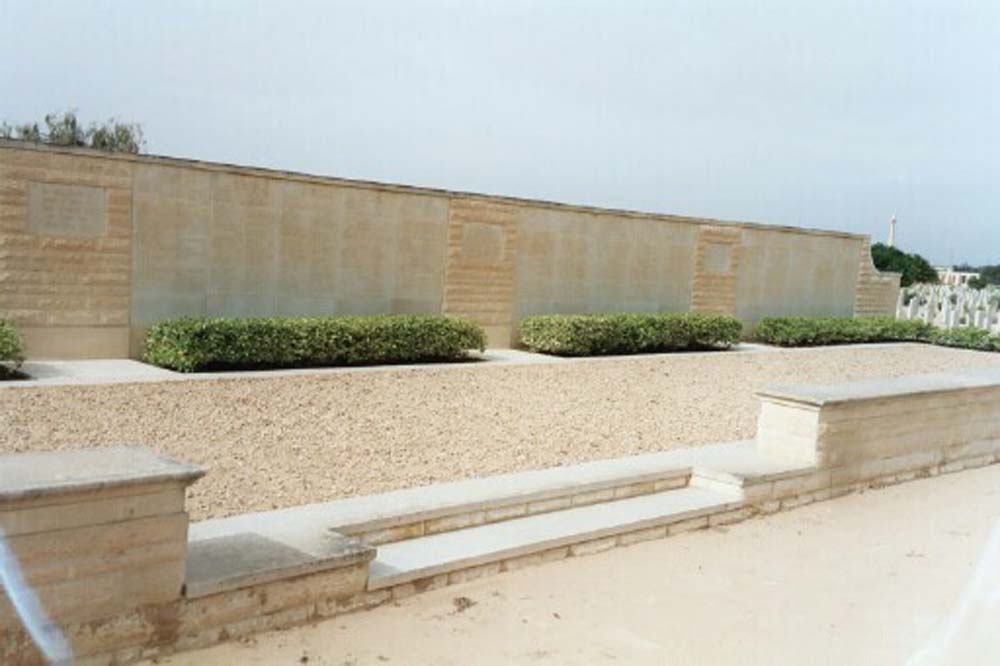 ANZAC forces were called upon to serve once again when war engulfed the world once more.
Australian and New Zealand forces, as well as Australasian men and women, were deployed to combat theatres around the world.
One of these was Egypt and the Middle East.
The Suez Canal was a vital artery for moving men and material around the world and the Middle East and North Africa held rich oil fields. North Africa also provided air and naval cover for the Mediterranean.
In short, the region had huge strategic importance.
Between 1940-1943, fighting raged across the deserts of Libya, Egypt, Tunisia, and more North African locations.
ANZAC forces fought in some of the African campaign's most important battles, including the Siege of Tobruk, and served with distinction.
Their opponent was the wily Desert Fox, German general Erwin Rommel.
For a time, Rommel seemed impervious and unbeatable. British and Commonwealth Armies, featuring ANZAC, Indian, Canadian, and South African troops, were out manoeuvred, and seemingly outfought by Rommel and his Afrika Corps.
With a series of new appointments and a retooling of their available forces, British Imperial forces under General Bernard Montgomery began to turn the tide. 1942 would be a decisive year for fighting in Egypt.
Kiwis and Aussies fought in the vanguard of Operation Lightfoot: a combined arms thrust that pushed the Afrika Corps back out of Egypt and into Libya.
Image: A Kiwi soldier next to a captured Flak 88 German artillery piece (© IWM E 14518)
The operation has become more familiar to history enthusiasts as the Second Battle of El Alamein.
On October 23rd, 1942, an ear-splitting chorus of artillery guns sounded, kicking off Lightfoot with a literal bang.
British 8th Army, in a combined tank and infantry attack supported by the RAF's desert air force, ground its way through intensely defended German positions.
8th Army contained ANZAC troops who pushed themselves to the edges of their courage and physical limits to push home the attack. No less than three Victoria Crosses, the British Empire's highest military honour, were handed out to ANZAC soldiers during El Alamein, including the posthumous award to Australian Percy Gratwick.
Ultimately, the Second Battle of El Alamein was a resounding victory for the British Empire. But as with all intense large-scale military clashes, it was not without its cost. 8th Army suffered 13,650 casualties during the battle.
El Alamein War Cemetery, the Commission's largest cemetery in Egypt, commemorates many casualties from the fighting. It also contains burials from the wider North African conflict.
Some 7,200 men are buried there, of which around 6,500 have been identified. Of that 6,500 just shy of 2,250, approximately a third, came from Australia or New Zealand.
The number of ANZAC casualties commemorated at El Alamein War Cemetery indicates the large contribution and sacrifice made by these servicemen during the Africa Campaign.
A further 1,500 ANZAC officers and men are commemorated on the Alamein Memorial which sits within the cemetery. These were casualties who have no known grave.
El Alamein War Cemetery was designed by Sir Hubert J. Worthington. The brief required some unique design elements, based on El Alamein's desert location:
Close to a road or town for easy visitor access
Access to water to ensure agricultural elements could stay verdant and green
High walls to counter the desert's shifting sands
The results are shown in the tranquil desert oasis of El Alamein War Cemetery where ANZAC war dead lie next to their comrades from other Commonwealth nations.
Labuan Memorial, Malaysia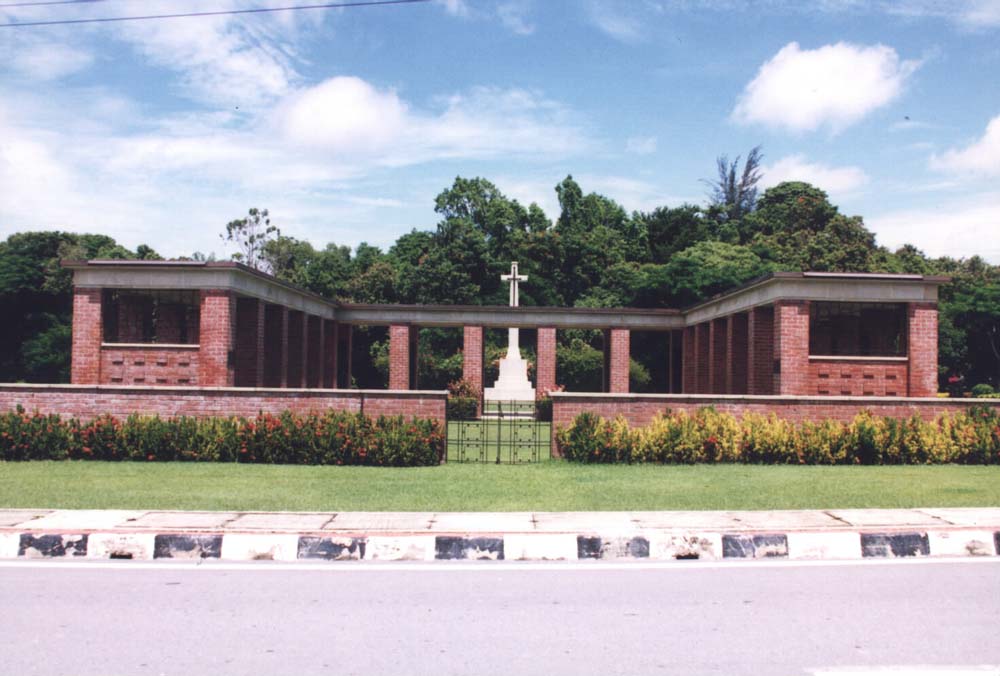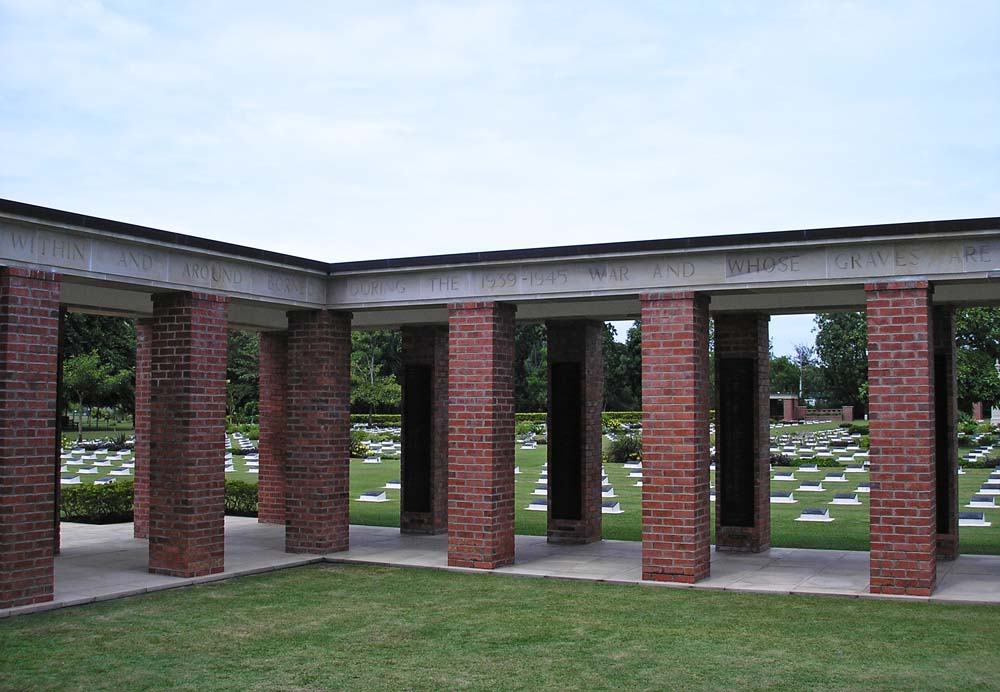 With Imperial Japan's expansionist efforts, Australia and New Zealand faced a possible threat of invasion.
Unlike World War One, conflict was on their doorstep. Japan had been making strong headway across Asia and the Pacific for much of the late 1930s and early 1940s.
As such, ANZAC troops were fighting much closer to home. They saw action across Borneo, New Guinea, and the Philippines in support of the United States military as well as supporting the British in Burma, Thailand, and Malaysia.
Those with an interest in World War Two will no doubt be familiar with the fate that befell Japanese prisoners of war. A rigid moral code and harsh military conditioning meant ethical treatment of POWs was far from the Imperial Japanese Army's mind.
Starvation, beatings, forced labour, disease and death marches awaited ANZAC service personnel who surrendered to the Japanese.
One of the most notorious episodes of Japanese cruelty came during the building of the Burma-Thailand Railway as immortalised in the book and film Bridge over the River Kwai.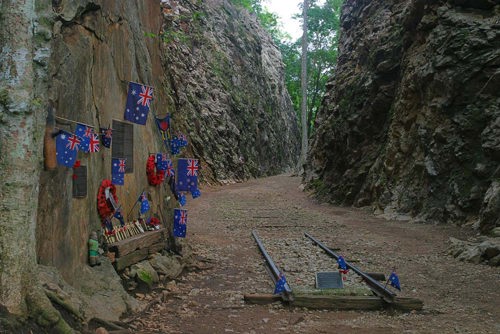 Image: Hellfire Pass was carved out of harsh rock by Australian prisoners of war alongside Dutch and British POWs (Wikimedia Commons)
Australian POWs were employed alongside Dutch and British prisoners to carve out a cutting through a harsh rocky pass that would come to be known as Hellfire Pass. The name stemmed from the horrific conditions, where emaciated prisoners hacked away at the rock face with rudimentary tools, labouring by burning torchlight.
69 men at Hellfire Pass were beaten to death by guards. The death toll of native labourers was much higher.
Of course, not all the casualties ANZAC forces took were the results of prisoner mistreatment. These were fighting service personnel, tasked with engaging and defeating the enemy on air, land, and sea.
From the Z Special Unit's commando raids to land battles in the dense jungles of New Britain and Borneo, ANZAC troops carved out a legacy of military victories and competence during their time in Asia.
There are numerous Commission war cemeteries and memorials dedicated to ANZAC casualties throughout Asia.
One of these is the Labuan Memorial within the grounds of Labuan War Cemetery on the small eponymous island on the Malaysian part of Borneo.
The memorial's red brick colonnades contrast with the monumental white stone CWGC memorials in France and the Western Front. Upon the memorial panels are inscribed the names of over 2,300 Commonwealth personnel with no known graves. Of these, just over 2,225 are ANZAC casualties.
Providing an aesthetic counterpoint to the red brick memorial are the bright white headstones in the surrounding Labuan War Cemetery. A further 1,800 ANZAC service personnel are buried here. Their graves stand as testament to the bloodiness of campaigning in Asia during World War Two.
Discover more ANZAC cemeteries & memorials with Commonwealth War Graves Commission search tools
This is just a small selection of Commission sits commemorating Australian, New Zealand, Maori, Torres Strait, and Pacific Island personnel.
Our search tools can help you discover the cemeteries and memorials holding ANZAC troops.
Use our Find Cemeteries & Memorial search function to find all our sites. You can search by country, locality, and World War.
For more granular detail, use our Find War Dead tool to search for specific ANZAC casualties by name or by country to learn more.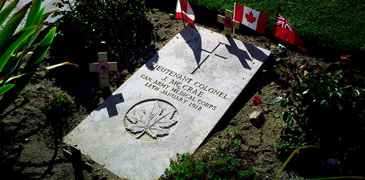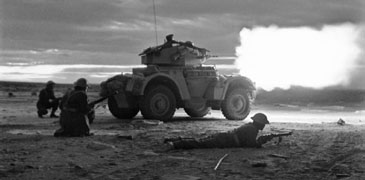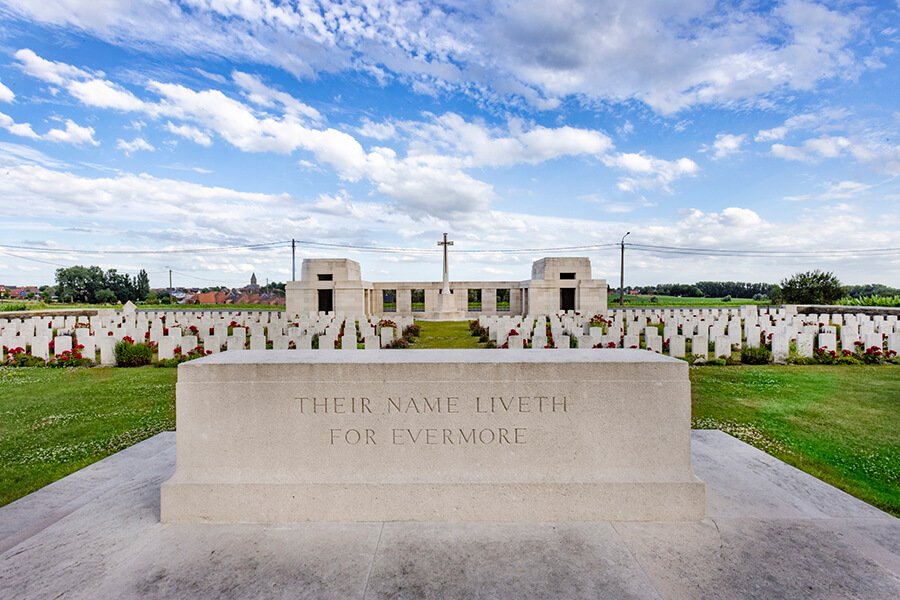 Read more blogs