21 September 2021
Go Behind the Scenes at CWGC's World War Archive
There are more than 50,000 items in the Commonwealth War Graves Commission Archive, some more than one hundred years old, which record all kinds of things about the work of the Commission and the individuals it commemorates. As part of #AskACurator day we gave you the opportunity to ask our Chief Archivist, Andrew Fetherston, whatever you wanted about our archives.
What would have happened to the original crosses from the cemeteries? I'm presuming most of them had photos taken to send home to their families, is there an Archive which holds those copies?
As the vision of the Commission crystalised, and plans were put in place to erect permanent headstones and memorials, relatives could request to have the original wooden markers from their loved one's grave returned to them when the permanent headstones were erected, and notices were placed in the press to this effect. However, as the practicalities, difficulties and costs involved in arranging this became more apparent, the Commission decided to introduce a cut-off date for requests, which was originally September 1920, although this was later extended to October 1922.
By September 1920, some 10,128 requests had been received, with an additional 801 submitted by July 1922. So, the final total of temporary markers returned was likely be in the region of 11,000.
For the remainder of the temporary grave markers, the Commission's initial plan was to bury these in the cemeteries where they had been erected, but this proved impractical given the numbers involved, and the resources and space that would have been required to dig the holes. In the end, the decision was taken to burn the crosses, and scatter the ash over the cemeteries – thus helping to contribute to the horticultural planting that was taking shape.
In terms of photographs, the Imperial War Graves Commission was initially involved in supplying photographs for families, although the photographs themselves were all taken by or by the order of the War Office through the offices of the DGRE (Department of Graves Registration and Enquiries) and the Graves Registration Units. Ivan Bawtree was one such photographer who worked with the Grave Registration Units and photographed thousands of graves during the period 1915- 1920, and many of his prints are now held in the collections of the Imperial War Museum and can be viewed on their website.
As with the return of wooden crosses however, the Commission quickly realised that it did not have the resources available to supply the demand for headstone photos, and so quickly advised relatives to contact other organisations who might be able to assist, and by 1928 had drawn up a list of approved suppliers. The CWGC archive does hold a number of photographs, negatives and photographic albums from the period 1919-1930, but these tend to show images of the cemeteries and memorials themselves rather than individual graves and headstones.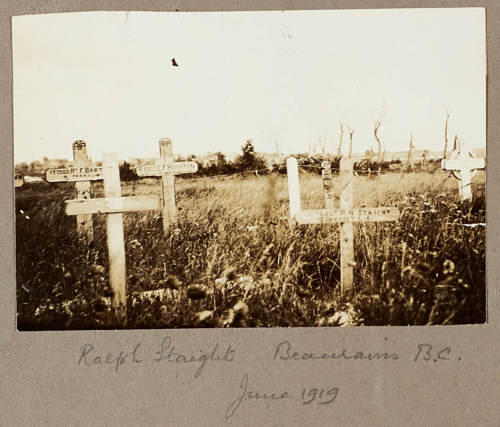 Wooden crosses in Beaurains Road Cemetery, Beaurains, CWGC Archive.
What information do we have about the people who were on the staff of the IWGC, in its early days?
We do hold information about our early staff, and perhaps the best source is our collection of staff cards, of which we hold around 8,000. These provide some brief details on the staff who worked for the Commission from its earliest days right through to the immediate post Second World War period. They record their names, roles, and some personal details, including sometimes details of any previous military service. The collection is far from complete however, and also does not record details about locally-engaged staff who may have been employed in roles outside of Europe.
The records are also quite sparse, in that they will very rarely state in which cemetery or memorial a particular gardener was employed in, but even so they are a good starting point to explore whether your ancestor worked for the Commission. During the last 18 months, we have worked to digitise all of this collection, and are in the process of adding the digitised cards to our online catalogue.
Beyond the staff cards, we also have various images of our staff contained in photograph albums, showing them at work and at social events. We have a collection of staff committee meeting minutes from the 1920's – 1940's which record the administrative side of things. These can be quite dry, but they also contain some fascinating insights into the lives of the staff, and some of the hardships they faced, working in war devastated areas.
We also have an amazing collection of records which detail the events that our staff in France and Belgium encountered when German forces invaded in May 1940 – many Commission staff were evacuated, but some did not make it back to the UK and spent the war interned in various prisons and camps. Reading some of those records really brings to life this harrowing chapter in the Commission's history, and the literal life or death decisions that some of our staff were faced with.
Commission staff interned in prison in Paris during Second World War, from private collection.
We are also continuing to add to our collection, and recently interviewed the daughter of one of our first gardeners. Mrs Mary Setchfield, daughter of former Commission gardener John Haley, who had worked in Belgium after the First World War, and now 98 years young, kindly agreed to allow members of the archive team to interview her for an oral history recording. Mary was able to provide some amazing insights into her and her families lives, including remembering being present at the unveiling of the Menin Gate, and attending the British Memorial School in Ypres. We hope to make this recording available on our online catalogue soon.
Children at the British Memorial School in Ypres, CWGC Archive.
How did you get into being an Archivist?
I'd been interested in history from an early age and studied it all the way through school and college. I then went to university to study archaeology, and while I loved it, I wasn't so keen on the mud and digging side of things (a two-week stint of archaeological field training in the rain and hail in Inverness opened my eyes to how much I liked being warm and dry!) After that, I gradually realised that what I really wanted to do was to work with historical/heritage collections, hopefully sharing my interest in the past with others and working to open up collections to wider audiences.
Through a convoluted route which took me to the London Metropolitan Archives, the National Trust, the National Archives and the Museum of London, and also post graduate qualifications in Museum Studies (University of Leicester) and Archives and Records Management (University of Dundee), I walked through the doors of the CWGC back in 2013 and have loved working with the people, researchers and collections here ever since.
What is your favourite item in the CWGC archive?
I get asked this question a lot, and the answer is that I don't really have a favourite item, or at least, my favourite item tends to change as I work with different parts of the collection, or catalogue new accessions to the archive. I love finding out more about the social history of the organisation, the staff and their families who moved to France and Belgium and other areas around the globe after the end of the First World War to construct and then tend the cemeteries and memorials, and what that experience was like.
In the same way, I think our collection of 'E-files' – historic enquiry files which contain correspondence between the Commission and the relatives and friends of those we commemorate, are an amazing collection of records, and bring the global scale of the Commission's work right down to an individual, personal level.
One item which has left a lasting impression on me, and which for want of a better word could be said to be my favourite, is an efile regarding Lieutenant Arthur Conway Osborne Morgan, Royal Field Artillery (attd. 5th Bn. Lincolnshire Regiment) who is buried in Canadian Cemetery No.2. The file, which is over two parts (view part one here and part two here), contains correspondence between Morgan's family (mainly his sisters) and the Commission, and covers the period 1915–1955.
It is a remarkable record, which I think encapsulates the experience that many families must have gone through during and immediately after the First World War when they were trying to find out what had happened to their loved one (Morgan's body wasn't found until 1931). In 2016 I was lucky enough to be able to visit Arthur's grave, and it was a privilege to be able to stand there and pay my respects to him, feeling I knew something about who he was from the letters in the archive file.  The file, one of only 3,000 which survive (many thousands having been deliberately pulped during the Second World War to provide paper for shells for the war effort) has been digitised and can be found on our online catalogue.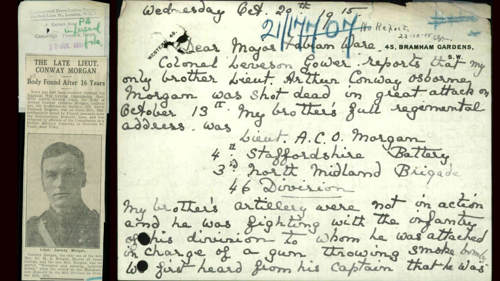 EFiles for Arthur Conway Osborne Morgan, CWGC Archive.
What challenges are faced with preserving the collection?
Preserving items for future generations, while continuing to provide access to the records now, is a constant challenge for the archive team here, but one that all archives, museums, and heritage organisations face. We have digitised a large part of our collection, and those digitised items are now stored off-site in temperature and humidity-controlled storage facilities. The material which remains onsite is stored in dedicated storage areas, which we monitor for temperature and humidity fluctuations, and any evidence of pests.
We also work to improve the basic packaging of the files, so, with a team of volunteers (who sadly have not been able to work in the archive since the first lock-down in March 2020) we remove rusting staples, paper clips and pins from the files, repackaging them in acid-free archive folders, and store them in acid-free boxes. We also record how often an item from the collection is requested and use that information to help us prioritise items for digitisation.
Unfortunately, some items by their very nature are unstable – for example many of the paper files which were created during the Second World War, when there was a shortage on all sorts of materials, are made of poor-quality acidic paper, which to some extent contains the seeds for its own destruction and which if unmanaged will over time simply fall apart. What we try to do is to slow down that process by providing better storage and encouraging better handling of the records, with the ultimate plan to digitise the material so that we can safely place the physical files in long-term storage.
While many people focus on the difficulties associated with preserving paper records, we equally have issues to face when preserving digital records. The ubiquitous nature of digital records, the ease with which they can be copied and stored in multiple places and multiple versions, and the sheer volume of them, present their own challenges for archivists, and ones which we are just starting to get to grips with.
CWGC's Archive in Head Office.