03 March 2021
Paying Tribute this Commonwealth Day
Twelve months ago, we were able to celebrate Commonwealth Day with our friends and family. Since then we've had to learn how to live during an international pandemic away from our loved ones and moving our work to our homes.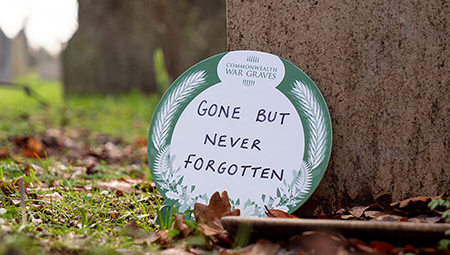 While there is light at the end of the tunnel, we can't yet meet up with our loved ones as we might like to, so for this Commonwealth Day, we're encouraging people to take their own private moments of remembrance.
Brookwood Military Cemetery contains over 5000 Commonwealth casualties from both wars making it the perfect place to pay tribute to all the men and women of the Commonwealth who lost their lives during the World Wars.
To represent the fallen from across the Commonwealth, we've chosen a casualty from each of our member governments to lay a tribute for:
Major Oliver Hogue – Australia
3 March 1919
Age 38
Sydney-born Oliver fought on Gallipoli, before serving in Egypt and Palestine with the Imperial Camel Corps. By 1918 he commanded a squadron of the 14th Light Horse Regiment in Damascus. Having survived these deadly campaigns, he succumbed to influenza whilst on leave in the UK after hostilities had ended.
Oliver is buried in Plot IV, Row J, Grave 9
Nursing Sister Sarah Ellen Garbutt – Canada
20 August 1917
Age 41
A nurse at the Royal Memorial Hospital in Ontario, Sarah volunteered for the Canadian Army Nursing Service in 1917. She was posted to the UK, but only a month later was diagnosed with abdominal cancer and died in Vincent Square Hospital, London.
Sarah is buried in Plot III, Row A, Grave 15.
Leading Aircraftsman Yousif Ali - India
12 May 1947
Age 42
Born in Sylhet (now part of Bangladesh), Yousif moved to England in the 1920s. At the outbreak of the Second World War he enlisted in the RAF Volunteer Reserve. While serving in Europe after the war he fell ill and was brought back to England, where he died at the RAF Halton Military Hospital.
Yousif is buried in Plot 2A, Row D, Grave 5.
Flying Officer Tohunga Richard Riwai - New Zealand
21 February 1944
Age 25
Tohunga Richard Riwai was born in September 1918. He worked as a clerk and played the saxophone in Colin Castleton's band at the Ritz Hall in Rotorua. Just before the Second World War he married Te Ao Korewarangi Katie Rodgers and they had three children together.
Richard is buried in Plot 2, Row K, Grave 2.
Pilot Officer George Drake - South Africa
9 September 1940
Age 20
Rejected by the South African Air Force, George travelled to England and joined the RAF in 1939. During the Battle of Britain he was shot down by a German Messerschmitt and it was not until 1972 that his remains were discovered in Kent. His funeral at Brookwood was attended by his surviving brothers.
George is buried in Plot 22, Row E, Grave 2.
Ensign Violette Szabo George Cross - United Kingdom
January 1945
Age 23
War widow Violette was recruited to the Special Operations Executive and twice undertook dangerous missions in France. She was captured and tortured before being sent to Ravensbrück concentration camp, where she was eventually executed. Violette's bravery posthumously earned her the George Cross.
Violette is commemorated on the Brookwood 1939-45 Memorial, Panel 26, Column 3.
We'd love to hear about people visiting their local cemeteries and memorials on Commonwealth Day and posting a tribute on social media using the hashtag #ShareYourTribute. Or you could leave one of our new physical tributes at a headstone or memorial near you. Our tributes are 100% biodegradable and compostable and their design reflects the six Commonwealth member nations who fund our work.
Order your Tribute today
Completely biodegradable, its design reflects the six Commonwealth member nations who fund our work.
Order your tribute today