23 October 2020
Remembering the contribution of black RAF servicemen

In the second of our blogs for Black History Month Lynelle Howson, one of CWGC's Historians, uncovers the stories of two black servicemen who fought with the Royal Air Force during the Second World War and are now commemorated in the United Kingdom.
Rows of identical headstones, or columns of names inscribed on tablets of Portland stone, can give the impression that the people we commemorate were all alike. Nothing could be further from the truth. Identical in death, in life they were diverse. All over the world, the CWGC commemorates servicemen and women from the Commonwealth who died in the two world wars.
In honour of the UK's Black History Month, here are just two of the black servicemen we commemorate in the UK, both of whom belonged to the RAF and remind us of the vast manpower of the Empire which Britain called upon during both World Wars.
In October 1939 the British government announced that for the duration of the war the 'colour bar' preventing 'those who are not of European descent' from becoming officers in British forces would be removed. In November 1940, the Air Ministry informed the Colonial Office that it would accept black aircrew candidates from the colonies. Between 1940 and 1942, some 3,000 West Indians enlisted in the RAF. One of these volunteers was Leslie Francis Gilkes of Siparia, Trinidad. He volunteered in 1942 and did his initial training at the Royal Naval Air Station at Piarco in Trinidad before setting off for England later that year in August. He received further training as an air gunner, destined to serve in Bomber Command.
People of colour who served in Britain faced discrimination and racist treatment, but units were not segregated - they flew, fought and lived with their white comrades. Leslie joined No. 9 Squadron RAF, based at Bardney in Lincolnshire, flying Lancaster bombers. His pilot and two of his crewmates were Scottish; his fellow air gunner was from Tweedmouth in Northumberland. On 30 July 1943, a photographer visiting RAF Bardney took this picture of Leslie passing the time with another air gunner of his squadron, Sergeant Dickinson from Canada, while they waited to board their Lancasters bound for Hamburg. Three days later, Leslie was dead.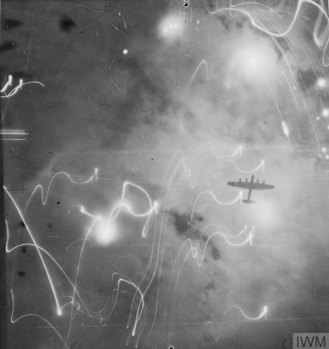 Gilkes and Dickinson RAF gunners wait to board bombers 1943, © IWM PL 10348D, July 1943 bomber over Hamburg during raid, © IWM C 3371
On 2 August 1943, a large force of over 700 aircraft, including those of No.9 Squadron, took off to bomb the city of Hamburg in Germany, the last raid in a series called Operation Gomorrah. Leslie's aircraft was shot down on the way home, crashing into the sea just off the coast of the Netherlands in the early hours of 3 August. All seven men on board were killed.
The bodies of four would wash ashore and be buried by local Dutch people – three would be moved after the war to CWGC's Bergen-op-Zoom War Cemetery. Sergeant Leslie Gilkes, his fellow gunner Sergeant William Miller Welsh and flight engineer Sergeant Robert Hugh Jones have no known grave. Their names are inscribed on our Runnymede Memorial, alongside those of 20,000 other missing servicemen and women of Commonwealth air services.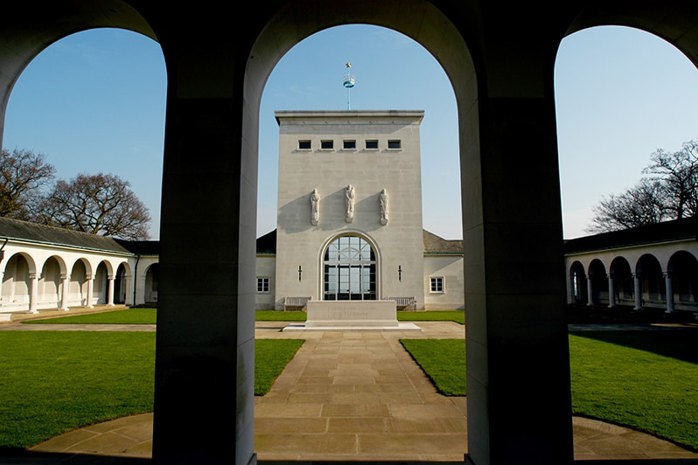 Runnymede © Brian Harris
Haycombe Cemetery in Bath opened just before the Second World War. During that conflict, an area in the cemetery was set aside for military burials, and the RAF made it one of its regional plots, using it to bury airmen of Commonwealth and Allied air forces stationed in the South West. Among them is the first African to be granted a commission in the RAF: Flight Lieutenant Emanuel Peter John Adeniyi Thomas of Nigeria.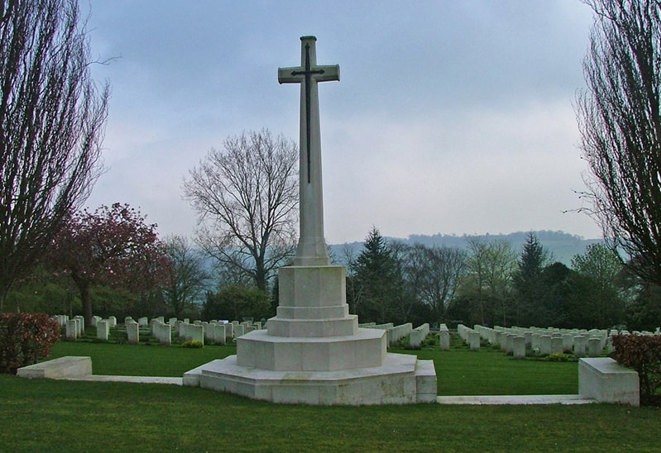 Haycombe Cemetery, Bath
Known as Peter, or 'Deniyi', to his friends, he was born in Lagos in 1914, into one of the wealthiest and most influential families in the region. When war came, Peter was 25 and in government service in Nigeria. Inspired by the achievements of the RAF in the Battle of Britain, he wanted to volunteer and train as a pilot. Four months after the air ministry announced they would accept black aircrew, Peter sailed for Liverpool. He received his commission in mid-1942, the first West African to do so, and the first to qualify as a pilot. His older sister Stella was also a trail blazer: the first African woman to be called to the bar and the first to sit as a magistrate in West Africa.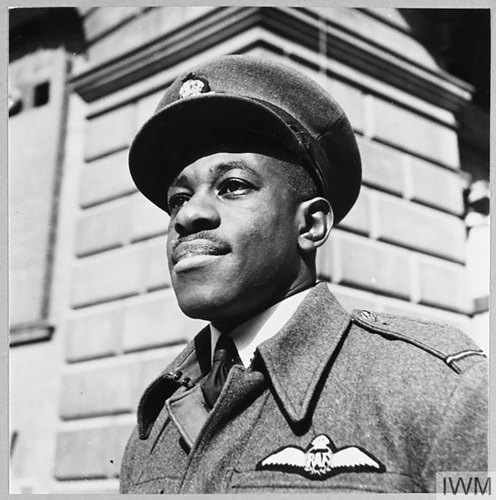 Flight Lieutenant Emanuel Peter John Adeniyi Thomas, © IWM CH 7168
January 1945 found Peter serving with the RAF's No.4 Radio School at RAF Madley, helping to train wireless operators by taking them up to practice working in the air. On 12 January he took off with trainee wireless operator Frank Stokes for a wireless telegraphy exercise over the Brecon Beacons in South Wales. In bad weather they crashed into a mountainside. Frank came to and, although injured, managed to stagger two miles to find help for himself and his pilot, but Peter did not survive.
To us, he is one among 1.7 million servicemen and women the CWGC commemorates, but to his mother, Peter was the beautiful son she would never see again. His headstone in Haycombe Cemetery reads:
"FORGIVE MY GRIEF
FOR ONE REMOVED,
THY CREATURE
WHOM I FOUND SO FAIR". MOTHER