21 March 2022
Remembering the poets of World War Two
While the poets of the Great War are still studied in schools around the country today, we should also remember the poets of World War Two. These men and women followed in the footsteps of the likes of Siegfried Sassoon and Wilfred Owen, turning their experiences in war into verse.  
Read some of our favourites below and let us know yours on social media.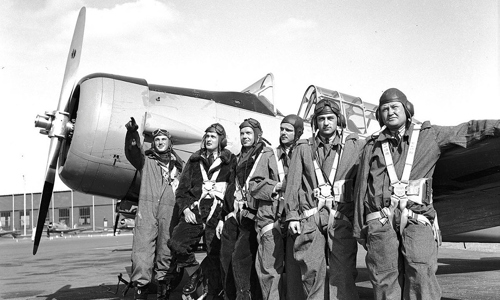 UK MOD © Crown copyright
Keith Douglas – From Alamein to Zem Zem to Normandy
Captain Keith Douglas of the Royal Armoured Corps, 2nd Derbyshire Yeomanry, is considered one of the greatest voices of his generation.
Many view him as the only poet of the Second World War to really grasp and carry on the tradition set by his Great War forebears.
His memoir, From Alamein to Zem Zem, is one of the most expressive descriptions of the North Africa campaign. But it's through his poetry that Douglas offered an almost forensic vision of the grinding, brutal warfare that characterised the Second World War.
Vergissmeinnicht (Forget-me-not), for example, talks of finding the picture of Steffi, a German tanker's sweetheart, in the wreckage of a tank destroyed by Douglas' unit, alongside the tanker's own body.
The poem muses on how Steffi would weep to see her lover now: "How on his skin the swart flies move; the dust upon the paper eye and the burst stomach like a cave."
Such near-callous realism is what separates Douglas from his many contemporaries. Conflict is a harsh business, so why should the literature and verse covering it not reflect that?
Douglas was killed in combat three days after D-Day in June 1944. Leaving his tank to undertake a personnel reconnaissance while pinned on high ground around Tilly-sur-Selles, Normandy, Douglas was struck and killed by mortar fire.
Initially buried close to where he had died, Douglas was eventually moved to the Tilly-sur-Selles Cemetery where he remains to this day.
John Gillespie Magee Jr. – To touch the face of God…
"It started at 30,000 feet and was finished by the time I landed." A simple way to describe a ground-breaking piece of war poetry. 
John Gillespie Magee Jr., son of missionary parents and born in Shanghai, China, captured some of the most glorious, soaring imagery depicting modern powered flight in his 1940 poem High Flight. 
The fourteen-line paean to the sensation of flight is full of dazzling prose on leaving behind "the surly bonds of Earth" and "touching the face of God." But High Flight may not have become the iconic poem it is today without tragedy. 
Descending at high speed, Magee sailed through clouds above Roxholme, Lincolnshire, tragically colliding with an Airspeed Oxford training aircraft. He was just 19. 
In tribute, Magee's father John published High Flight in several church publications. It drew the attention of Librarian of Congress Archibald MacLeish who included it in an exhibition called "Faith and Freedom" which caused it to really take off. 
Copies of High Flight, as well as pictures of Magee, were sent to airfields across England, his words serving as inspiration to young pilots taking to the skies over Europe. 
John Gillespie Magee Jr. is buried in the Scopwick Church Burial Ground. His headstone bears the words of his iconic work: 
"OH I HAVE SLIPPED THE SURLY BONDS OF EARTH... PUT OUT MY HAND AND TOUCHED THE FACE OF GOD" 
Alun Lewis – Landless soldiers locked in war
Alun Lewis, one of the Second World War's most celebrated English-language poets, may never have served at all.
Lewis initially considered registering as a conscientious objector when the Second World War broke out in 1939, but finally joined up as a sapper in March 1940. It was in this year Lewis wrote one of his most famous works: All Day it has Rained.
One of the common misconceptions of war is that it is all constant fighting and action. Much of a soldier's time is spent in depots, at bases, in transit, or holding positions, talking, joking, smoking, eating, and ultimately waiting for the call to action.
All Day it has Rained evokes imagery of men at arms passing the time before the next big push. It's all billowing tents, drizzly rain, and sticky mud, punctuated by everyday observations, allusions to Great War poet Edward Thomas, and simply what ordinary soldiers get up to when they're not at the front. It speaks a lot of the downtime the bulk of soldiers experienced, and the boredom before the storm.
But boredom is just one of the many emotions thrown up by warfare, but so is loss and longing, which Lewis explores in Goodbye.
The poem speaks of a soldier spending one final night with a lover, prior to shipping off. It's a simple elegy to feelings any servicemen would have experienced if they were lucky enough to have a sweetheart.
Alun Lewis eventually served in India before being transferred to the Burma front in 1944. On the night of March 4th, he joined B Company in a forward position. The next night, he was discovered next to a latrine, dead from a shot to the head. He resides in our Taukkyan War Cemetry.
Pamela Holmes – A mother's words from the home front
Too often the focus of war poetry and literature falls on the men at the front. But conflicts the scale of the Second World War touched everyone in society. Those on the home front endured their own tragedies.
Pamela Holmes, wife of Lieutenant F.C Hall who was recorded as missing in action, presumed killed, in December 1942, characterises the grief felt by family members in the heartrending War Baby.
In just two short stanzas, Holmes was able to perfectly encapsulate what it felt to lose her husband, the loss compounded by the fact she was pregnant at the time of Lieutenant Hall's disappearance:
He has not even seen you, he
Who gave you your mortality;
And you, so small, how can you guess
His courage, or his loveliness?
Yet in my quiet mind I pray
He passed you on the darkling way –
His death, your birth, so much the same –
And holding you, breathed once your name.
The poem is a reminder of the Second World War's reach. Everyone at home or on the front suffered some form of personal tragedy. It's why we continue to work hard to enshrine the memories of all those who gave their lives during the conflict so they will always be remembered.
A legacy left in their art, the fallen artists of World War Two
Have you heard of the WAAC? The War Artists Advisory Committee was set up to help document the war through art. To draw and paint the war one had to see it: some 28 artists were given overseas commissions by the WAAC, and of these, three would die while serving.
A legacy left in their art, the fallen artists of World War Two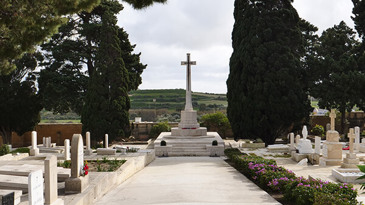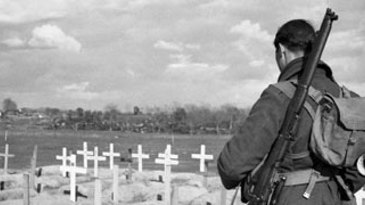 Read more blogs