13 February 2018
The real soldiers of Journey's End
Written by a man who had experienced the trenches of the Western Front, the dramatic, tense and claustrophobic events of the play and film Journey's End have a realism and authenticity. This is because its writer, RC Sherriff, had seen first-hand the effect of years of war on his friends and knew the fear and terror of waiting for an impending attack, waiting for his journey's end.
The characters of Journey's End are believed to be a reflection of the men Sherriff had served with in the 9th Battalion of the East Surrey Regiment. The events of the play, especially the impending sense of doom at an imminent German attack, are based on the experiences of Sherriff's comrades who held the line near the French town of St. Quentin at the start of the German Spring Offensive in March 1918.
Writing to a fellow officer in 1936, Sherriff said:
"None of the characters are drawn from life – but you may find some of them a likeness to men you knew."
While in his autobiography published in 1968, he wrote:
"Besides Stanhope and Raleigh, the other characters walked in without invitation. I had known them all so well in the trenches."
Here are some of the men Sherriff served with, who are believed to have inspired characters in the play:
Captain Godfrey Warre-Dymond MC – Captain Stanhope
In the dedicated and highly capable, yet fatally flawed character of Captain Stanhope there are parallels with a Captain Godfrey Warre-Dymond, who Sherriff met in October 1916. Godfrey was already a highly capable officer and veteran of the Somme when he joined Sherriff's battalion. Sherriff refers to Godfrey's abilities as "magic", similar in the way that the character of Raleigh views Stanhope in the play. Warre-Dymond was taken prisoner in March 1918 and survived the war.
Sam Claflin as Stanhope
Second Lieutenant Richard Webb – Second Lieutenant Raleigh
Second Lieutenant Raleigh can be considered a fusion of soldiers who Sherriff knew. Raleigh is young, enthusiastic and naive about the realities of war, not unlike many young officers of the period and indeed Sherriff himself.  The closest comparison perhaps is with Second Lieutenant Richard Webb.
Just like the characters of Raleigh and Stanhope who are portrayed as childhood friends, Webb and Sherriff were close friends and used to go on camping trips together in their youth before the war. Just like Raleigh in the play, Webb did not survive the war. He died in October 1916 and is buried in CWGC Etaples Military Cemetery.
Asa Butterfield as Raleigh
Captain Archibald Henry Douglass – Lieutenant Osborne (Uncle)
Sherriff would have met thousands of soldiers during his time with the Army and many individuals and events influenced Journey's End, however it seems that it is Captain Archibald Henry Douglass who had the greatest impact. When Sherriff first met Douglass he was drying a sock over a candle flame, a scene given to Captain Hardy in Journey's End. Douglass was known to his comrades in the battalion as 'Father', rather than 'Uncle', as he was the son of a clergymen, a background given to Stanhope in Journey's End. Sherriff wrote of Douglass:
"… a tall, dark man … one of the finest men I have ever known. He was a man of few words. He hated affectation and he hated vulgarity... He was also about the coolest man I ever saw in the trenches."
In this we can see the clam and dependable character of Osborne. Douglass was with the 9th East Surreys in March 1918, and was wounded during the German attack. He was sent back to the United Kingdom where he died on 8 April 1918. He is buried in Hanwell (City of Westminster) Cemetery.
Paul Bettany as Osborne (left)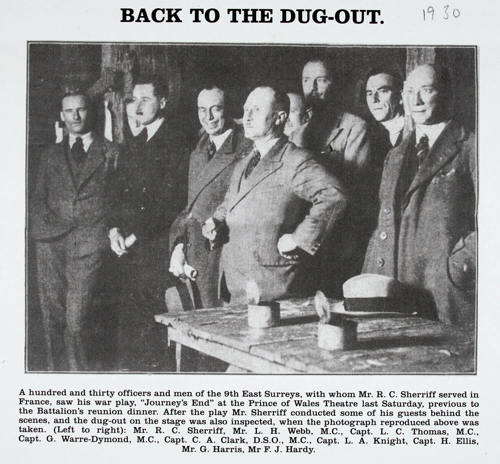 Newspaper report of the 9th Battalion's theatre outing to see Journey's End and annual dinner, 1930. 130 officers and men attended the event and Sherriff showed some of his former comrades around the stage set. Clark is in the centre, Sherriff far left. Reproduced by permission of Surrey History Centre.