20 November 2020
Tracing the First World War Connection with Sweden
There were a number of servicemen with Nordic backgrounds who served in the armies of the Entente during the First World War.
This week CWGC Historian, Sanna Joutsijoki, explores the Commonwealth war graves in Sweden and uncovers some personal stories of men with Swedish origin who served in the armies of the British Empire.
In 1914 the north of Europe looked somewhat different than today. Iceland was still part of Denmark, Finland was part of the Russian Empire and Norway had only recently gained independence from Sweden in 1905.
Both the Baltic and North Sea were important for strategic and military reasons but also essential for shipping. The Nordic countries had close trade relations with both Britain and Germany, but the blockade of Germany and her allies by the Entente caused serious problems for shipping and trade.
Non-alignment in peace time and neutrality in times of conflict had been the essence of Denmark, Norway and Sweden's foreign policies but the longer the war lasted, the more difficult it became to balance between the great powers.
Commonwealth War Graves in Sweden
Even though Sweden remained neutral, it was not left untouched by the First World War.
Servicemen from both sides of the conflict, including many sailors whose bodies were washed ashore on the coasts of Sweden, were laid to rest by local people in churchyards and civil cemeteries, sometimes in isolated and inaccessible locations.
As a result of the concentration of war graves in the 1960's, there are today Commonwealth war graves in 11 locations in Sweden commemorating a total of 196 servicemen. 75 of them lost their lives in the First World War and a further 121 died in the Second World War.
Kviberg Cemetery
The largest group of Commonwealth war graves in Sweden can be found at Kviberg Cemetery, in Gothenburg (Göteborg), where 114 servicemen are commemorated.
Many of these men had died either at sea or in the air. 50 of them lost their lives during the Battle of Jutland, which was a key naval battle of the First World War, fought by the Royal Navy's Grand Fleet and the German High Seas Fleet on the North Sea in 1916.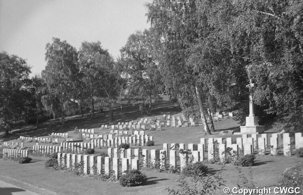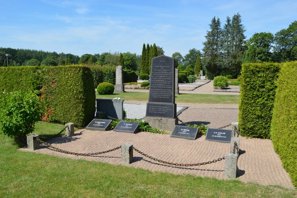 Convalescing Camps for Prisoners of War
As neutral countries, Denmark and Sweden became involved in the repatriation of prisoners of war after the Armistice. It was decided that British POWs would return home through one of these countries after spending some time at a convalescent camp. As well as the British, some French, Italian, Portuguese, Greek and Serbian prisoners of war passed through the Swedish camps at Ljungbyhed and Revingehed.
On 16 December 1918 the first British POWs started arriving. But not all of them managed to return home; including the four British servicemen commemorated in Riseberga Churchyard in Skåne, the southernmost part of Sweden.
One of these men was Frank Higham. He was captured during the Battle of the Ancre, on 13 November 1916, and was taken prisoner. Following the Armistice he was set to return home to his wife Mary after a stay in Ljungbyhed. Unfortunately, he never left the camp, and after having survived fighting on the Western Front and a long captivity in Germany, he died of pneumonia on 25 December 1918.
Swedes in the Armies of the British Empire
When it comes to the servicemen with Swedish origin serving in the armies of the British Empire, we can certainly find several of them. However, providing an exact number is more difficult, as our records don't always contain this information.
Some of the men serving, especially in the Dominion forces, would have been born in Sweden and would have emigrated with their parents when they were children. Some would have been born to Swedish parents who had recently emigrated. Others would have had different ties to Sweden. Whatever their connection, they decided at the outbreak of the war to join the Allied war effort and are today remembered by the CWGC for their service.
Lance Corporal Peter William Olsen and Private Andrew Olsen
Anders Gustaf and Karin Olsen, the parents of Peter William and Andrew, emigrated from Sweden to Australia with their children in 1899 and ultimately settled in Queensland. Three of their sons fought in the First World War, two of them never returned home.
23 year old Andrew Olsen volunteered for service in the AIF and joined on 8 July 1915. His papers don't mention his Swedish origin but instead he claimed he was born in Yangan, Queensland. He arrived at Suez on 7 December 1915 and six months later left Alexandria to join the forces in France.
Andrew arrived in Marseilles in June 1916 from where he proceeded to northern France. He took part in the Battle of Fromelles where the Australians suffered heavy losses, Andrew being among those who were killed on 19 July. His remains were never found and today he is commemorated by name on V.C. Corner Australian Cemetery and Memorial, Fromelles.
In September 1916 his father contacted the military authorities to ask for more details about his son's death and possessions. He finished his letter by begging a reply to one "sorrowful father".
Peter William Olsen's papers on the other hand do note that he was born in Sweden in 1889. At the time of his enlistment he was no longer in Australia, but was working as a farmer in Turua, New Zealand. He enlisted on 22 July 1916, leaving New Zealand in mid-November and arriving in England in late January 1917. At the start of June he joined the 2nd Battalion Wellington Regiment, and later that year took part in the Battle of Messines and the Third Battle of Ypres.
By August Peter William was promoted to Lance Corporal. Sadly though, on the 4th October 1917 during the Battle of Broodseinde, as part of the advance towards Passchendaele, he was killed. He was first reported missing but later his remains were identified with the help of his identity disc and an envelope he had with him. He was laid to rest at Tyne Cot Cemetery, among the nearly 200 other New Zealand servicemen buried there.
Private Nils Otto Lundius
Nils Otto Lundius' service record noted that he was born in Västerås, Sweden but also that he was a naturalised British subject. He was 22 years old and unmarried when he enlisted in the AIF on 1 December 1915. By late October he had made his way from Australia to France, where he joined the 45th Battalion.
On 7 June 1917, during the Battle of Messines, he was killed in action. His remains were discovered in late 1919 and he was identified with the help of a cigarette case and disc numerals he had with him.
He was buried in Messines Ridge British Cemetery. His mother chose the following personal inscription for his headstone:
FODD DEN 29 JANUARI 1893 I VESTERAS, SVERIGE STUPADE SOM FRIVILLIG.
(Born on 29 January 1893 in Västerås, Sweden, fell as a volunteer).
Private Carl Tura Hergstrom
Carl Tura Hergstrom was born on 12 June 1898 at Sundsvall, Sweden to Ernest Theodor and Hulda Johanna Hergstrom. The family emigrated from Sweden and arrived in South Australia in 1914. Before his enlistment to the AIF, Carl Tura worked as a labourer.
He enlisted with the 5th Pioneer Battalion in Port Pirie, South Australia in July 1917 and embarked from Melbourne on 30 October. In April 1918 he proceeded to France to reinforce the 48th Battalion. Within less than three months, on 3 July Carl Tura died in action. He was first buried in Vaux-sur-Somme Communal Cemetery Extension but was later exhumed and reburied in Villers-Bretonneux Military Cemetery.
In his service record, there is a letter from the army to his father. It appears that the family would have wished that "Born in Sweden" had been engraved on his headstone.
There is nothing more to this in his service file, but the case opens up again in the 1930's. In July 1936 Carl Tura's father visited the grave of his son in Villers-Bretonneux Military Cemetery and afterwards paid a visit to the IWGC office in Arras, France. He requested to change the spelling of his son's name to Carl Tyra Hogström and wanted the personal inscription "Born in Sweden" engraved on his headstone.
The IWGC considered the matter but needed more details. They wrote to the father in October 1936, explaining that at the time the family had confirmed the spelling as Carl Tura Hergstrom and that it was also the name under which his son had served in the army. They never got a reply to this letter and this was the end of the correspondence in our archives. On Carl Tura's headstone his Nordic surname gives us today an indication of his roots in Sweden.