20 May 2017
Brian Blessed OBE opens CWGC's centenary exhibition
English actor and adventurer, Brian Blessed OBE, visited the CWGC's Brookwood Military Cemetery today to launch the Commission's centenary exhibition, For Then, For Now, Forever.
The new and free exhibition uses previously unseen archival materials and artefacts to tell the story of our unique organisation from founding to modern day.Housed in the beautiful Grade-1 listed Canada Building of Brookwood Military Cemetery near Woking in Surrey – the largest CWGC site in the UK – the exhibition displays many historically important items never before seen in public.
Mr Blessed said: "I am honoured to be opening the Commonwealth War Graves Commission's centenary exhibition at Brookwood Military Cemetery.
"I'm an avid supporter of veterans' charities, so this is something close to my heart. Every man and woman who fought in both world wars across the globe deserve to be remembered for the sacrifices they made.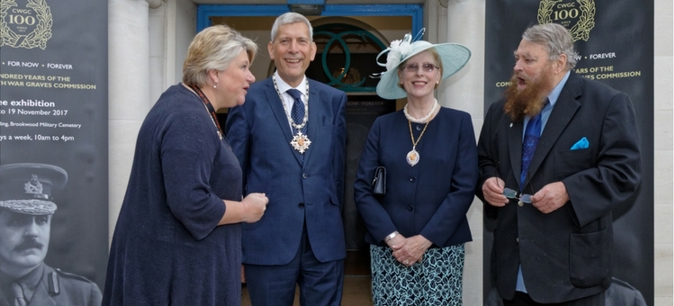 "The CWGC has done an incredible job over the last 100 years and long may it continue.
"I would urge everyone who can, to visit the exhibition and also their local war graves; find out the stories behind the headstones and commemorate those who 'gave their tomorrow, for our today'."
CWGC Director General Victoria Wallace added: "The story of the Commonwealth War Graves Commission is one the whole world should take pride in. That Governments in 1917, amid the chaos and carnage of the First World War, had the vision to design, build and care for an estate of cemeteries and memorials of such beauty was a fitting testimony to their gratitude to all those who died for their countries.
"I hope people will come to explore this fascinating part of history, and help the CWGC celebrate the astonishing and enduring achievement which is now moving into its second century.
"It's a great opportunity to visit Brookwood Military Cemetery, a hidden treasure where so many servicemen and women from all nations are commemorated, and the programme of tours and talks that accompany the exhibition should not be missed."
The display has been curated by CWGC staff and will be staged until 19 November, 2017. It will be supported by a series of talks and events throughout the six month run.
One hundred years on, the centenary exhibition explains how the CWGC forever changed the way we remember the war dead.
For more about the exhibition, click here.