19 October 2020
CWGC experts lend caring hand to new landmark Normandy Memorial
Experts from The Commonwealth War Graves Commission (CWGC) will keep a watching eye as a new Memorial to those British forces who died to liberate Europe nears completion. The Memorial will remain closed over the winter, while landscaping and other works continue ahead of the Official Opening in June 2021.
CWGC's involvement comes after the signing of an agreement with the Normandy Memorial Trust (NMT), the driving force behind the new British Normandy Memorial.
CWGC has a class-leading reputation for its care and commemoration of the 1.7 million Commonwealth dead of two World Wars. With war graves and memorials at 23,000 locations, in more than 150 countries and territories, CWGC is well-placed to lend the new Memorial a helping hand.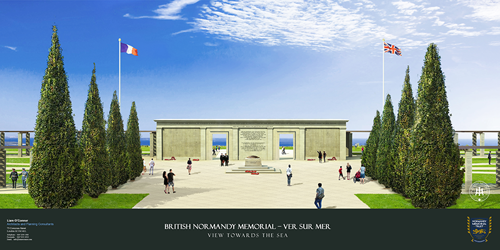 CWGC's Director General, Barry Murphy said: "The Commonwealth War Graves Commission is thrilled to lend its local expertise into helping the Normandy Memorial Trust as the construction of their impressive new Memorial nears completion.
Our strong presence in France, and background in caring for sites of such significance and meaning for more than a century, ensures we are uniquely placed to offer on the ground support.
As the project reaches its vital final stages, CWGC's staff based in France will oversee the landscaping of this historic site, ensuring it reaches the standard expected of the Trust and in keeping with a site of such significance.
It's a wonderful Memorial, in a spectacular setting, which will serve to complement the CWGC's war cemeteries in the Normandy region."
Chairman of Trustees of the Normandy Memorial Trust, Lord Peter Ricketts added: "CWGC have a worldwide reputation for maintaining their cemeteries to the highest standards. The Trust is delighted that they will be helping us to care for the British Normandy Memorial as we continue the work to complete the landscaping and prepare the Memorial for its Official Opening in June of next year. We hope this is the start of a long partnership with CWGC."
The Normandy Memorial Trust was created in 2016 to realise the dream of Normandy Veterans finally to have a British Normandy Memorial. The British Normandy Memorial will commemorate in a single location the 22,442 men and women under British command who died on D-Day and the ensuing Battle of Normandy.  The Memorial stands on an imposing site overlooking "Gold Beach", one of the principal beaches where British forces landed on 6 June 1944.
The core Memorial has been financed by the British Government from the LIBOR fund.
The Battle of Normandy in 1944 opened the way to the liberation of Europe and the end of the Second World War. British armed forces played a central role in those momentous events, and more than 22,000 made the ultimate sacrifice in the cause of freedom.