23 March 2022
Four WW1 soldiers rededicated at CWGC Ypres Reservoir Cemetery, Belgium
Photo: courtesy Eric Compernolle
On Tuesday 22 March the graves of Lance Serjeant Edward Leonard Cottrell, Serjeant Joseph Frank Brookes Birkin, Lance Corporal Wilfred Horace Miller and Lance Corporal Arthur Burton were rededicated at the Commonwealth War Graves Commission's (CWGC) Ypres Reservoir Cemetery in Ypres, Belgium. All four served with the Leicestershire Regiment.
The four soldiers all died in 1915 and were buried at the time nearby. After the Armistice, their graves were found and moved to Ypres Reservoir Cemetery, but sadly at that time they could not be identified. All four were therefore commemorated on the Ypres (Menin Gate) Memorial to the Missing. Recently a researcher submitted evidence that suggested who might be buried in one of the graves marked to a soldier 'Known Unto God'. Through the collective efforts of the MOD Joint Casualty and Compassionate Centre (JCCC) and CWGC the final resting places of all four men were then identified.
Fergus Read, CWGC Case Officer (Commemorations), said:
"It is always immensely satisfying when we are able to put a name on any headstone. Here, the research for one case helped us to unlock the names of those buried in a further three graves. It is the Commission's privilege to be part of the work to identify the last resting places of these casualties, and to care for their graves in perpetuity."
Nicola Nash, MOD JCCC caseworker said:
"After more than 100 years, these four men who were lost, have now been found. There is nothing more rewarding for us than giving a family closure and making sure that every soldier is remembered as he should be."
Defence Minister Leo Docherty said:
"We will never fail in our duty to remember those who gave their lives in the cause of freedom during the two world wars. As more fallen servicemen from both world wars are discovered, the MOD Joint Casualty and Compassionate Centre will strive to confirm their identities. Their tireless efforts and dedication will ensure these soldiers' names will live on in the Commonwealth War Graves Commission's cemeteries."
The rededication services were supported by the Royal Anglian Regiment and were conducted by the Reverend (Captain) Thomas Wilde, CF, Chaplain to the Royal Anglian Regiment, who said:
"When you give a soldier a name you give them meaning, a history and a voice."
The graves will now be marked by headstones provided by the CWGC.
LSjt E L Cottrell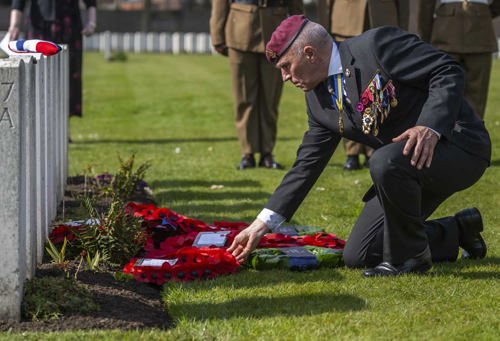 A wreath being laid at LSjt Cottrell's new headstone. Photo: courtesy Eric Compernolle
Edward was born in Lilleshall, Shropshire in 1888. He was the son of William and Sarah Cottrell. He had six siblings.
Before the war, the family were living in Newport and Edward was working as an Engineering Draughtsman.
Edward was formerly a member of the National Reserve, and at the outbreak of the war, enlisted in Leicester and served with the 1/4th Battalion, Leicestershire Regiment. A newspaper article reporting his death said: 'He was very popular in the Muxton district where he had many friends, who greatly mourn his demise'.
The letter reporting his death to his parents stated: 'He was respected and liked by all ranks in the company. He died doing his duty, like a soldier and a man'.
Sjt J F B Birkin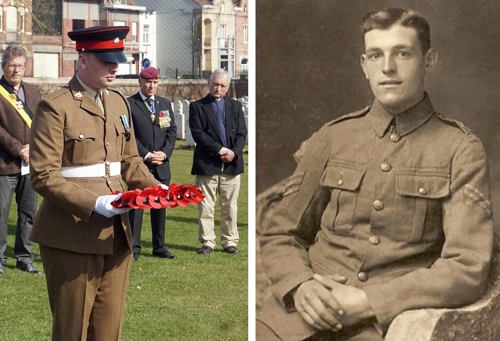 Left: Pte Benjamin Nicolas laying on behalf of other members of the Birkin family who were unable to attend. (Crown Copyright), Right: Sjt Birkin (Copyright Birkin family)
Joseph (known as Frank) was born in 1893 to Joseph Birkin and Sarah Ann Calvert Brookes in Loughborough, Leicestershire. He had six siblings and the family moved to Quorn when Frank was seven years old.
When Joseph left Rawlins Grammar School, he went to work for Hinds Electrical Engineers in Loughborough, working a shaping machine. He also used to help out in the family shop and off licence.
In March 1911, Frank decided to join the Army and enlisted with the 5th Battalion, Leicestershire Regiment, which was the Loughborough Battalion. He was promoted to the rank of Corporal in June 1914 and then Serjeant in June 1915.
Frank tragically lost his life on 25 September 1915, on the first day of a British attack on Hooge, which aimed to distract the Germans attention from the main attack at Loos, France.
John Williamson, great nephew of Sjt Birkin, said:
"It is wonderful this work still continues; this ceremony gives final closure to the family."
LCpl Horace Wilfred Miller
Left: LCpl Miller (Copyright Miller family), Right: Maria Miller at the graveside of her great uncle LCpl Miller's headstone. (Crown Copyright)
Horace was born in 1893 to John Miller and Mary Ann Cox in Hinckley, Leicester. Horace was the eldest of 10 children. Before the war, the family were living in Shepshed and were a well-known and popular family in the local area.  
In September 1914, Frank decided to join the Army and enlisted with the Shepshed Company of the 5th Battalion, Leicestershire Regiment. He was sent to France in February 1914 and was promoted to the rank of Lance Corporal in June 1915. Horace was a keen musician and singer.  
Horace was killed on 10 September 1915. Newspaper reports noted that: 'Miller was a fine man, greatly loved and admired by all his many pals'. He was described as always cheerful and would be greatly missed by all who knew him. 
Research by MOD JCCC also led to LCpl Miller's family being traced meaning they could be invited to today's service to pay their respects.
Maria Miller, great niece of LCpl Miller, said:
"This has been the most humbling experience and a great privilege to be here today."
LCpl Arthur Burton
LCpl Burton's headstone with members of The Royal Anglian Regiment. Photo: courtesy Eric Compernolle
Arthur was born in 1896 to Humphrey Burton and Ann Marriott in Belgrave, Leicestershire. He had seven siblings.
On the 1911 census, Arthur is recorded as living in Loughborough Road, Leicestershire with his parents and his brothers Charles and George. His occupation is listed as Printing Engineer. He was living in Vann Street, Leicestershire when he enlisted.
Arthur enlisted on 25 September 1914 as a Private. He was sent to France in March 1915 and was appointed a Lance Corporal a few months later in May 1915.
Learn more about CWGC Belgium war graves tours to discover World War history.