01 September 2021
Join us for Heritage Open Days
Throughout September we're opening our sites to you at cemeteries and memorials across Great Britain, Belgium, and France. These open days allow cultural organisations across Britain and Europe to come together and tell their unique stories.
So, whether you're attending a Heritage Day in England or France, a Doors Open Day in Scotland or Wales, or an Open Monuments Day in Belgium – we'll be very pleased to welcome you to a CWGC site.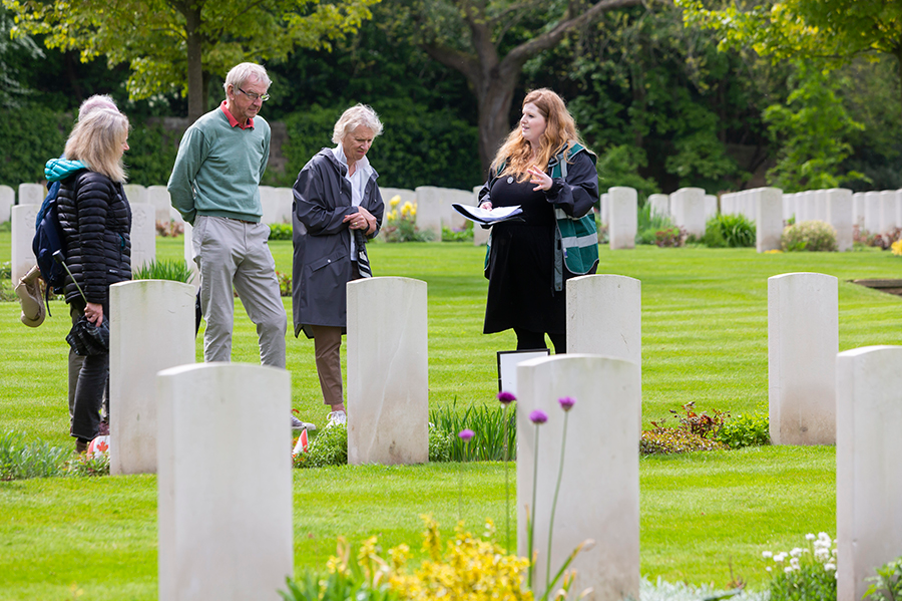 Great Britain
In Great Britain, we're running guided tours and open days in some of our cemeteries, memorials and churchyards across the country. From Dover to Dunfermline, Cardiff to Cambridge, each of our sites tells its own story of the world wars and the men and women who fought in them.
Led by our volunteer tour guides, you'll learn about the history on your doorstep and find out more about the work of the CWGC in commemorating the Commonwealth casualties of both wars.
Discover more about events in Great Britain
France
In France, visitors will be able to attend demonstrations by some of our master craftsmen at Faubourg D'Amiens Cemetery as well as at The CWGC Experience visitors' centre. These demonstrations will highlight the wide variety of skills and techniques used by our teams across the world.
Alongside the demonstrations, The CWGC Experience centre will host two conferences led by local historians.
Discover more about our French events
Belgium
In Belgium we will be hosting tours and demonstrations at some of our largest sites, including Tyne Cot Cemetery and Memorial, where nearly 12,000 casualties are buried, with a further 35,000 casualties commemorated on the memorial.
You can also visit Hedge Row Trench Cemetery where you can take a tour or meet the team and find out more about the restoration work taking place in the cemetery. We are also offering tours at the beautiful Hooge Crater Cemetery where you can learn more about the history of the sites across the Ypres Salient as well as those that fought and died there.
Discover more about our Belgian events
All of these events will be run inline with the local governmental advice surrounding Covid restrictions. This means that many of the events require pre-booking to ensure that the number of attendees does not exceed the maximum allowed.
Visit us for Heritage open days
We're opening our doors to you at cemeteries and memorials across Great Britain, Belgium, and France. See behind the scenes access like never before, with talks, tours, demonstrations, and activities.
Discover more