23 March 2021
Our year in lockdown
One year ago today, 23 March, people in the UK were asked to stay at home by the Prime Minister as the country was plunged into lockdown. We saw this happen in other countries across the world, as we all faced a pandemic that would drastically change the way we lived, worked, and socialised.
Despite these changes, our work continued. Here at CWGC we're charged with a job that was started over 100 years ago. Throughout the interruptions and complications that working under lockdown brought, we did our best to continue in our duties and to honour the Commonwealth men and women who lost their lives in the two World Wars.
Changing the way we work
Working under the new normal meant that we had to change the way we did our job. Limitations meant that our operational staff – gardeners and works teams - had to work in smaller groups and often individually. Staff could not travel in vans together. Many tasks which would have needed the whole team had to be replanned. As well as the usual protective clothing and equipment, masks and further sanitary measures were required.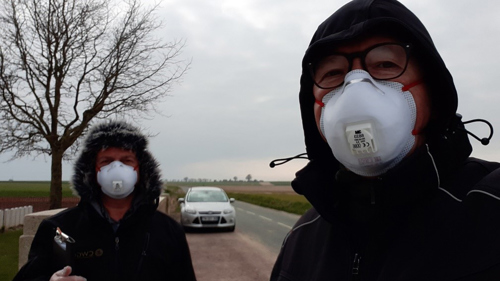 Those of us that were used to working in offices at close quarters required a crash course in online working and video meetings. For an organisation as old as ours, such a change was quite a culture shift, but gave us the chance to look at the work we were doing and how we were doing it.
Unforeseen challenges
While we were confronted with these new obstacles, we also had to deal with mother nature. The travel restrictions in the early months of the pandemic meant that we were unable to get teams to cemeteries to carry out their usual maintenance. In many countries repeated lockdowns have created significant challenges; sometimes staff could not travel to work at all.
Often this meant that some cemeteries became overgrown; in tropical regions, the local flora and fauna fought to reclaim the land. With our teams unable to access sites, grass and plants in cemeteries such as Sfax War Cemetery in Tunisia grew in abundance. For an organisation that normally mows grass which covers the equivalent of nearly 1,000 football pitches, each absence quickly adds up.
Luckily, we managed to safely get back on the ground and our gardeners worked hard to get the plants back under control and our sites back to their usual high standards.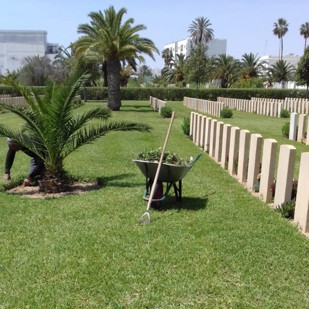 Remembrance under lockdown
Large gatherings have been all but impossible, so we've tried to find alternative means to remember the war dead. From the big remembrance anniversaries like Anzac Day and Remembrance Day, through to individual moments of gratitude, we've worked hard to ensure that we can all leave a message of thanks.
Where possible, we've laid wreaths in our cemeteries and at our memorials and given everyone the chance to order a tribute to lay at their local war grave.
We also embraced the digital age with our Digital Wall of Remembrance and our Shine On Remembrance Day initiative, where we gave those who couldn't travel the chance to name a star after their loved ones.
CWGC in the Community
These changes have provided new opportunities for us to talk about our work. Some of our very first initiatives included launching a podcast and embarking on a series of online talks. These Facebook Live event gave us the chance to share more of our work and give people a closer insight into CWGC and the history of the World Wars. It was also a great opportunity for us to get to know our supporters better and answer questions that ordinarily wouldn't have been asked.
With this in mind, we extended our public outreach programmes so that schools and groups could book a talk about our work or go on a socially distanced tour of one of our cemeteries. We also registered hundreds of volunteers for our Eyes On, Hands On initiative, who are being trained to help us complete a number of tasks as we begin to reach the end of lockdown.
In France, our team have donated some of our old equipment such as the donation of 13 laptops to the School of the Second Chance of Liévin and Arras area. This association helps 250 young people who do not have computer equipment at home. These computers will enable them to stay in touch with their teachers.
Our work continues
Despite the obstacles and complications of the last year, our work hasn't stopped. While we've had to find alternative methods, we've continued to do our best to commemorate the Commonwealth war dead of the World Wars through our day-to-day work, and through larger projects around the world.
Earlier this year, we embarked on the second phase of restoration at Thiepval Memorial. We have been able to commence other structural projects including major renovations at Durban Stellawood Cemetery in South Africa and a number of cemetery wall rebuilding projects across France and Flanders. We've relaunched our CWGC mobile app, making it easier than ever to find one of our sites and are gearing up for our first ever War Graves Week later this year.
While the last year has seen many things change, one thing is for certain – our work continues.