22 September 2021
Rededication service for Corporal Edward Trochim
A rededication service for Polish serviceman Corporal Edward Trochim was held at CWGC's Arnhem Oosterbeek War Cemetery last week.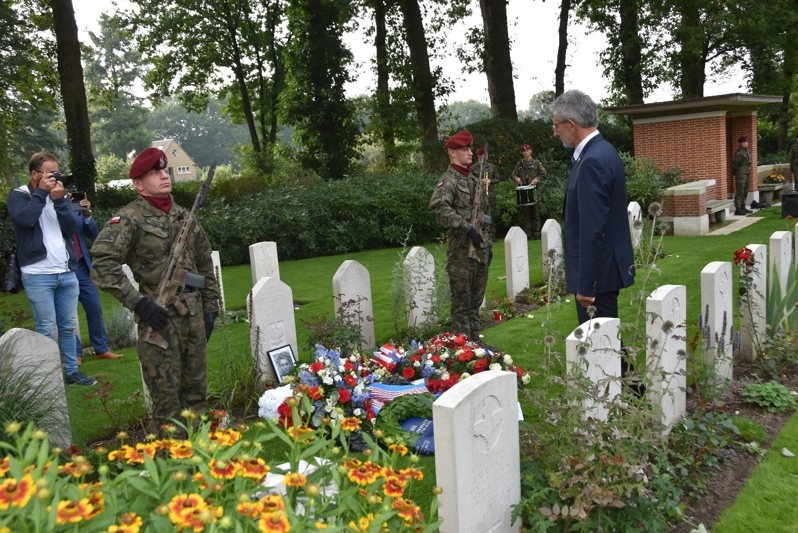 Corporal Trochim was 21 years old when he died on 21 September 1944 during the Battle of Arnhem, code-named "Operation Market Garden". Market Garden was launched on 17 September 1944. It was the largest airborne assault in history, and one of the most controversial and daring actions of the Second World War with 15,000 allied casualties.
Originally buried as an unknown serviceman, Edward's grave at CWGC's Arnhem Oosterbeek War Cemetery was only recently identified following extensive historical research and detailed reports of the battlefield graves by Mr. Mateusz Mróz.
Following the identification, a moving ceremony rededicating the new headstone bearing Edward's name, was held at the cemetery on Friday 17 September.
During the ceremony Mr. Mróz placed some earth from Edward's mother's grave at his grave and in return took some earth back to Poland to place at her grave.
Amongst the many international dignitaries present during the rededication ceremony were the Ambassador of the Republic of Poland, Marcin Czepelak, and servicemen of the Polish 6th Airborne Brigade. Representatives from the United Kingdom, United States of America and Canada also attended. The local commune, represented by the mayors of Renkum and Overbetuwe, also placed wreaths on the grave, as did CWGC's Area Director Geert Bekaert.
The ceremony was the first to take place in a CWGC cemetery since Covid-19 lockdowns started in March 2020 and was conducted according to current local Covid regulations.