09 June 2021
Restoration work at Gent City Cemetery
A month long restoration project has been completed at Gent City Cemetery. A recent inspection of the cemetery showed that the headstones had subsided to such an extent that the personal inscriptions had become illegible. To rectify this, adjustments needed to be made to the foundations of the headstones themselves.
Beneath each row of headstones are concrete foundations that hold the headstones in place. However, as the ones at Gent City Cemetery were originally placed at the end of the First World War, they lacked the iron reinforcements we commonly use today. As such, the original concrete foundations had begun to crack and wear out.
Thirty-two prefab concrete and iron-reinforced beams of 3 meters each, specially developed for the CWGC, were delivered in Gent City Cemetery as new foundations for the original headstones. The highest priority was to record the exact location of each grave. Before the old foundations were broken out, a meticulous laser measurement was done to register the exact grave and headstone locations.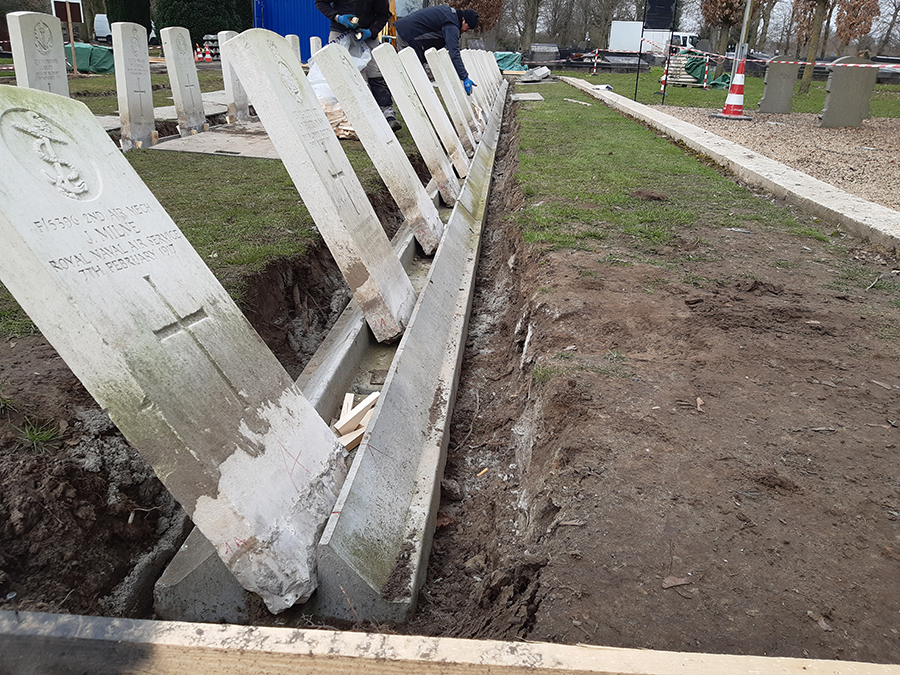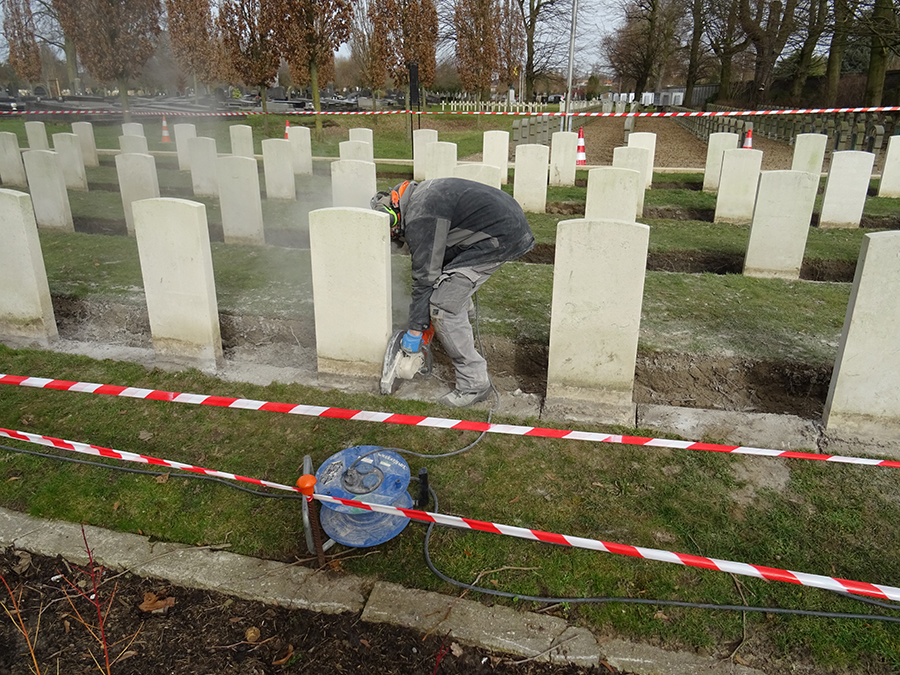 Careful removal of the 88 original headstones was important, as conservation of the original stones is essential to preserve their heritage value. An original Commonwealth War Graves Commission headstone, as hand-carved over 100 years ago, can be recognized by the painted markings at the bottom of the headstone. This can only be seen very rarely, as it is normally hidden under the soil.
As each headstone weighs around 70 kg, our craftsmen use specially developed Belgian irons to move the headstones. Each of the headstones were replaced, using the pavement of the Cross of Sacrifice as a reference point.
Once the headstones were replaced, our gardeners returned the cemetery to its usual state by supplying new soil, levelling the surface, sowing and planting the borders, and placing new turf. In addition to this large-scale renovation project, the other CWGC graves, located in the civilian cemetery, were also provided with new plants.
Alderman for cemeteries Isabelle Heyndrickx said: "We are delighted that the graves have been restored and that all messages on the tombstones can be read again. The First World War is strongly present at the Western Cemetery and we think it is important to honour that memory."
Read our full Conservation policies
Our Conservation Policies reflect our aim to manage change whilst sustainably caring for our sites.
Conservation Policy 2020