14 July 2017
The story of CWGC staff rescued and left behind in the Dunkirk Evacuation
Yesterday, veterans, royalty and celebrities descended on London's Leicester Square for the much-anticipated world premiere of new blockbuster, Dunkirk - the film depicting the campaign which became one of the most remarkable episodes of the Second World War.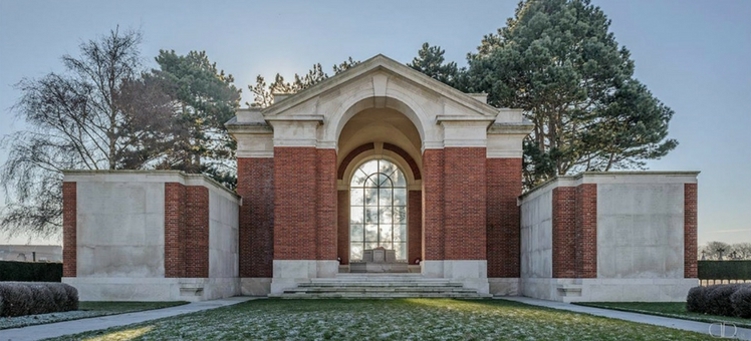 The Commission commemorates many of those lost during the campaign at its sites. The CWGC Dunkirk Memorial, designed by Philip Hepworth – the Commission's Principal Architect for France after the Second World War – commemorates more than 4,500 members of the land forces who died during the Dunkirk Evacuation and have no known grave.
Some of the Commission's staff were also among those rescued and lost. Here, we look through the CWGC archive to share the stories of the Commission's staff, and their families, who were evacuated, escaped and in some cases died in the campaign codenamed Operation Dynamo.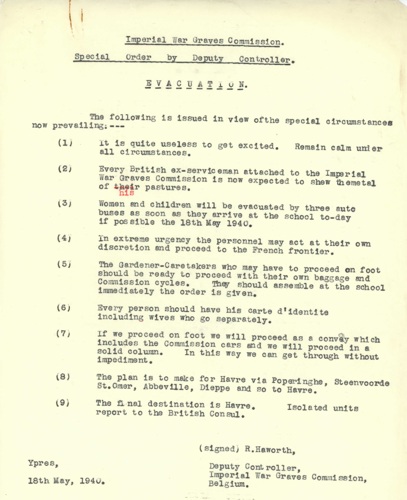 A special order was issued to Imperial (now Commonwealth) War Graves Commission (IWCG) staff in northern Europe on 18 May 1940 - days before the Royal Navy began the evacuation from Dunkirk - by the Commission's Deputy Controller, Reginald Haworth, outlining the arrangements for evacuation.
A hand-drawn map of the route taken by IWGC personnel from Ypres to Calais, drawn by Captain Reginald Haworth, Chief Accountant for the IWGC, who had been sent to Ypres in October 1939 to take charge in the imminent emergency.
A list of IWGC staff who arrived safely in England on 14 June 1940, outlining where they came from, any family members with them and where they proceeded to. The Commission had to provide food and shelter for those who completed the journey across the Channel. One of the individuals on this list is Mrs Anne Eliza Shreeve, wife of Leopold George Shreeve, an IWGC gardener who was killed when German soldiers opened fire on the car he and his wife were travelling in, between Soupir and Vailly-sur-Aisne on 19 May 1940.
Others were less fortunate and found themselves imprisoned in internment camps as the above documents. One individual mentioned is Robert Armstrong, the head gardener at Valenciennes Cemetery in France. As an Irish national, Robert was considered neutral in the conflict and was allowed to continue to work in the cemetery by the German authorities. However, his sympathies impelled him to assist Allied soldiers and airmen to escape and he was arrested by the Germans at the end of 1943. He was subsequently deported to Germany, and died at Waldheim Camp, Saxony, in December 1944. For his help to Allied escapees he was posthumously awarded the Medaille de Resistance Francaise, and a memorial tablet was erected in his honour in the cemetery where he worked. You can find out more about Robert's story at the Commission's Centenary Exhibition, 'For Now, For Then, Forever' at Brookwood Military Cemetery.
Some members of staff and their families were not part of the evacuation in May 1940, but escaped later. Here Michael O'Neill, an Irishman who worked as a letter cutter for the Commission in France and married a French woman, outlines his daring escape. He did not evacuate with other members of his staff when France was overrun in 1940. He posed as a Frenchman, remaining in this identity whilst imprisoned in an internment camp in France. After several failed attempts to escape, he succeeded in reaching safety on 24 March 1942, having journeyed through Spain, Portugal and Ireland.
Many of the Commission's staff were commended for their actions during the evacuation. Ruth Mary Meyler, Executive Officer, was awarded an MBE in the New Year Honours List in 1955, for her part in arranging employment and housing for some 300 members of the Commission's staff evacuated with their families from France and Belgium. This photograph shows Mary (front row centre) at her retirement presentation in 1967.