03 December 2021
WW2 veteran helps mark RAAF centenary
An Australian Second World War veteran has helped plant new trees at the Runnymede Air Forces Memorial.
Former Lancaster pilot Alan Griffin joined CWGC gardeners last week for the symbolic addition to this historic site, to mark the 100th anniversary of the Royal Australian Air Force (RAAF).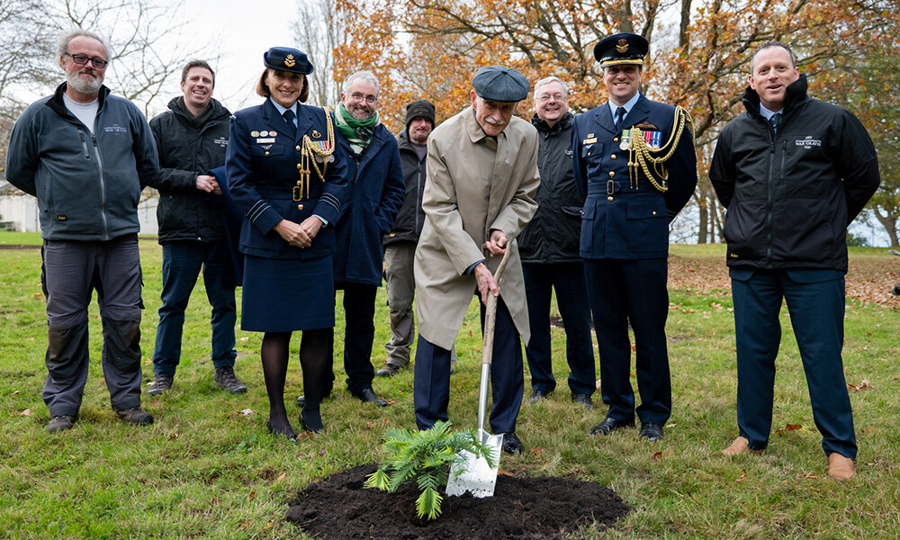 Three Wollemi Pines can be found to the right of the memorial. The native Australian species was once thought extinct until a few years ago when it was rediscovered.
Earlier this year Her Majesty The Queen attended a formal ceremony at Runnymede to mark the RAAF's centenary.
The memorial was designed by Sir Edward Maufe and unveiled by The Queen on 17 October 1953. It bears the names of more than 20,000 men and women of the air forces who died while serving in north and west Europe during the Second World War.
Formed after the First World War, the Royal Australian Air Force played a vital role in the Allied efforts during the Second World War. More than 215,000 men and women served in the RAAF during the war.
CWGC commemorates more than 11,000 RAAF personnel who were killed in the Second World War. The majority lie at rest in cemeteries around the world – from Albania to Zimbabwe – and more than 1,300 missing RAAF war dead are named at Runnymede.