BERBERA MEMORIAL
Country

Somalia (including Somaliland)

Total identified casualties

109 Find these casualties

Casualties from

First World War

GPS Coordinates

Latitude: 9.55463, Longitude: 44.04606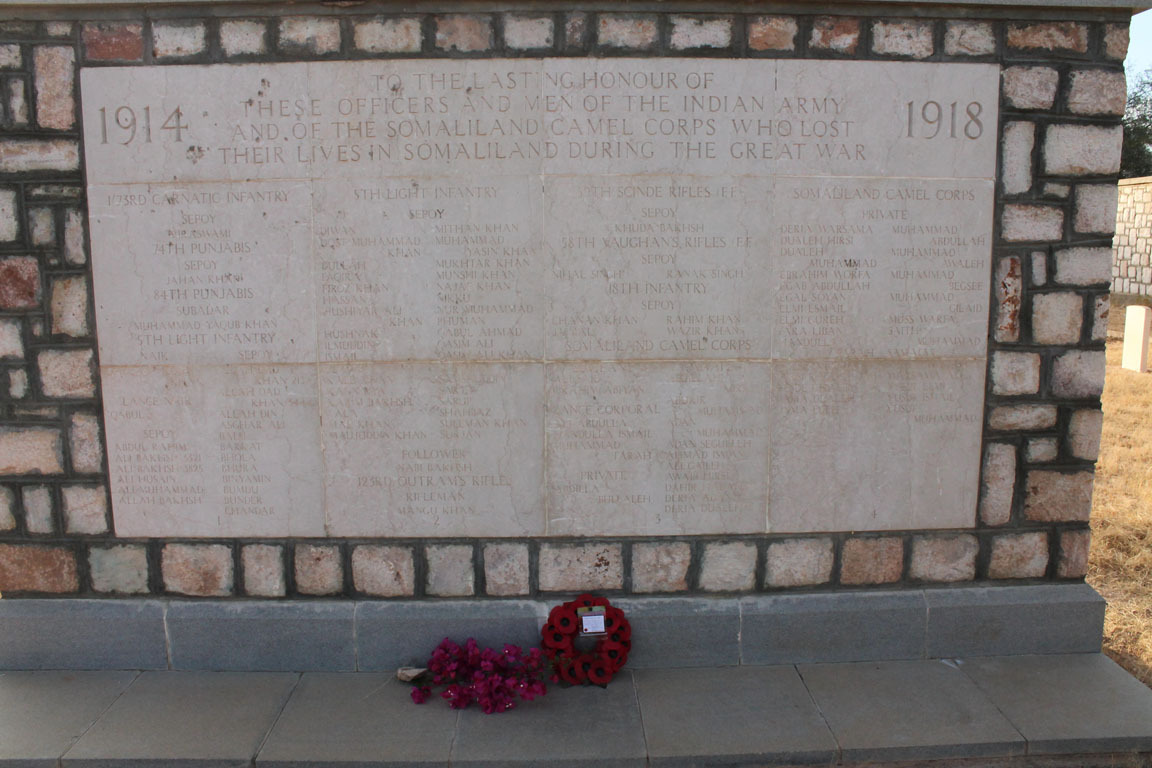 Location information
The memorial will be found in Hargeisa War Cemetery, which is 8 kilometres from the airport, on the banks of the river and less than half a kilometre from Government House.
Visiting information
Due to the current security situation in Somaliland there is no public access to this site. Contact Kenya office for latest information 00 254 20260 4301.
History information
The Somaliland Protectorate was established in 1884 and was at first administered by the Resident at Aden as a dependency of India; the responsibility for it was transferred to the Foreign Office in 1898 and to the Colonial Office in 1905. From 1901 to 1913 it was disturbed by raids on friendly tribes carried out from the interior by the ("Mad") Mullah Muhammad ibn Abdulla Hassan. In 1912 a Camel Constabulary was formed, which later became the Somaliland Camel Corps, King's African Rifles and in 1914 this force, based on Burao, was preparing to dislodge the Mullah from his forts at Shimber Berris, in the Burdab range of hills. The operations that followed, though part of the First World War, were less directly connected with the struggle against the Central Powers than any other of the campaigns of 1914-1918. On 19 and 23 November 1914, a mounted column from Burao, composed of Indian troops and Camel Constabulary, attacked the Mullah's forts at Shimber Berris. The operation was not entirely successful. It was renewed in February 1916, with the help of a detachment of the 23rd Sikh Pioneers from Aden, and on the 3rd and 4th the forts were captured and destroyed. A certain amount of raiding continued until 1920, when the Mullah and his followers were finally crushed by air attacks followed up by mounted troops and infantry. The BERBERA MEMORIAL records the names of 109 men who died in the operations from 1914 to 1920. 67 men belonged to the Indian Army (including 56 of the 5th Light Infantry), and 42 men to the Somaliland Camel Corps. The Memorial was originally fixed to the inner side of the west wall, to the left of the main gate out of the Shaab (or European residential area) in Berbera. In 1962 the bronze plaque forming the memorial was removed and re-erected on a free standing wall in HARGEISA WAR CEMETERY.