DELHI 1914-1918 WAR MEMORIAL
Country

India

Total identified casualties

27 Find these casualties

Casualties from

First World War

GPS Coordinates

Latitude: 28.61633, Longitude: 77.14552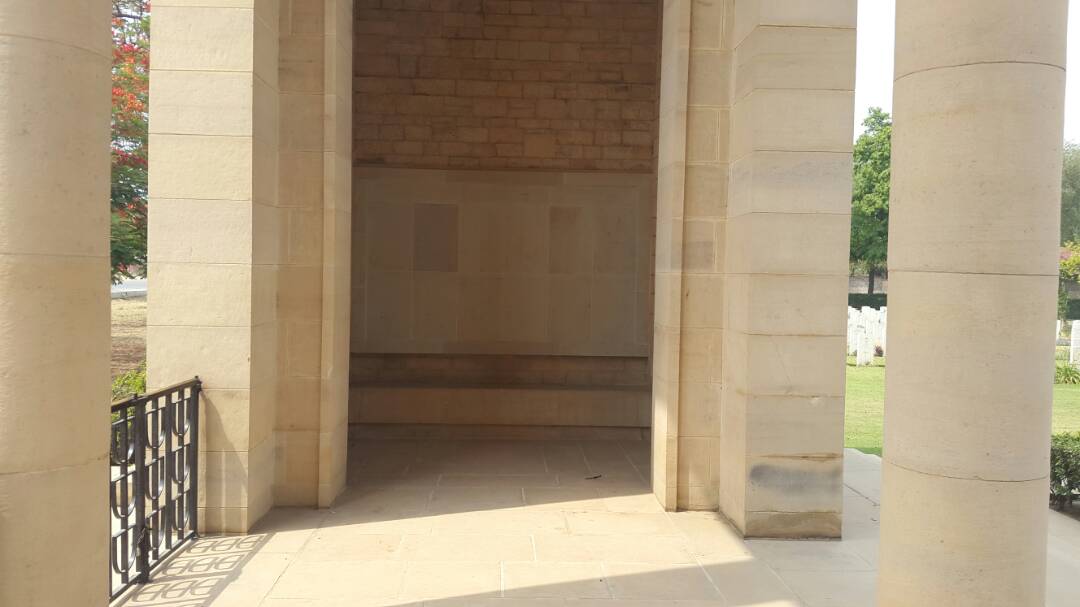 Location information
Proceed to Delhi Cantonment by taking the Ring Road in the direction of Nariana from Dhaula Kuan multi-level crossing and continue for 3 km to reach Brar Square traffic junction (adjacent to BASE Hospital). There are roadside boards on the right side of the road both sides of this junction. Take a right turn over the railway crossing and after apprximately 1km, you will find the cemetery on the right hand side of the road. Latitude 28.61624 Longitude 77.14542
Visiting information
The Delhi 1914-1918 War Memorial is situated within Delhi War Cemetery. The cemetery is open Monday to Friday from 7.45am - 5.00pm. For weekends and other festival holidays, the main entrance is locked, but access to the cemetery is possible via the side entrance next to the cemetery office building.
Wheelchair access to the cemetery is possible at all times via the side entrance. For further information regarding wheelchair access, please contact our Enquiries Section on telephone number 01628 507200.
History information
THE DELHI 1914-1918 MEMORIAL is a memorial to the missing and commemorates casualties with no known grave. This memorial functions as an addenda to the Delhi Memorial (India Gate), where it is no longer possible to make additions to the existing commemorations. The casualties commemorated are servicemen and women from the land forces of India and the United Kingdom, who died in India. They were not commemorated by the Commission at the time but, through the efforts of relatives and research groups, including the "In From The Cold" Project, these casualties have since been found. As there may still be further cases to resolve, the memorial allows space for the addition of names. Although some of the casualties commemorated on this memorial died post 1918, the memorial is dedicated with the 1914 – 1918 First World War dates in accordance with Commission tradition.
DELHI WAR CEMETERY was created in 1951 when graves from many cemeteries in northern India were moved into the site to ensure their permanent maintenance. Among them are graves from cantonment cemeteries in Allahabad, Cawnpore, Dehra Dun and Lucknow. There are now 1,022 Commonwealth casualties of the Second World War buried, or commemorated by special memorial, in this cemetery together with a number of war graves of other nationalities, mostly Dutch.
In 1966, 99 First World War burials were moved into the cemetery from Nicholson Cemetery, Kashmir Gate, Delhi, so that their permanent maintenance could be assured. A special memorial commemorates one casualty whose grave remains in Nicholson Cemetery.
The cemetery also contains the DELHI 1939-45 WAR MEMORIAL, commemorating more than 25,000 servicemen of the forces of undivided India who died during the Second World War in non-operational zones. Their remains were accorded the last rites and disposal required by their various religions and their names are commemorated at memorials in Delhi and Karachi. No names appear on the memorials but a Roll of Honour at each site, one in Hindi, the other in Urdu, record the names of those commemorated.