RAMLEH 1914-1918 MEMORIAL
Country

Israel and Palestine (including Gaza)

Total identified casualties

78 Find these casualties

Casualties from

First World War

GPS Coordinates

Latitude: 31.92992, Longitude: 34.88397
Historical Note

The precursor to this memorial was erected in 1961 to commemorate 76 identified casualties buried within 7 cemeteries that were no longer deemed to be maintainable. The names of the dead were listed in a printed memorial register rather than on the memorial. In 2014, this memorial was completely rebuilt and, in addition to adding the original names, it now includes the names of 453 Indian and 62 Egyptian casualties known to be buried in Ramleh War cemetery.
You can find more information about historical inequalities in commemoration in our Special Committee's report.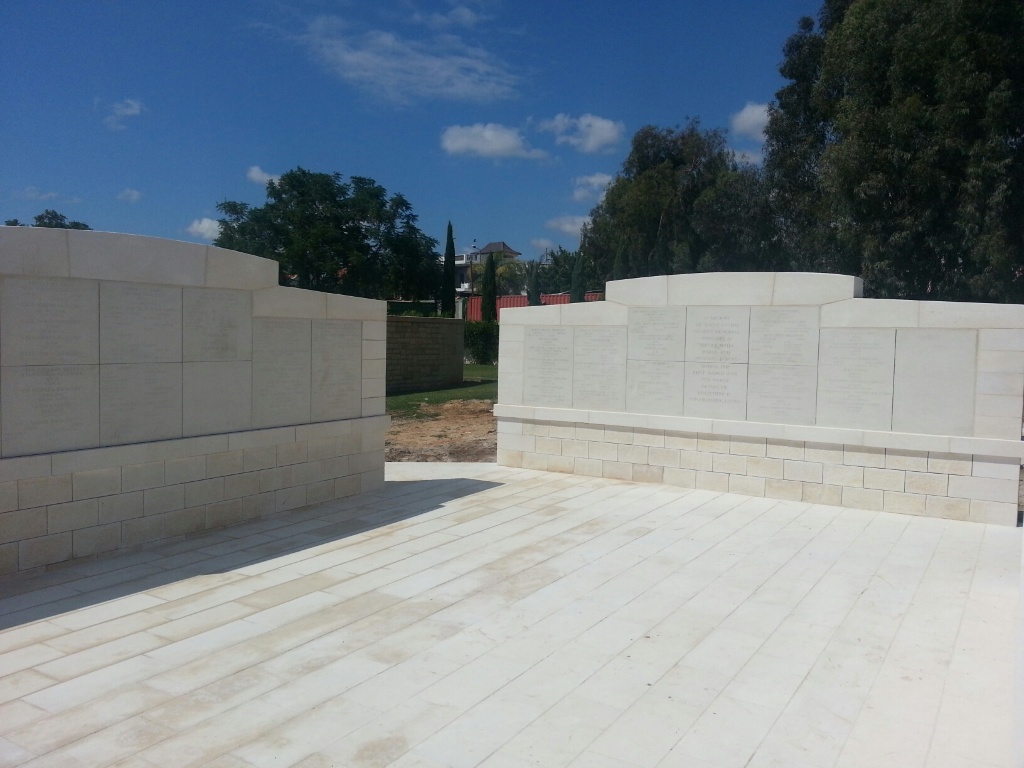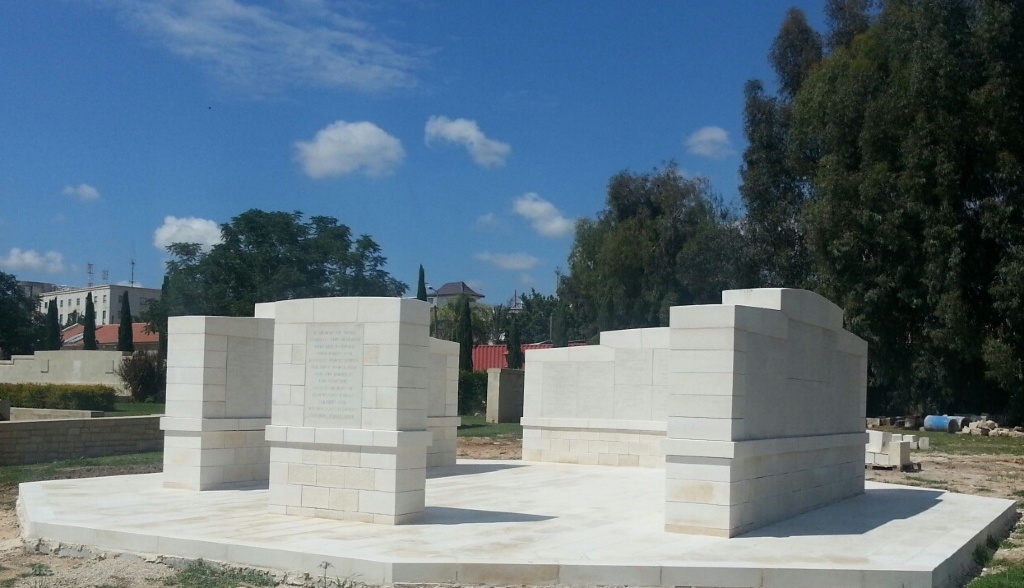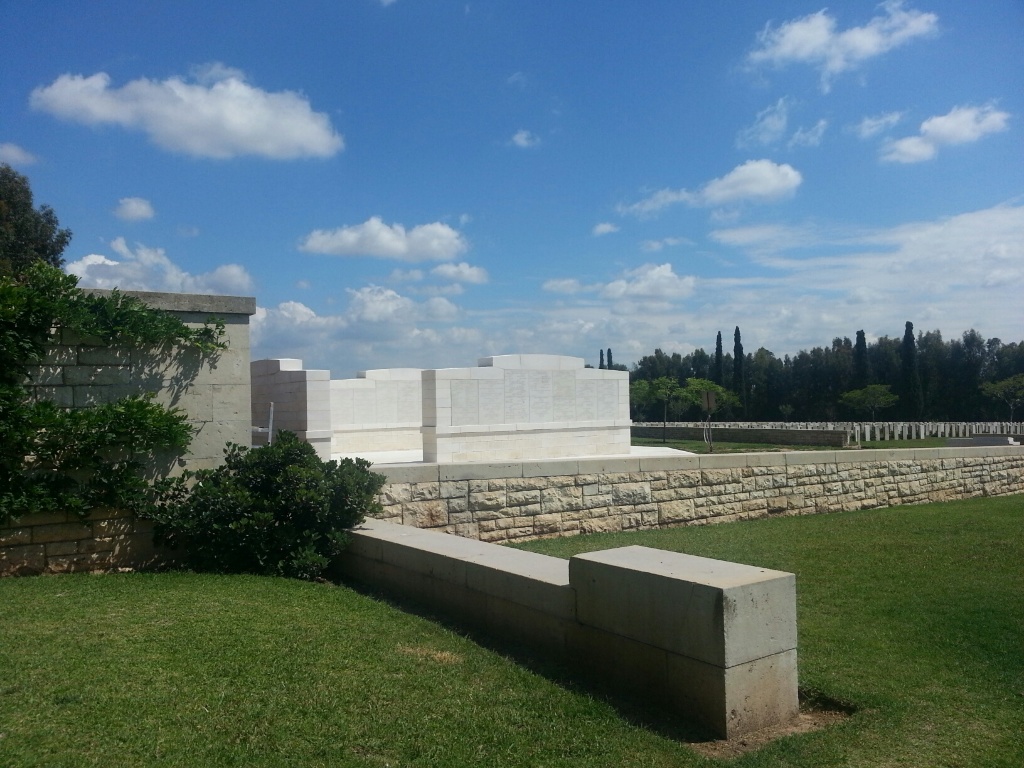 Location information
The memorial is located in Ramleh War Cemetery. From Tel Aviv, proceed along Route One (Ayalon) towards Jerusalem. Pass the exit to Ben Gurion airport. Proceed along Route 40 to the T Junction with Route 44, signposted Bet Shemesh, Lod. Turn right and follow Route 44 towards Lod until the first set of traffic lights. Turn right towards Lod and Ramleh Prison on the route 434. Opposite the prison turn into a minor road with a supermarket on the right. At junction turn right after approximately 100 metres. Take the first left after approximately 75 metres. Follow this minor road for approximately 300 metres veering to the left. The cemetery entrance will be found on the right.
Visiting information
Ramleh War Cemetery and the Memorials are open from 8.00am to 2.30pm every day. Visits outside of these hours can be arranged by calling the Regional Office on + 972 (0) 8 9221220.
Wheelchair access to the cemetery is possible via main entrance. For further information and enquiries please contact enquiries@cwgc.org
History information
The original RAMLEH 1914-1918 MEMORIAL was erected in 1961 to commemorate more than 300 Commonwealth, German and Turkish servicemen of the First World War who lie buried in the following cemeteries in Israel, which could no longer be maintained:-
JAFFA (JABALIYE) MUSLIM CEMETERY - 98 (Unidentified) Egyptian Labour Corps.
JERICHO MILITARY CEMETERY No.2 - 17 Indian, 1 Egyptian Labour Corps, 4 German and 3 (Unidentified) Turkish.
JUNCTION STATION MUSLIM CEMETERY - 111 (Unidentified) Egyptian Labour Corps, 7 Indian, 1 Egyptian Camel Transport Corps, 3 Turkish (2 unidentified).
LATRUN EGYPTIAN CEMETERY - 68 (Unidentified) Egyptian Labour Corps.
LIMBER HILL MILITARY CEMETERY - 48 Indian and 23 Turkish.
Originally the Memorial also commemorated casualties buried in Jerusalem (Bab Sitna Mariam) Muslim Cemetery and Tul Karm War Cemetery, but these two sites were re-instated in 1997.
However, in 2014, the memorial was completely rebuilt and it now commemorates, in addition to the 74 known Commonwealth casualties from the sites listed above, 453 Indian and 62 Egyptian casualties known to be buried in Ramleh War Cemetery, whose graves are unmarked.
RAMLEH WAR CEMETERY dates from the First World War, when Ramleh (now Ramla) was occupied by the 1st Australian Light Horse Brigade on 1 November 1917. Field ambulances, and later casualty clearing stations, were posted at Ramleh and Lydda from December 1917 onwards. The cemetery was begun by the medical units, but some graves were brought in later from the battlefields and from Latron, Sarona and Wilhema Military and Indian Cemeteries.