Serre Road Cemetery No.3, Puisieux
Country

France

Total identified casualties

37 Find these casualties

Region

Pas de Calais

Identified casualties from

First World War

GPS Coordinates

Latitude: 50.10363, Longitude: 2.6565
Please note
After experiencing some issues between visitors and local residents, we remind visitors that the neighbours are keen not to be disturbed by visitors on site.
Should you choose to visit this cemetery, please strictly abide by the following:
Only park in front of CWGC Serre Road Nr. 1 cemetery and not on verges, tracks of farm storage areas.
Do not enter private property (for example, by walking on adjoining land).
Take your litter home.
Respect the tranquillity of the area.
Do not use metal detectors or remove any artefacts (please note that you can only use metal detectors to find historical artefacts with authorization by the area prefecture).
Should you encounter any problems when visiting this cemetery, we recommend you leave at once and file a formal complaint by:
contacting the local police (Gendarmerie) at Beaumetz-lès-Loges, tel +33 3 21 55 22 17 or
e-mailing the town hall of Serre-les-Puisieux at ville.puisieux@wanadoo.fr, or
making a statement at your local police station and send a copy to the British Embassy, 35 rue du Faubourg St-Honoré, 75383 Paris Cedex 08 or via email bds.commemorations@fco.gov.uk who will then forward it to the local authorities.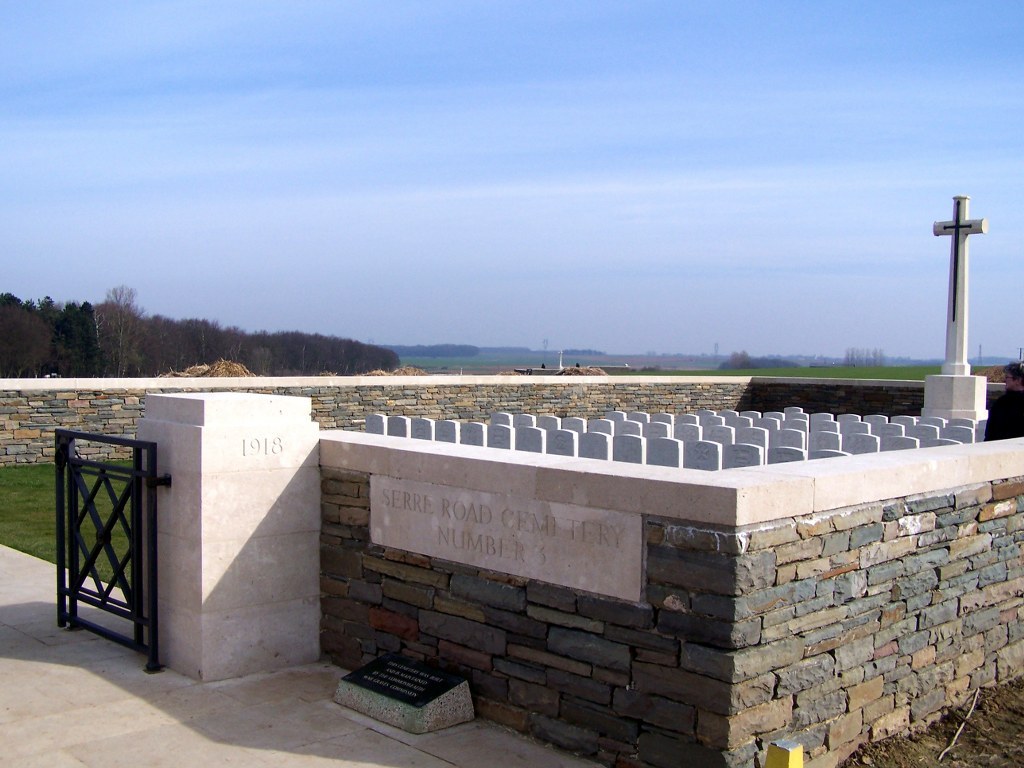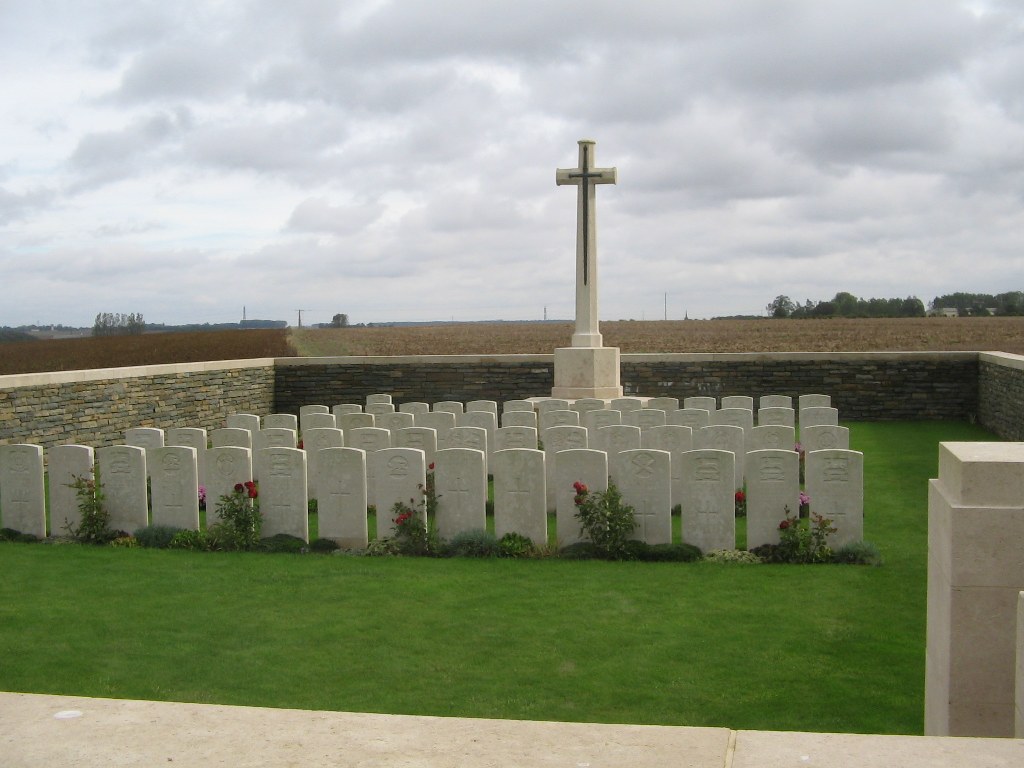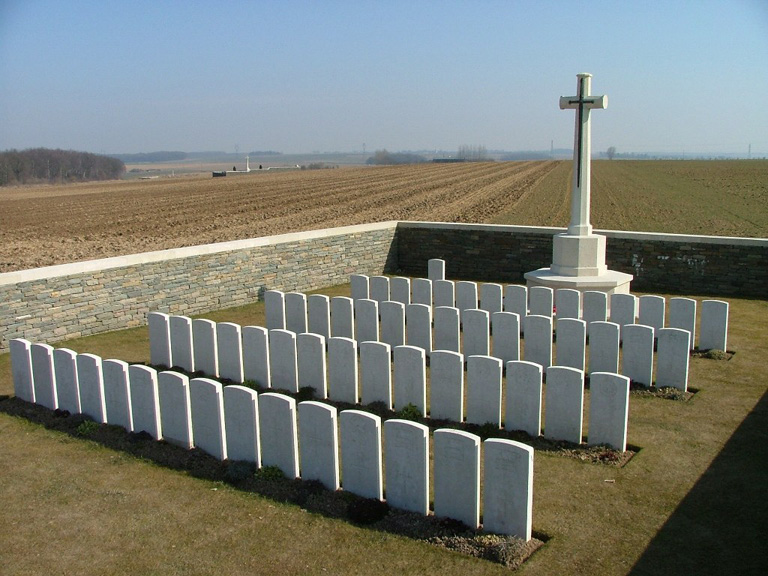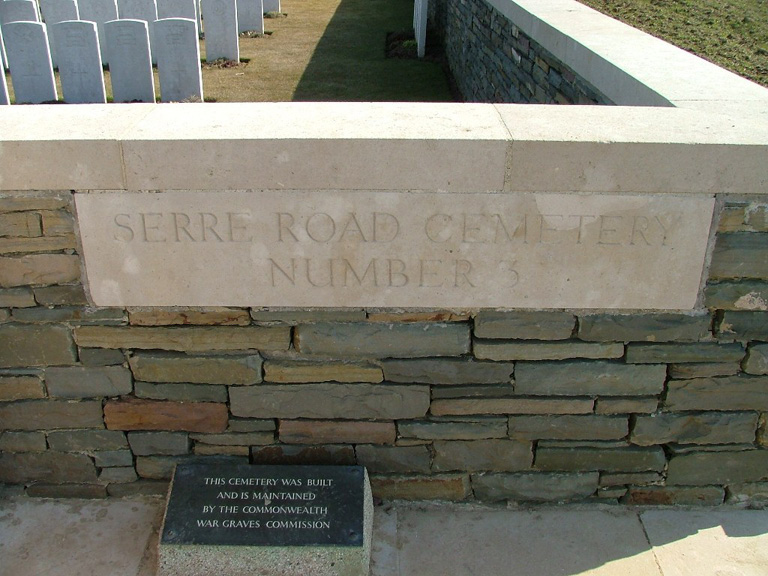 Location information
The village of Serre is 11 kilometres north-north-east of Albert. Using the D919 from Arras to Amiens you will drive through the villages of Bucquoy, Puisieux, then Serre Les Puisieux (approximately 20 kilometres south of Arras). On leaving Serre Les Puisieux, 600 metres further along the D919, there is a right turn onto a small lane which will take you directly to Serre Road No.3 Cemetery. It must, however, be emphasised that this lane is not suitable for cars and buses.
Visiting information
Vehicles should be parked a further 100 metres along on the right hand side of the D919 in front of Serre Road Cemetery No.1, and visitors should then walk up the lane to Serre Road Cemetery No.3.
Wheelchair access to the cemetery is possible via main entrance.
For further information regarding wheelchair access, please contact our Enquiries Section on 01628 507200.
The register is available in the Mairie on Tuesday ; Thursday and Friday from 14.00 to 16.00 and Saturday from 10.00 to 12.00
Download Cemetery Plan
History information
The "Serre Road" was, in June 1916, the road leading out of Mailly-Maillet, in British hands, and entering No Man's Land about 1,170 metres South-West of Serre, which was held by the Germans. The 31st and 4th Divisions attacked North and South of this road on 1 July 1916, with parties of the 31st Division reaching Serre, but the attack failed. The 3rd and 31st Divisions renewed the attempt, without success, on 13 November. The Germans evacuated Serre on 24 February 1917, and the 22nd Manchesters entered the village on the following morning.
In the spring of 1917, the battlefields of the Ancre were cleared by the V Corps and a number of cemeteries made, three of which are named from the Serre Road. They fell into enemy hands on 25 March 1918, but were recovered on the following 14 August.
Serre Road Cemetery No.3, was made by the V Corps in the spring of 1917.
There are now over 80, 1914-18 war casualties commemorated in this site (mainly of the 31st Division) who fell in July and November 1916. Of these, over half are unidentified and special memorials are erected to four men who are known or believed to be buried among them.
The cemetery covers an area of 293 square metres and is enclosed by a rubble wall.