Bus House Cemetery
Country

Belgium

Total identified casualties

266 Find these casualties

Region

West-Vlaanderen

Identified casualties from

First & Second World War

GPS Coordinates

Latitude: 50.81293, Longitude: 2.88728
PLEASE NOTE
Bus House Cemetery is closed to the public until Spring 2023.
To protect the headstones against possible damage, the CWGC has temporarily removed the headstones at Bus House Cemetery for the entire duration of the current restoration works.
The headstones were carefully removed and will be placed back in their place by end of the works, Spring 2023
RESTORATION WORKS
We are currently carrying out necessary restoration works at Bus House Cemetery, that will be ongoing until Spring 2023. Significant works are required to avoid future further subsidence of the soil. The works, which are funded by the Flemish Government, will entail complete reconstruction of the boundary walls built on new foundations. In order to preserve the integrity of the site, the natural stone are recuperated and re-used as much as possible; and only quality materials, such as Boomse bricks and lime mortars are used. Find out more about the CWGC restoration philosophy here: Caring for Our Sites | CWGC
The works will be carried out by Bentein and managed by Koplamp Architecten and the CWGC Works team.
Please note that parts of the cemetery might be temporarily inaccessible during the works. For more details please do contact us at enquiries@cwgc.org.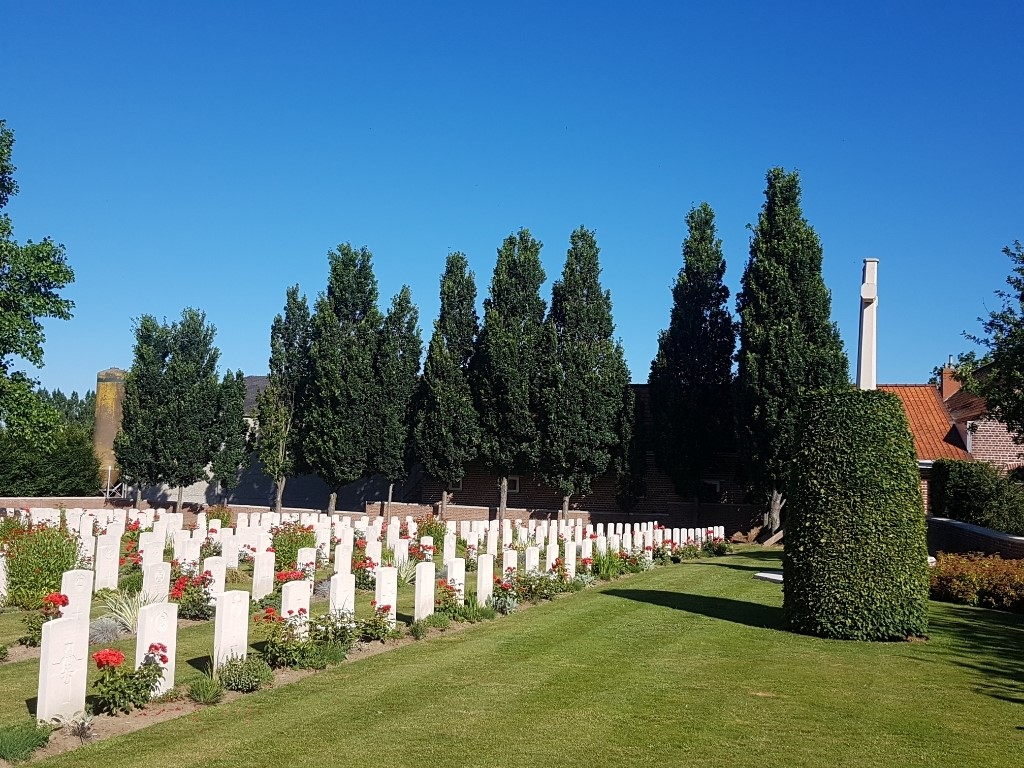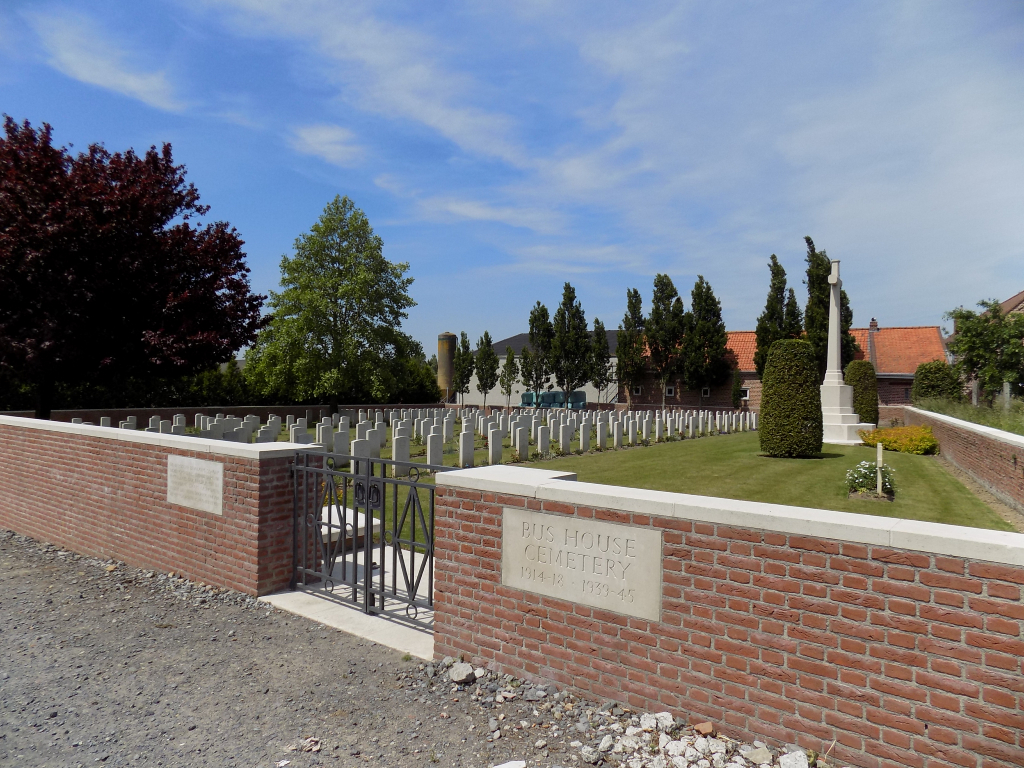 Location information
Bus House Cemetery is located 4 km south of Ieper town centre, on the Sint-Elooisweg, a road leading from the Rijselseweg (The road to Armentieres N365). From Ieper town centre the Rijselstraat runs from the market square, through the Lille Gate (Rijselpoort) and directly over the crossroads with the Ieper ring road. The road name then changes to the Rijselseweg. 4 km along the Rijselseweg, the road forks and branching immediately from the right hand fork is the Sint-Elooisweg (In effect two immediate right hand turnings). The cemetery lies 500 metres along the Sint-Elooisweg on the left hand side of the road towards Voormezele.
Visiting information
Wheelchair access to this cemetery is possible via the main entrance.
Download Cemetery Plan
History information
This cemetery stands behind a farm-house that was called "Bus House" by the troops during the First World War. It was made in June-November 1917, but one grave of January 1915 was brought in during the war, and four more were added in April 1918. The British Expeditionary Force was involved in the later stages of the defence of Belgium following the German invasion in May 1940, and suffered many casualties in covering the withdrawal to Dunkirk. A number were killed during the battle on the Ypres-Comines canal and were originally buried where they died, but in 1941 their graves were brought in from sites scattered throughout the commune for reburial in this cemetery. Bus House Cemetery contains 206 First World War burials,12 of them unidentified, and 79 from the Second World War, nine of them unidentified. There are also two French war graves within the cemetery. The cemetery was designed by W H Cowlishaw.