Ypres (Menin Gate) Memorial restoration
From early 2023 the Ypres (Menin Gate) Memorial will be closed while we undertake extensive restoration work. The Last Post will continue uninterrupted each night at 20:00.

Get the latest updates from our Information Centre in Ieper and search for a name on our digital recreation of the memorial. Don't miss your chance to see the Menin Gate MOMENTS Exhibition by Tom Cole, located on the ramparts beside the Gate.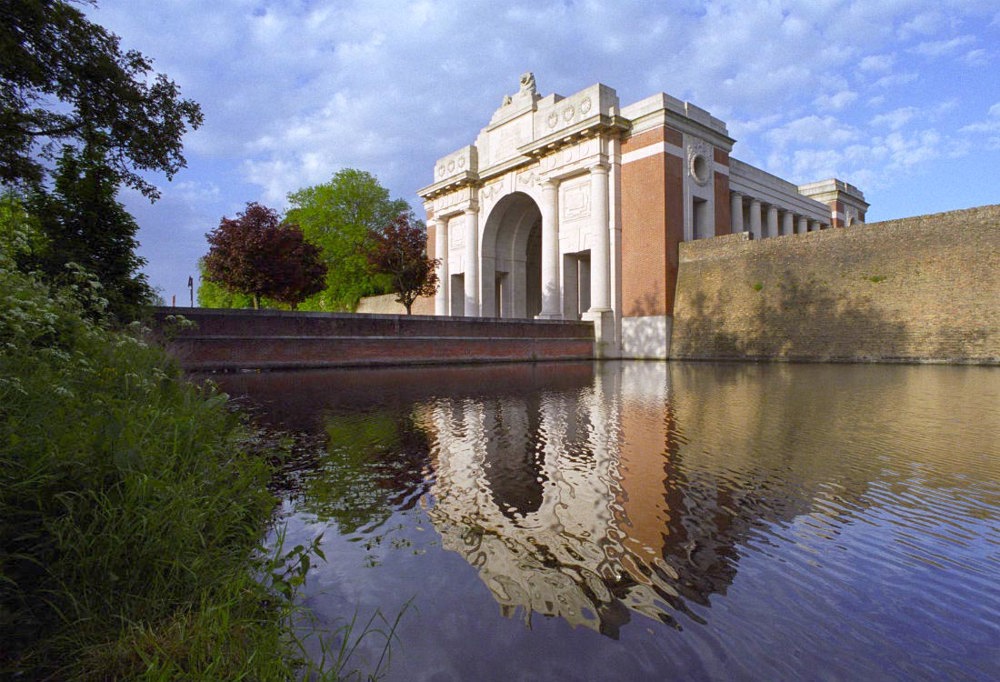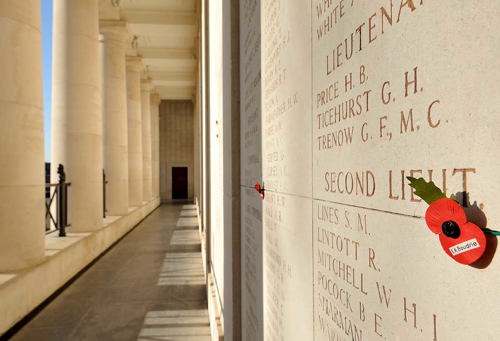 LATEST UPDATES
We will be regularly adding news and work updates during this detailed restoration process, so please click here to find out more.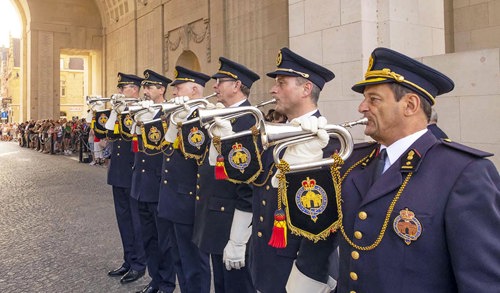 VISITOR INFORMATION
All the practical information you need when visiting the Ypres (Menin Gate) Memorial and the surrounding area.
THE RESTORATION
STEP BY STEP
Learn more about how we restore a century old memorial for another century of commemoration.
Frequently asked questions about the Menin Gate restoration
The Commonwealth War Graves Commission has recently undertaken in-depth inspections of the Ypres (Menin Gate) Memorial. This has led to the conclusion that major restoration of the Memorial is necessary to guarantee its long-term preservation. The structure and stability of the Memorial are in good condition, however erosion and superficial damage have been found which need attention to avoid further deterioration.
The restoration includes the conservation - cleaning and repairing - of the natural stone elements and the repointing of the brick façades. The name panels will also be cleaned and repaired where necessary, and a new waterproof seal will be applied to the roof. Various repairs will also be carried out to the cellars, stair towers, ceilings, and the bronze oculi (round openings in the roof). Innovation, sustainability, and safe accessibility are the guiding principles throughout this restoration. The recovery of authentic materials will be paramount throughout the works, in line with the conservation policy of the Commonwealth War Graves Commission. 
The restoration works will start in early 2023.  
The CWGC aims to complete the works in approximately 18 months, and no longer than two years.
Bressers Erfgoed, a leading architectural agency with years of expertise and experience with heritage structures, has been appointed as the architect for the project. The works will be carried out by an external partner, who will be appointed by the CWGC based on a public tender by end of 2022. 
Yes, works will have finished by the centenary of the Memorial.
Together with the architect and contractor, we are prioritising the safety of all visitors, staff and contractors throughout the work. We aim to keep the road open as much as possible and will give notice of any extended closures. 
The Ypres (Menin Gate) Memorial will not be fully accessible to the public for the entire duration of the works. To ensure the safety of the workers and visitors, scaffolding and hoarding is required. The Commonwealth War Graves Commission will however provide multiple alternative visiting options to our visitors, near the Menin Gate where a new exhibition will be displayed and at the CWGC Information Centre at Menenstraat 33. Via this website, we will supply up to date information about the restoration and offer visitors alternative and innovative ways to discover the Memorial. The names on the Memorial will be made accessible by use of a digital experience in the Ieper Information Centre, located just meters away from the Memorial. 
Throughout the duration of the works, scaffolding and hoarding will cover most of the memorial. Consequently, visitors will not be able to access many of the names on the Memorial. The names on the Memorial will however be made accessible via a digital experience in the Ieper Information Centre, located just meters away from the Memorial (Menenstraat 33).
The daily Last Post Service at 8 pm will continue to take place, however, instead of under the main hall of the Memorial, an alternative location near the Menin Gate will be chosen. We will ensure that everything possible is done to allow the Last Post ceremony to continue appropriately. 
We expect a total restoration budget of over 3 million Euro to carry out the required works. 
The Commonwealth War Graves Commission has signed up for a premium application in the thematic call 'Heritage and Tourism' launched by Flemish Minister of Immovable Heritage Matthias Diependaele in 2021.
In March 2022, we received green light on the preselection dossier for a reserved premium amount of 1.6 million euros. Following this news, we are currently working on a detailed final premium dossier. Based on this, the Minister will decide on the official award of the premium by 1 December 2022. The City of Ypres has also subsidised for 300,000 Euro. The resting cost will be paid for by the Commonwealth War Graves Commission, who is funded by its member governments of the Commonwealth nations who share the cost of the Commission's work proportionately to the number of their graves.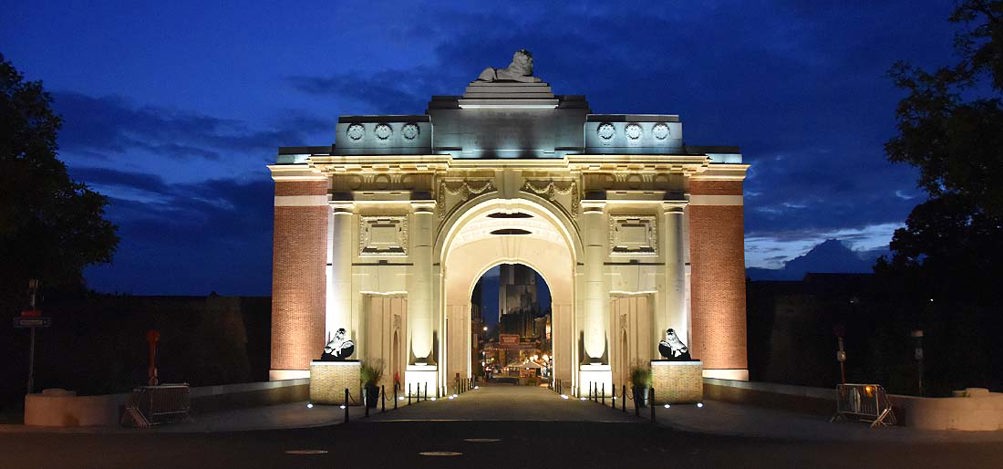 Restauratie Menenpoort
Vanaf begin 2023 zal de Menenpoort gesloten zijn in verband met uitgebreide restauratiewerken. De Last Post blijft elke avond om 20.00 uur doorgaan aan het monument.

Vind de meest actuele informatie in ons Informatiecentrum in Ieper en zoek naar een naam op onze digitale versie van de Menenpoort. Mis je kans niet om de Menenpoort MOMENTS-tentoonstelling van Tom Cole te zien, gelegen op de vesting.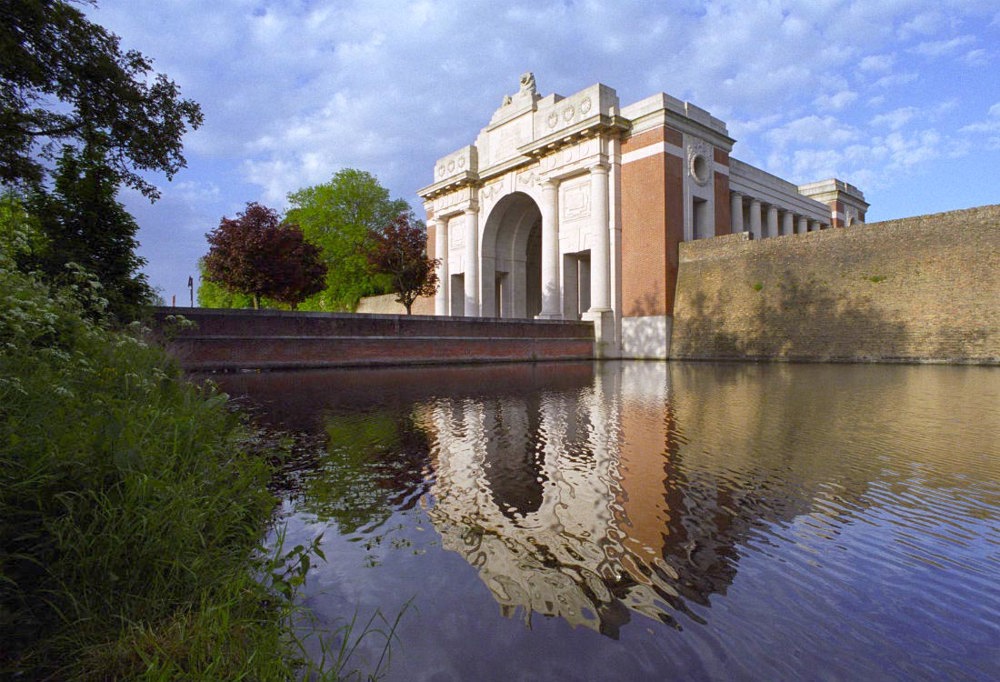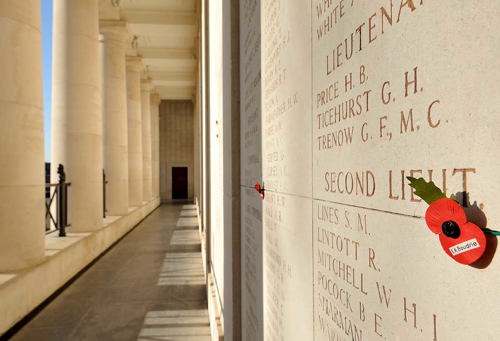 Laatste nieuws
We zullen je hier regelmatig op de hoogte houden van het laatste nieuws over de restauratiewerken. Klik hier om meer te weten te komen.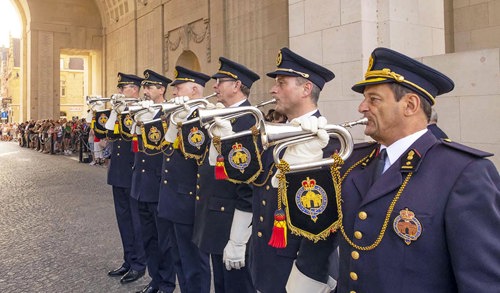 Informatie voor bezoekers
Alle praktische informatie die je nodig hebt wanneer je de Menenpoort en de Westhoek bezoekt.
De restauratie
stap voor stap
Kom meer te weten over de manier waarop we dit monument na een eeuw weer volledig in eer herstellen voor de komende eeuwen van herdenking
Vaak gestelde vragen over de restauratie van de Menenpoort
De afgelopen jaren voerde de Commonwealth War Graves Commission uitgebreid onderzoek om de staat van de Menenpoort te inspecteren. Dit leerde ons dat de Menenpoort op korte termijn nood heeft aan conservatie- en restauratiewerken om op lange termijn het behoud van het Monument te kunnen garanderen.
De structuur en stabiliteit van het Monument zijn in goede staat, maar wanneer men dichterbij kijkt, is er erosie en schade dat moet worden aangepakt om toekomstige verslechtering te vermijden.
De restauratie omvat het conserverend reinigen en herstellen van de natuursteen elementen, en het integraal hervoegen van de bakstenen gevel. Ook de herdenkings-panelen worden conserverend gereinigd en waar nodig gerestaureerd, en het dak en de waterdichting worden grondig aangepakt. Bijkomend worden nog diverse herstellingen uitgevoerd aan de kelders, de trappentorens, de plafonds en de bronzen oculi (ronde openingen in het dak).
Innovatie, duurzaamheid en veilige toegankelijkheid vormen de rode draad doorheen deze restauratie. Bij elk onderdeel van de werken staat de recuperatie van authentieke materialen voorop – passend binnen het conservatiebeleid van de Commonwealth War Graves Commission.
De restauratiewerken, die bijna twee jaar zullen duren, worden begin 2023 gestart.
De CWGC beoogt dat de werken ongeveer 18 maanden zullen duren, en niet langer dan twee jaar.
Bressers Erfgoed, een toonaangevend architectenbureau met jarenlange ervaring en in het bijzonder met historisch erfgoed, werd aangeduid als architect voor het project. Op basis van een openbare aanbesteding zal de restauratiepartner door de CWGC worden aangewezen tegen eind 2022.
Ja, de werken zullen zijn afgerond tegen de honderdste verjaardag van de Menenpoort.
Samen met de architect en aannemer, en met prioriteit voor de veiligheid van alle bezoekers en werkkrachten, streven we ernaar om de weg zoveel mogelijk open te houden.
De Ypres (Menin Gate) Memorial zal niet toegankelijk zijn voor het publiek voor de volledige duurtijd van de werken. Om de veiligheid van de bezoekers en de werkkrachten te verzekeren, zijn stellingen en werfafsluiting vereist.
De Commonwealth War Graves Commission zal echter verschillende alternatieve bezoekopties aanbieden aan haar bezoekers. Zowel nabij de Menenpoort, in het CWGC-informatiepunt in de Menenstraat als online op www.cwgc.org, zal de CWGC informatie verschaffen over de restauratie en bezoekers alternatieve innovatieve mogelijkheden bieden om het Monument te ontdekken.
De namen herdacht op het monument zullen toegankelijk worden gemaakt door middel van een digitale beleving, enkele tientallen meters verderop in het CWGC informatiecentrum in Ieper.
Tijdens de volledige duurtijd van de werken, zullen er stellingen en werfafsluiting geplaatst worden om de werken mogelijk te maken. Als gevolg, zullen onze bezoekers niet in de mogelijkheid zijn om fysiek de namen op het monument te bekijken. De namen op het monument worden toegankelijk gemaakt door middel van een digitale zoekapplicatie in het informatiecentrum te Ieper, slechts enkele meters verwijderd van het monument (Menenstraat 33, 8900 Ieper).
De dagelijkse Last Post plechtigheid om 20u blijft plaatsvinden. Echter, in plaats van in de hoofdhal van het monument, zal een alternatieve locatie nabij de Menenpoort worden gekozen. We verzekeren jullie dat we al het mogelijke zullen doen om een respectvolle en betekenisvolle Last Post plechtigheid te garanderen, zodat we de gesneuvelden gepast kunnen blijven herdenken.
We verwachten dat het totale restauratiebudget meer dan 3 miljoen euro zal bedragen.
De Commonwealth War Graves Commission tekende voor een premie-aanvraag in op de thematische oproep 'Erfgoed en Toerisme' die door Vlaams Minister van Onroerend Erfgoed Matthias Diependaele in 2021 werd gelanceerd. In maart 2022 kreeg de CWGC groen licht op het preselectiedossier voor een gereserveerd premiebedrag van 1,6 miljoen euro. Volgend op dit nieuws werkt de organisatie de komende maanden een gedetailleerd definitief premiedossier uit. Op basis daarvan beslist de Minister uiterlijk 1 december 2022 over de officiële toekenning van de premie. Ook de Stad Ieper heeft voor dit project 300.000 euro subsidie in zijn budget voor de komende jaren opgenomen.
Het restbedrag wordt betaald door de Commonwealth War Graves Commission. Haar zes deelstaten (Verenigd Koninkrijk, Australië, Canada, Indië, Nieuw-Zeeland en Zuid-Afrika) financieren de CWGC in verhouding tot het respectievelijk aantal slachtoffers van de twee Wereldoorlogen.