Maala Memorial No.2
Country

Yemen

Total identified casualties

11 Find these casualties

Identified casualties from

First & Second World War

GPS Coordinates

Latitude: 12.78924, Longitude: 44.99953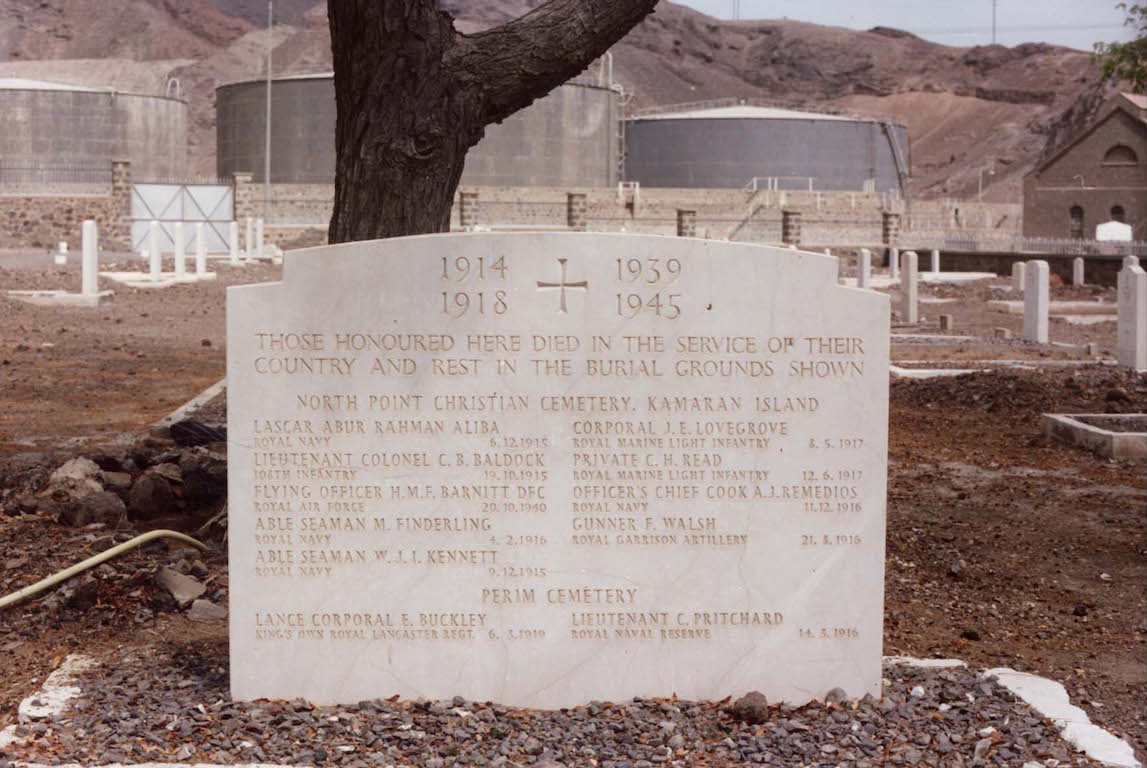 Location information
Maala lies in the Aden Peninsula on the Southern side of Aden Harbour, halfway between the Steamer Point and Crater on the main road south of Khormaksar Airport.
Visiting information
Before considering a visit to Yemen, the Commission strongly recommends that you consult the advice given by the Foreign & Commonwealth Office on the travel section of their website: www.gov.uk/foreign-travel-advice
The Commission has received reports that, during the on-going troubles in Yemen, the commemorations within Maala Cemetery have been damaged. Currently it is not considered safe for Commission staff to undertake the necessary repair work. However, the Commission is monitoring the situation with the intention of progressing repairs as soon as it is safe to do so.
For further information and enquiries please contact enquiries@cwgc.org
History information
THE MAALA MEMORIALS
Location notes:
The Maala Memorials stand on the central avenue, beyond the Cross of Sacrifice, in Maala Cemetery, which is located south of the main road to Crater.
Maala Memorial No.1 commemorates 65 soldiers who died in or near Yemen during the 1939-1945 War; 33 men of the Indian Forces who were cremated, and 32 who lie buried in graves which could not be located or maintained, of whom 27 soldiers belonged to the United Kingdom Forces and five to the Forces of East and West Africa and of Botswana, Lesotho and Swaziland. The names are inscribed on panels inserted on three sides of a stone pillar which forms part of a memorial seat and which also incorporates the Register box.
The seat is raised on stone steps and the front panel erected above it bears the inscription:
1939-1945
THESE SOLDIERS DIED SERVING THEIR COUNTRY AND THE CAUSE OF FREEDOM AND THEIR MORTAL REMAINS WERE COMMITTED TO FIRE OR TO THE SOIL ELSEWHERE IN ADEN
A later extension on the western side, Maala Memorial No. 2, commemorates 10 servicemen of the 1914-1918 War and 1 airman of the 1939-1945 War who were buried at North Point Christian Cemetery, Kamaran Island and Perim Cemetery, Perim Island. Kamaran and Perim are remote places at the southern end of the Red Sea, and these eleven graves can no longer be maintained. The airman served with No. 203 Squadron, Royal Air Force, which was based at Aden at the outbreak of the 1939-1945 War.