Guards' Cemetery, Combles
Country

France

Total identified casualties

171 Find these casualties

Region

Somme

Identified casualties from

First World War

GPS Coordinates

Latitude: 50.00622, Longitude: 2.85975
PLEASE NOTE
Since December 2022, work is underway to renovate the perimeter wall until the end of March 2023. We apologise for any inconvenience caused.
Unfortunately, during these works, the graves of 
Cpt. J.A. Harper (RAMC), I. B. 1.,
Pte. S. Clarke (11950), I. B. 3 
Pte. G.C. Lewis, (2309), I. B. 2
will not be accessible. However, if you require access, please speak to a member of our team, who can pause the work and ensure that these graves can be visited safely.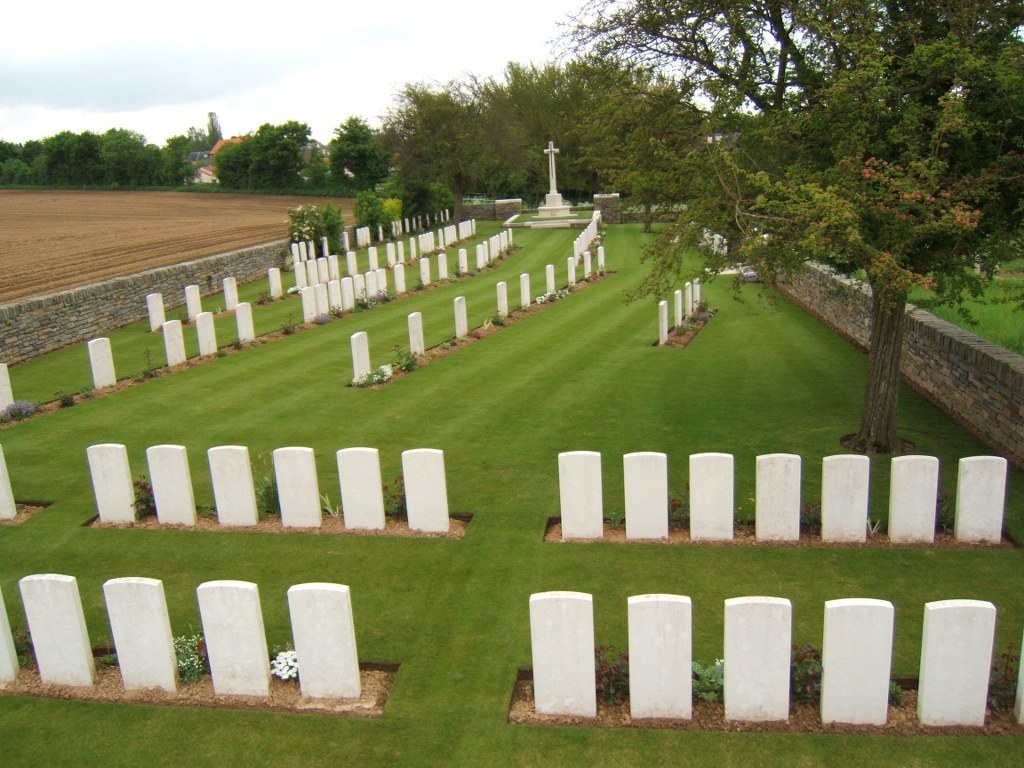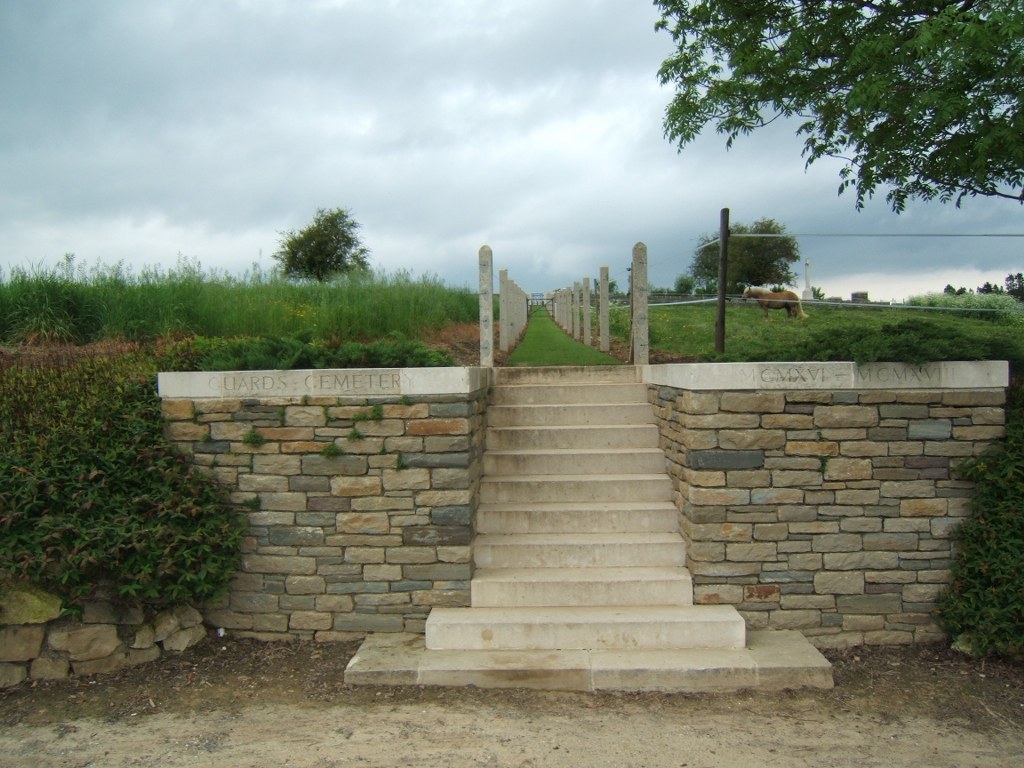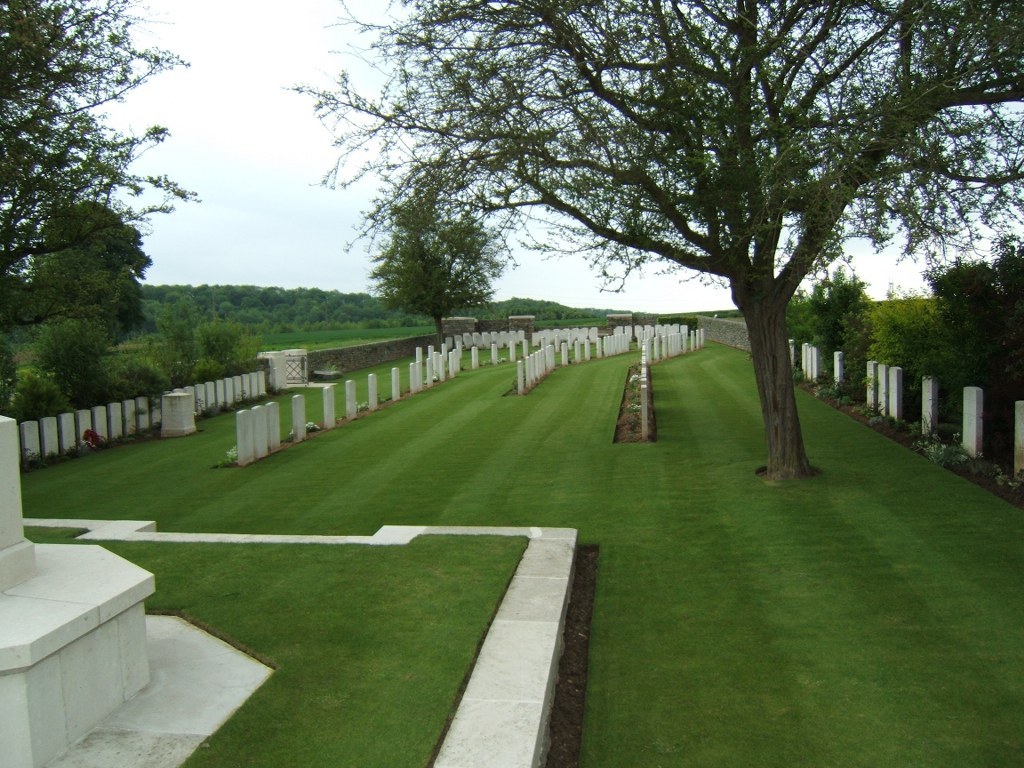 Location information
Combles is a large village 16.5 kilometres east of Albert and 13 kilometres south of Bapaume. Guards Cemetery is on the south-western outskirts of the village, 50 metres from a by-road leading towards Maurepas.
Visiting information
The location or design of this site make wheelchair access impossible.
For further information regarding wheelchair access, please contact our Enquiries Section on 01628 507200.
Download Cemetery Plan
History information
Combles village was entered in the early morning of the 26th September 1916, by units of the 56th (London) Division and the French Army; and it remained in Allied occupation until the 24th March 1918, when the place was captured after a subborn stand by the South African Brigade at Marrieres Wood. It was retaken on the 29th August 1918, by the 18th Division.
The village was later "adopted", with Flers, by the County Borough of Portsmouth.
Guards' Cemetery was begun by the Guards Division in September 1916, and carried on by other units until March 1917, and to a small extent in March, August and September 1918. It contained at the Armistice 100 graves, of which 19 were those of officers and men of the Foot Guards; and it was then increased by the concentration into Plot II of graves from Priez Farm Cemetery. Six German graves of 1918 have been removed to another burial ground.
There are now nearly 200, 1914-18 war casualties commemorated in this site. Of these, over 10 are unidentified and special memorials are erected to 30 soldiers from the United Kingdom, buried in Priez Farm Cemetery and Combles German Cemetery, whose graves were destroyed by shell fire.
The cemetery covers an area of 989 square metres and is enclosed by a rubble wall.
COMBLES GERMAN CEMETERY contained the grave of one soldier from the United Kingdom who fell in August 1918.
PRIEZ FARM CEMETERY, COMBLES, stood at the South-East corner of Le Priez Farm, on the North side of the road from Combles to Rancourt. The farm was taken by the 18th Division on the 1st September 1918, after very heavy fighting. The cemetery contained the graves of 79 soldiers from the United Kingdom who fell in the winter of 1916-17 and in August and September 1918.