Second Lieutenant Eric Frances Seaforth Hayter
File reference: CWGC/8/1/4/1/1/27-1 and CWGC/8/1/4/1/1/27-2
Casualty Name(s): Second Lieutenant Eric Francis Seaforth Hayter
Nationality: Australian
Where buried: Lagnicourt Hedge Cemetery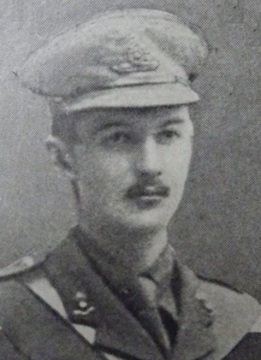 Eric Francis Seaforth Hayter was born on 24 November 1892 in Queenscliff, Victoria, Australia, to Fredrick and Helen Hayter. He was educated at Melbourne C. of E. Grammar School, Kings and Huchins Schools, Hobart and Brisbane Grammar School, before becoming an electrical engineer.
Just before the First World War Eric moved to England. In 1916 he obtained a commission in the Royal Field Artillery. He crossed to France in September 1916 and saw action during the later part of the Battle of the Somme. Eric initially served with a field gun battery before being transferred to a trench mortar battery before finally ending up with the 87th Battery (Howitzer), Royal Field Artillery. In 1917 he was invalided home following a gas attack but returned to his unit in January 1918.
In March 1918 the German Army launched their great Spring Offensive. Eric and his unit, as part of the 6th Division, were holding the front near Lagnicourt when the German storm hit. Eric was in command of a forward battery of three 4.5inch howitzers and 18 men, positioned close to the frontlines. Despite a terrific German bombardment Eric and his men remained with their guns, firing off all their ammunition at the advancing German hoards. Unable to bring up more ammunition or to retreat due to the heavy German bombardment Eric ordered the guns spiked, rendering them useless and denying them to the enemy. With the German infantry closing in Eric led his men as they fought on with small arms until they ran out of rifle ammunition at which point they were overwhelmed by the German attackers. All but 4 of the artillerymen were killed, the survivors being taken prisoners of war.
One of the survivors stated afterwards that "Second Lieutenant Hayter was during this time wounded on the face and had a part of his right hand shot away, but continued to hearten his men and would not hear of giving in. He was known to have said more than once previously that the Germans should never take him prisoner , and they certainly did not do so, because when they were coming within pistol range he deliberately stood out, revolver in his left hand, and by gesture invited the Germans to come on and take him, but this they had no intention of doing, for they shot him through the head with a rifle bullet."
The DGRE believed Eric had been buried by the Germans, near to where he died, but his remains were not found. After the 1918 Armistice, Eric's father Colonel Frederick James Hayter began a private search of the former battlefields for his only son. On one occasion the military authorities mistakenly told Colonel Hayter they had located Eric, only to later realise it was the remains of another man.
Dejected, he returned to England and was surprised to receive a package from a German soldier containing Eric's pocketbook. It had been removed from his body before he was buried and returned alongside a map showing where Eric had been buried by the Germans in 1918.
Colonel Hayter would go on to meet some of the Germans who had fought against his son in the area and together try to find his body, but to no avail. The desperate search continued for years, including the exhumation of unidentified remains buried in Lagnicourt Hedge Cemetery, which Colonel Hayter believed could be his son. With no grave for his son, he decided instead to erect a private memorial on the location of his son's last known whereabouts.
However, the land initially chosen for the memorial was too expensive and he instead took up the offer of a French Countess who sold him a small piece of land nearby, at a lower price. In September 1924, with Colonel Hayter present, construction work began on the private memorial. Unbelievably, as the workmen prepared the foundations, they found Eric's body. His father confirmed the identity there and then based on the rank insignia of his uniform and gold fillings in two of his teeth.
Colonel Hayter covered the body with his overcoat and insisted nothing was done until he had spoken with his wife, in London. A concrete coffin was formed over the body and the memorial was built. The compelling story of the long search for Eric's body was widely reported in the press at the time. The Commission continued to maintain the private grave and memorial throughout the 1930s using repayments from Colonel Hayter, until his death in 1948, three decades after his son died. In 1969 the Commission, following consultation with the remaining Hayter family, concentrated Eric's remains into nearby Lagnicourt Hedge Cemetery where he continues under CWGC's care to this day.
View record one on our archive