31 July 2020
Commemorating the tailors and designers of the Great War
Many men and women gave their lives fighting in the First World War and it's not often we know much about their lives before they joined up. In this blog, Internal Communications Officer Alex Elia, discovers some of the individuals commemorated by the Commonwealth War Graves Commission who had careers in fashion and design.
Private Bernard Scanlon and Private Thomas Scanlon

The Scanlon brothers came from St. John's, Sligo Ireland, and lived with their family. Bernard being the second eldest and Thomas being third of eight children. Their father, Thomas Senior worked as a Master Tailor, Bernard as a Tailor's Apprentice while Thomas junior is listed as having worked as an apprentice barber. However, both brothers later joined Henry Lyons Company Ltd, Sligo as apprentice tailors.
It is not known when Bernard or Thomas joined the British Army. However, Bernard is known to have crossed to France with the 2nd Bn. Royal Inniskilling Fusiliers on 22 August 1914, which would suggest that he was already serving at the outbreak of war, either as a regular soldier or as a reservist. Thomas meanwhile did not cross to France until May 1915, doing so with the 1st Bn. Royal Dublin Fusiliers. At this time he would have been under the minimum age of 19 to serve aboard, suggesting that he lied about his age in order to enlist.
On 1 July 1916, the British Army launched a major offensive near the river Somme. Both Scanlon brothers went into action that day, Thomas serving with 4th Division, attacked the German lines between villages of Serre and Beaumont Hamel while further south Bernard's battalion, part of 32nd Division, attacked up the slopes of Thiepval Ridge. The first day of the Battle of the Somme was the worst day in British military history some 57,000 British servicemen became casualties of which some 19,000 were killed. Amongst them were the Scanlon brothers, Thomas was killed while Bernard was wounded.
On 23 November Bernard and 79 other men of the 2/Royal Inniskilling took part in attack on Munich Trench with the object of rescuing a part of British troops which had been cut off in German lines following a previous failed attack. The rescue party was able to break into the German lines but was unable to reach the stranded men and the survivors were forced to retreat. Following the attack more than two-thirds the rescue party were reported killed, missing or wounded, including Bernard, who was 21.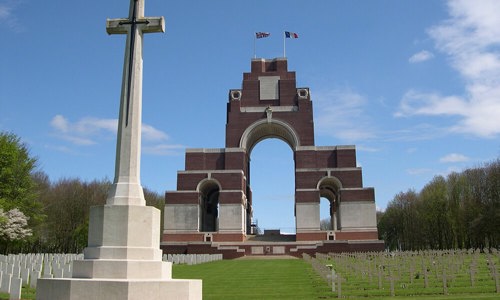 Corporal George Stanley Fairburn-Hart
George grew up in Leeds with his family and attended Leeds Modern School, before later attending Leeds University where he studied in the Technological Department. After leaving University, he became a Textile Designer with Messrs. Learoyd Bros. and Co of Huddersfield.
In September 1914 George enlisted with 15th Bn. West Yorkshire Regiment (Prince of Wales's Own), known as the 1st Leeds Pals. George and his battalion were posted to Egypt in December 1915. But the battalion spent just three months in Egypt before being posted to France in March 1916, arriving at Marseilles on 8 March. After a few weeks behind the line, they marched to the Somme, and on 29 March moved into the front line near Thiepval.
On the 27 April 1916, the battalion were holding the line a little further north, opposite the village of Serre. The battalion war diary records that just one man of A company was wounded that day. It was George who was badly wounded and evacuated to No.4 Casualty Clearing Station but died of his wounds later that day. He was 26 years old.
Lieutenant Lehmann James Oppenheimer
Lehmann was born in Manchester in 1868 and was, by profession, a designer of mosaics and artist who exhibited at the Royal Academy.
At the outbreak of war, Lehmann was too old to enlist. Despite this in January 1915, he lied about his age and joined the Inns of Court Officer Training Corps with the hope of gaining a commission. However, as time passed Lehmann got fed up with waiting and so he enlisted in the Artists Rifles as a private soldier. He received a commission as a Second Lieutenant in August 1915 and was posted to the 2nd/23rd Bn. London Regiment. In June 1916, he was promoted to Lieutenant and served as the battalions' machine gun officer.
On 27 October 1916, Lehmann became sick and was admitted to hospital. He was transferred to Christol Military Hospital, Boulogne and died two weeks later from bronchitis and pneumonia, possibly complicated by having been exposed to posion gas while in the trenches. He was 48 years old.