11 September 2023
Field of Honour: Remembering the fallen rugby players of Thiepval
Did you know the Thiepval Memorial commemorates many international rugby players? Discover their stories today.
Rugby players and the Thiepval Memorial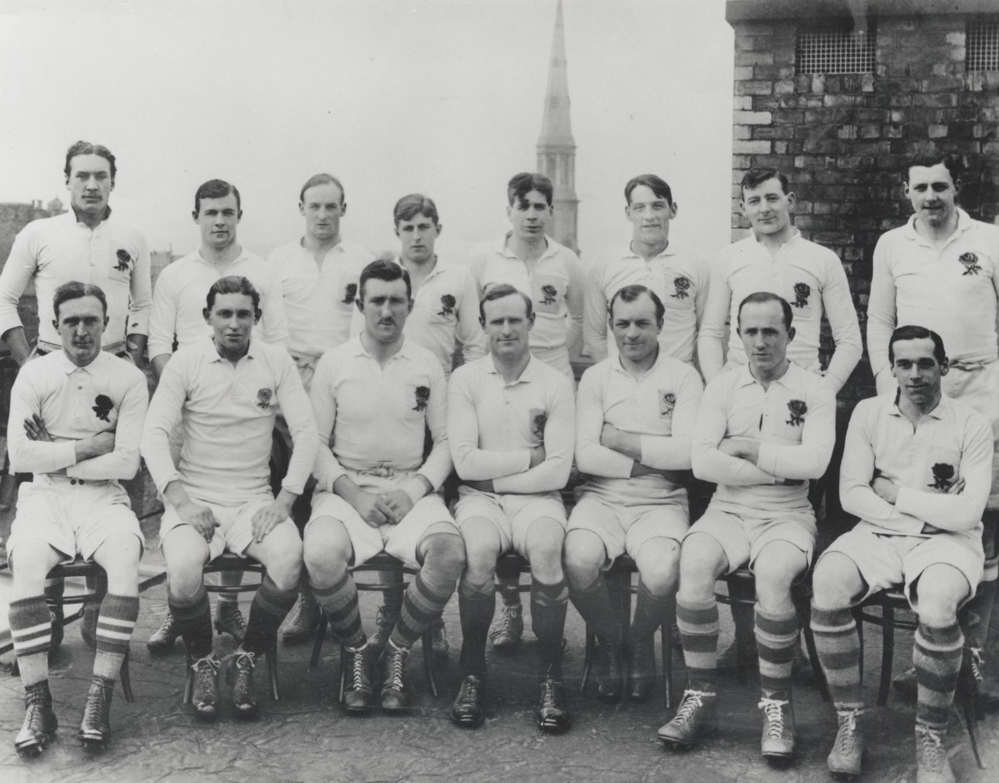 Many of the Commonwealth nations are fanatical about rugby.
The game in both its Union and League codes is played across the Commonwealth, from elite athletes competing in the Rugby World Cup to school pupils and everyone in between.
Indeed, many of these rugby nations are rightly regarded as some of the best on Earth. New Zealand's All Blacks, South Africa's Springboks and Australia's Wallabies are titans of the southern hemisphere, while England, Scotland, and Wales regularly clash with France, Ireland, and Italy in the Six Nations.
Because of the sport's global popularity, many international rugby players stepped off the rugby pitch to serve on the battlefields of the First World War.
Over 100 Rugby players from the former British Empire lost their lives during the Great War. 
A high concentration of these fallen sportsman are commemorated on the Thiepval Memorial.
The Thiepval Memorial
The Thiepval Memorial commemorates missing officers and enlisted men from the Somme battlefields. These servicemen have no known graves and are thus commemorated on Thiepval's monumental panels until such a time as they can be found or identified.
Explore the War Graves of Rugby Legends
Visit Beyond the Pitch, an extraordinary journey through sport and history, and discover the war graves of the Commonwealth's fallen rugby stars with our interactive map. Head to the Commonwealth War Graves Foundation website to learn more.
Discover their stories
Below are listed those who fought and fell on the Western Front having also been capped at international level, playing the storied game of rugby for their respective nations.
International Rugby Players Commemorated on the Thiepval Memorial
Chaplain The Reverend Rupert Edward Inglis
England Rugby International 1886
Rupert Inglis was born in London on 17 May 1863. He was educated at Rugby School, where the game of rugby was first invented. While there, Rupert played cricket with Marylebone Cricket Club and rugby. 
In 1881, Rupert entered the prestigious University of Oxford, where he studied History and played for the Oxford rugby team in 1883 and 1884. After graduating, he went on to become a deacon at Ely Theological College, where he was ordained in 1889. 
During his theological studies, Rupert played for Blackheath (London), one of the most prestigious clubs in England at the time. He began his international career in 1886, playing for England against Ireland, Scotland, and Wales.  He was selected three times as a third-row wing in the England team. 
He stopped his rugby career after moving to Frittenden in the south of England and becoming a Priest. He married Helen Mary Gilchrist on 11 June 1900, and they had two daughters and a son.
When the Great War broke out, despite his advanced age, Rupert enlisted and joined the 1st Battalion, King's Shropshire Light Infantry.
In a letter to his parishioners in July 1915, he explained his reasons: "I have felt that in this great crisis in our nation's history, everyone ought to do what he can to help. I have said this both publicly and privately, but it has been hard to tell people that they ought to leave their homes, to go out into strange new surroundings, to endure discomforts and danger – perhaps to face death – it was hard to tell people that this was their duty and then to remain comfortably at home myself."
Rupert was sent to France as close as possible to the combat zone but served as a military chaplain for the Protestant church. His main task was to attend to the spiritual needs of the soldiers, read the last rites and help evacuate the wounded. 
For a short while, he did duty at No. 23 General Hospital, Etaples, and then joined No. 21 Casualty Clearing Station at Corbie. In December 1915, Rupert was attached to the 16th Infantry Brigade, 6th Division, in the Ypres Salient.
During the fighting near Ginchy, during the Battle of the Somme, Rupert joined a party of stretcher-bearers, in order to help bring in the wounded. While doing this, he was struck by a fragment of shell and was in the process of having the wound dressed when he was hit by a second shell and killed instantaneously on 18 September, at the age of 53. 
Rupert has no known grave and is remembered on the Thiepval Memorial (Pier and Face 4.C.) He is also remembered at Twickenham Stadium, the legendary home of the English team.
Corporal David Watts
Wales Rugby International 1914
(Pictured back row, top left)
David Watts was born on 14 March 1886 in Maesteg, Wales.  
Born into a family of miners, he began working in a coal mine at the age of 14 after leaving school. He took a keen interest in rugby, playing in his spare time. 
David honed his rugby skills with Aberaman Cynon Stars Junior Rugby Club and Rhymney RFC, before joining Maesteg RFC. There, he built up a solid reputation as a lock and helped his hometown win the Glamorgan Challenge Cup in 1912. 
This victory enabled him to take his career to the next level, and David was selected to play against England – the reigning Grand Slam champions – at Twickenham, on 17 January 1914.
Wales lost the first match but won the last three of the tournament. 
Of all Watts' matches, the most memorable was the final against Ireland at the Balmoral Showgrounds on 14 March 1914.
Excessively violent, this match went down in the annals of rugby history as the most brutal ever played, and the Welsh pack, of which Watts was a member, acquired the nickname of the "Terrible Eight" from the newspapers. 
Watts played one last game for his country in an exhibition match against the Barbarians in 1915. Led again by Alban Davies, David took part in this match designed to boost recruitment for the Welsh Guards, although it was not recognized as a fully-fledged international match. 
David continued to play rugby when the First World War broke out, but in June 1915 he enlisted for active service and was posted to the 7th Battalion King's Shropshire Light Infantry. He arrived at Boulogne in October 1915 and was sent to fight in the Battle of Ypres.
David's regiment was then sent to the Somme. Two Welsh rugby internationals had already been killed in the offensive to capture Mametz Wood the previous week - Dick Thomas and Johnnie Williams. 
David was promoted to Corporal on 1st July 1916 and just a few days later, on the 14th, David Watts was killed during the assault on Bazentin Ridge. 
He has no known grave and is remembered on the Thiepval Memorial (Pier and Face 12A and 12D).
Lance Corporal John Abbott King
England Rugby International 1911-1913
John Abbot King was born on August 21 1883 in Burley-in-Wharfedale, northern England. He was educated at Giggleswick School, where he began playing rugby. He then moved to South Africa, where he played for Durbanville Rugby Club in the early 1900s.
 
John then played for Strand Somerset West Rugby Club at local level. Returning to England in 1906, he became a farmer, but continued to play rugby, and became a member of Headingley team. 
John's height of 5ft 6in and muscular build earned him the nickname "Pocket Hercules". He played numerous matches (46 times) with the Yorkshire County team, as well as with the renowned Barbarians (4 times). 
John began his international career in February 1911 and was capped for England. He took part in the Five Nations Championship in 1911 - 1912 - 1913. He won a brilliant victory over France in 1911 (37-0 for England) and was selected 12 times at international level.
   
When the First World War broke out, John enlisted with the Yorkshire Hussars on 12 August 1914, leaving his sisters to look after the family farm. Some of his fellow rugby players helped them with the harvest.
John was then sent to France the following year and transferred, at his request, to the King's Liverpool Regiment.
In August 1916, John's battalion was engaged on the Somme and in a letter written just before going to the front, he wrote: "So long as I don't disgrace the old Rugby game, I don't think I mind". 
John was killed on 9 August 1916, the same day as another fellow England international killed in the same battle, fighting with the Liverpool Scottish: Second Lieutenant Lancelot Slocock, aged 29 years old. 
Corporal John Abbott King has no known grave and is commemorated on the Thiepval Memorial in the Somme (Pier and Face 1D, 8B and 8C). He never married.
Lieutenant Alfred Frederick Maynard
England Rugby International 1914
Alfred Maynard was born in Penge, Surrey, on 23 March 1894. His father's profession led the family to move to Durham, where Alfred was educated at Sussex House School, Seaford and then Durham School. There he discovered rugby and became captain of the team. 
Alfred also played cricket, gymnastics, and soccer. In 1912, he went on to study at Emmanuel College, Cambridge, where he gained blues, as well as the famous Varsity match against Oxford. He also played with the Harlequins, Durham City and Durham County. 
An all-round athlete, Alfred also played cricket for Durham County, the Borderers and Durham City in competition, and field hockey, at which he captained the College team. 
His career peaked when he was capped as a hooker for England on 17 January 1914, to face Wales in the Five Nations Tournament.  The Roses won the match 10-9 and the 1914 Grand Slam. 
In total, Alfred was capped 3 times for England.  
Alfred was in his final year at university when the First World War broke out. His rugby career was brought to an abrupt end, and he joined the Royal Naval Volunteer Reserve. He was assigned to the Royal Naval Division and found himself directly involved in the fighting for the defence of Antwerp in 1914.
Alfred was appointed Second Lieutenant on 18 October 1914 and joined the Mediterranean Expeditionary Force for operations in the Dardanelles. He took part in the first raid on the Suez Canal, where he was wounded in the left leg on 19 May 1915. 
After recovering from his wounds, Alfred was promoted to Lieutenant in 1916, and left to join the Howe Battalion in France. 
Alfred took part in the Battle of the Ancre, the final phase of the Somme campaign in 1916. He fell at Beaumont Hamel, where he was leading "A" Company on 13 November 1916. At the age of 22, he was one of the youngest British internationals to die in the war.
Alfred has no known grave and is commemorated on the Thiepval Memorial (Pier and Face 1. A.)
Captain Rowland Fraser
Scotland Rugby International 1911
Rowland Fraser was born on 10 January 1890 in Perth, Scotland. He was educated at Merchiston Preparatory School from 1903 to 1908, Merchiston Castle School in Edinburgh, and then Pembroke College, Cambridge in 1908.
  
Rowland played rugby at university, notably in the renowned Varsity matches on three occasions, including one as team captain in 1910. He also played at regional level with the Whites Trial team and earned his first cap on 2 January 1911 in a match between Scotland and France but lost all his matches in the Five Nations Championship. 
Rowland was yet known as a hardworking forward, a good dribbler, and an excellent tackler.
When the First World War broke out, Rowland e enlisted in the Rifle Brigade on 15 August 1914. He arrived in France on 4 January 1915 and took part in the battles of Loos and Artois. Rowland was promoted to Lieutenant in August and to Captain in December thanks to his courage and leadership skills.
In June 1916, Rowland returned to Scotland on four days leave and married May Dorothy Ross.
 
Back on the battlefield, Rowland was killed in action ten days later, during the Battle of the Somme. As he led his men forward on 1 July 1916, he was hit by German machine-gun fire. Taken to safety in a shell hole by his men, he was then hit by shrapnel.
Rowland has no known grave and is commemorated on the Thiepval Memorial (Pier and Face 16 B and 16 C).
Second Lieutenant Lancelot Andrew Noel Slocock
England Rugby International 1906-1908
Lancelot Slocock was born on 25 December 1886 in Wootton Wawen, Warwickshire. He was educated at Marlborough College, where he discovered rugby and proved to be an excellent player. He was an all-round athlete and played cricket and field hockey.
 
After completing his studies, Lancelot went into the cotton trade in Liverpool and continued playing rugby as a lineout jumper for Liverpool St Helens Football Club, England's oldest rugby club. 
Lancelot began his international career in 1906 when he was capped for England.  His first international match was against France, where England won 41-13. Lancelot was capped in total eight times and played in every international match for two years, including captaining the 1908 match against Scotland at Inverleigh.
However, as his commercial activity grew in importance, Lancelot put an end to his rugby career to concentrate on his cotton business. He moved to the United States, married Elinor Cook in 1912 and two years later moved to Savannah, Georgia. However, at the outbreak of the First World War, Lancelot returned to England to enlist. 
Lancelot joined the 1/10th Battalion of the Kings (Liverpool) Regiment, better known as the Liverpool Scottish, as Second Lieutenant. He arrived in France in January 1916 and took part in the Somme offensive. He was killed on 9 August 1916 at Guillemont, alongside his fellow England international John Abbott King. 
Lancelot has no known grave and is commemorated on the Thiepval memorial (Pier and Face 1D, 8B, 8C).
Lieutenant Eric MacLeod Milroy
Scotland Rugby International 1910-1914
Eric Milroy was born in Edinburgh on 4 December 1887. He was educated at George Watson's College from 1895 to 1906. He went on to study mathematics at Edinburgh University on a scholarship and obtained a Master of Arts with honours in 1910. 
Highly versatile, Eric excelled both in rugby as a scrumhalf and in his studies, where he was a talented debater in the Literary Society.
  
On leaving school in 1910, Eric became a chartered accountant after an apprenticeship, but continued to play for the Watsonian Football Club, Edinburgh District and the Blues Trial.
   
Between 1908 and 1914, the Watsonians won the Scottish Club Championship five times, and remained unbeaten in the 1909-1910 season, thanks to Milroy's performances at the base of the scrum. 
Eric was first capped for Scotland as scrumhalf against Wales on 5 February 1910. Although his team lost the match 14-0, he stood out for his abilities and intelligence. He played for Scotland a total of 12 times, including twice as captain in 1914. 
A few months before the First World War started, Eric played his last match against England in February 1914 as captain of the team.  The match was played at Inverleith and is often regarded as one of the best games ever played between the two teams.
When the Great War broke out, Eric joined the 9th Royal Scots in September 1914. On 29 December, he was appointed Second Lieutenant in the 11th Battalion, Black Watch. He was sent to France in October 1915 and joined the 8th Battalion. 
Eric was promoted to Lieutenant in June 1916 and took part in the Battle of the Somme.  He was killed on 18 July 1916 during the assault on Delville Wood in Longueval. 
Eric has no known grave and is remembered on the Thiepval Memorial (Pier and Face 10 A).
Company Sergeant Major Edward John Richard "Dick" Thomas
Wales Rugby International 1906-1909
Richard Thomas was born on 14 October 1883 in Ferndale, Wales. He was educated at Ferndale Board School, near Cardiff, in Glamorganshire, and began playing rugby locally with the Ferndale Scarlets. Born into a mining family, he naturally followed the same path and became an apprentice miner at the age of 14. He then joined the Glamorgan Police and rose to the rank of Sergeant. 
During his ten years of service, Richard played rugby with Mountain Ash, Bridgend, and the Police. His skills soon came to notice, and he was selected to play for a senior club, Penygraig, based in Rhondda and became a regular member of the Glamorgan County XV. 
 
It was during this time that Richard was noticed by the Welsh selectors, who named him as a reserve forward for three Welsh internationals in 1904-1905. He played in international matches against South Africa in 1906, France and Ireland in 1908, and played his last game for Wales against Scotland in 1909. 
Had it not been for serious illnesses and injuries, Richard would certainly have earned more caps, however, he still managed to play in two successive Grand Slam-winning teams.
When the First World War broke out, Richard was a member of the Welsh Police force and was unable to leave his duty until 16 January 1915. 
Richard joined the 16th Battalion Welsh Regiment and was promoted to Company Sergeant Major on completion of his military training. The Welsh Division was deployed on the Western Front in December 1915. 
Richard was killed in action on 7 July 1916 in the assault on Mametz Wood during the Battle of the Somme. 
He has no known grave and is commemorated on the Thiepval Memorial (Pier and Face 8C, 9A, 16A). 
Second Lieutenant Horace Wyndham Thomas
Wales Rugby International 1912-1913
Horace Thomas was born on 28 July 1890 in Bridgend, Wales. He was educated at Bridgend County School, where he started playing rugby. In 1906, he won a scholarship to study at Monmouth School. There, he played rugby, but also cricket, hockey, and did gymnastics and athletics. 
Endowed with an exceptional voice, in 1909 Horace won a prestigious scholarship to study choral singing at King's College, Cambridge. 
 
He left for England in 1909 and continued to play rugby during his three years at Cambridge, mainly for Blackheath, but also for London Welsh. 
 
Horace played in the Barbarians tour matches in Newport and Leicester and twice for Swansea. He played in the Varsity Match against Oxford in December 1912 and caught the eye of the Welsh selectors. A few days later, he was selected to play for Wales against South Africa in 1912, and against England in 1913, in the opening match of the Five Nations Championship.  
 
Horace retired from rugby in 1913 and moved to India, where he took up a management position with a shipping company. There he kept playing rugby and cricket, and joined the Calcutta Football Club, where he became captain. 
 
At the outbreak of the First World War, Horace returned to Wales to serve his country. He was promoted to Second Lieutenant in the 16th Battalion, The Rifle Brigade and sent to France in March 1916. 
Horace took part in the fighting during the offensive on the Somme and found himself at the heart of violent action during the Battle of Hamel. He was killed on 3rd September. 
Horace has no known grave and is commemorated on the Thiepval Memorial (Pier and Face 16B and 16C). 
Visit our Rugby Heroes at Commonwealth War Graves sites in France and Belgium
Visit them
Download your free PDF guide to the resting places of these remarkable rugby legends. Discover their stories and go interactive with Memory Anchor: an augmented reality app that enhances their stories. Download your copy now.
Get your PDF
We'd love to stay in touch
Sign up to our mailing list and we'll send you the latest on Commission news and events around the world.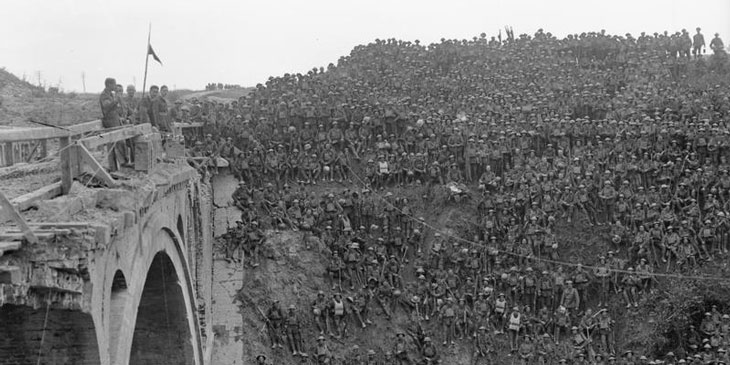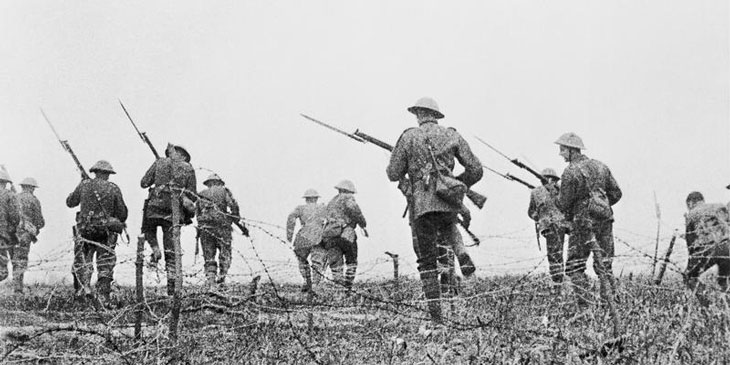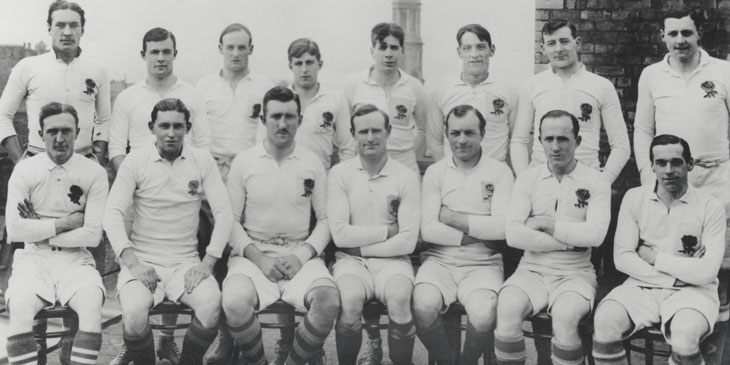 Read more blogs