16 April 2021
The Battle of Athens 80 Years On
Eighty years ago, on 20 April 1941, what became known as the Battle of Athens, or the Battle of Piraeus Harbour, began. To mark the anniversary Liz Marsland, Public Engagement Coordinator for the North West, discovers some of the stories of those who paid the ultimate sacrifice in the skies over Athens all those years ago.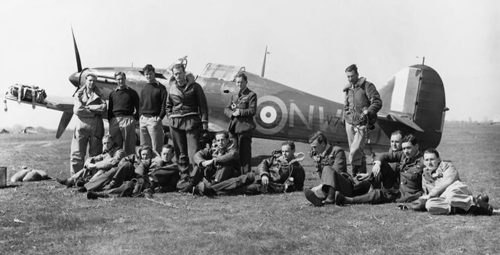 Pilots of No. 33 Squadron RAF, at Larissa, Greece, with Hawker Hurricane Mark I, V7419, in background. © IWM ME(RAF) 1200
The Battle of Greece
In April 1939 Mussolini's Fascist Italy invaded Albania. Despite this threat to a bordering country at the outbreak of the Second World War Greece remained neutral, and Mussolini stated that he had no intentions to attack them. Nevertheless, Britain and France offered their support to Greece. By October 1940 Mussolini sent troops from Albania into Greece. Britain responded by sending an Royal Air Force (RAF) squadron to assist the Greek counterattack. By 8 November Greece's call to arms had repulsed the Italian attack and pushed Mussolini's troops back into Albania.
Despite this Greek victory, it was becoming clear that Germany was about to attack Greece to protect its southern flank and Romanian oil interests. As a result, in February 1941, a Commonwealth expeditionary force, made up predominantly of Australian and New Zealand troops, was despatched from Egypt to Greece.
As the Allies had anticipated, Germany invaded Yugoslavia and Greece on 6 April 1941. Overwhelmed by the strength of the German air and ground attacks, Greek and Commonwealth forces were soon forced to retreat. By 8 April German troops had taken Salonika. The Allies' only hope now lay in disrupting and delaying the German advance long enough to allow time for the main force of Allied troops to be evacuated.
The Battle of Athens
By 20 April German troops were advancing on Athens. RAF squadrons had regrouped at Eleusis outside Athens. The future children's author Roald Dahl was among the RAF pilots sent to Eleusis as part of No.80 squadron. He wrote in his memoirs Going Solo,
"To some extent I was aware of the military mess I had flown in to.
I knew that a small British Expeditionary Force, backed up by an equally small air force, had been sent to Greece from Egypt a few months earlier to hold back the Italian invaders, and so long as it was only the Italians they were up against, they had been able to cope.
But once the Germans decided to take over, the situation immediately became hopeless."
On the morning of 20 April, the remainder of No. 80 squadron and No.33 squadron, led by fighter ace Squadron Leader Marmaduke 'Pat' Pattle , were ordered to fly their single engine  fighters (Hawker Hurricanes) in a tight formation over Athens. Dahl records that this was in order to boost civilian moral in the face of the advancing German army. Then, out of nowhere, it is reported that over a hundred German aircraft filled the skies over Athens heading for the Allied ships moored in Piraeus Harbour. Dahl records how the tight formation at once peeled away to meet the oncoming threat.
"It was truly the most breathless and exhilarating time I have ever had in my life. I caught glimpses of planes with black smoke pouring from their engines. I saw planes with pieces of metal flying off their fuselages. I saw the bright red flashes coming from the wings of the Messerschmitts as they fired their guns and once I saw a man whose Hurricane was in flames climb calmly out onto a wing and jump off." (R Dahl)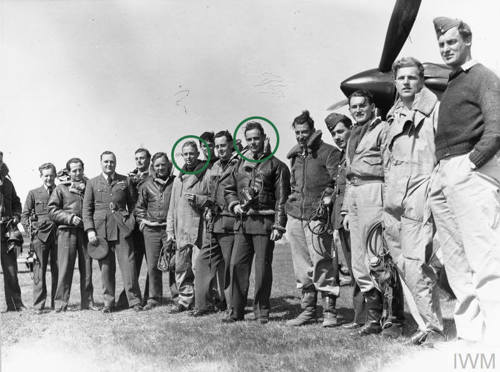 Pilots of No. 33 Squadron RAF, at Larissa, Greece, before 15 April 1941. Of the men pictured, five would die in April 1941 and two become prisoners of war. "Timber" Woods and "Pat" Pattle are circled.  © IWM ME(RAF) 1246
Eyewitness accounts testify that Pattle fought off a German fighter-bomber (a Messerschmitt Bf110) which was on the tail of Flight Lt. William 'Timber' Woods. Despite Pattle's efforts Woods' aircraft was hit, caught fire and was last seen plunging into the sea. Pattle was in turn pursued by two Messerschmittsand subsequently shot down over the Port of Piraeus and crashed into the sea.
Out of the fifteen RAF pilots that took to the sky over Athens on 20 April 1941, four were killed, including 'Pat' Pattle aged 26 and 'Timber' Woods aged 28.
Squadron Leader Marmaduke Thomas St. John Pattle
Squadron Leader Marmaduke Thomas St. John "Pat" Pattle (left), Officer Commanding No. 33 Squadron, Royal Air Force, and the Squadron Adjutant, Flight Lieutenant George Rumsey at Larissa, Thessaly, Greece, March–April 1941. © IWM ME(RAF) 1260
Marmaduke Thomas St. John Pattle was born in Cape Province, South Africa, on 23 July 1914. After being refused by the South African Air Force, at the age of 21 he travelled to Britain and joined the RAF in 1936. 'Pat' Pattle became an accomplished pilot and fighter ace scoring 50 victories and was twice awarded the Distinguished Flying Cross. Pattle is commemorated by name on the CWGC's Alamein Memorial to the Missing in Egypt, alongside the other missing Commonwealth airman killed in the eastern Mediterranean, North Africa and Middle East.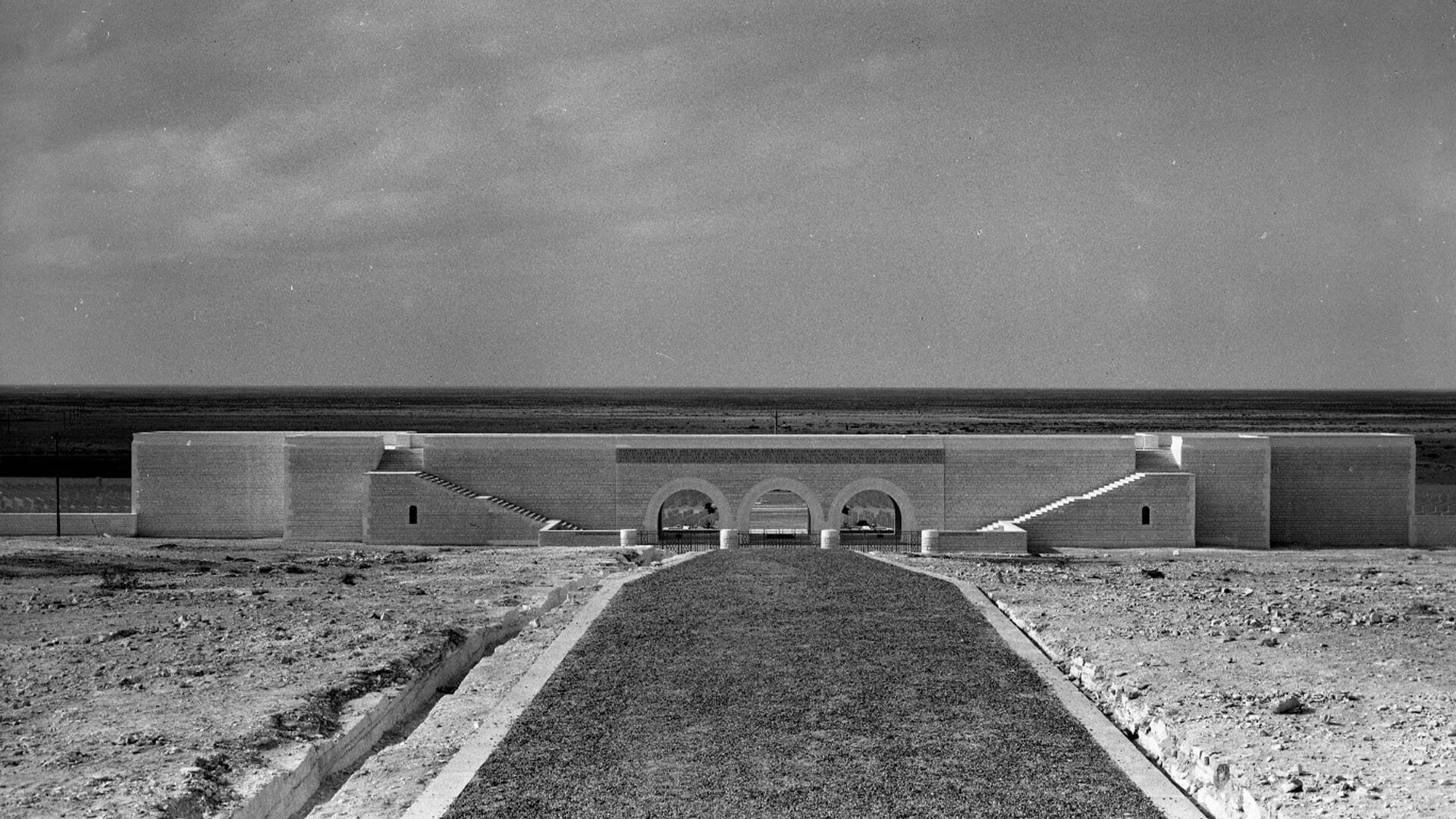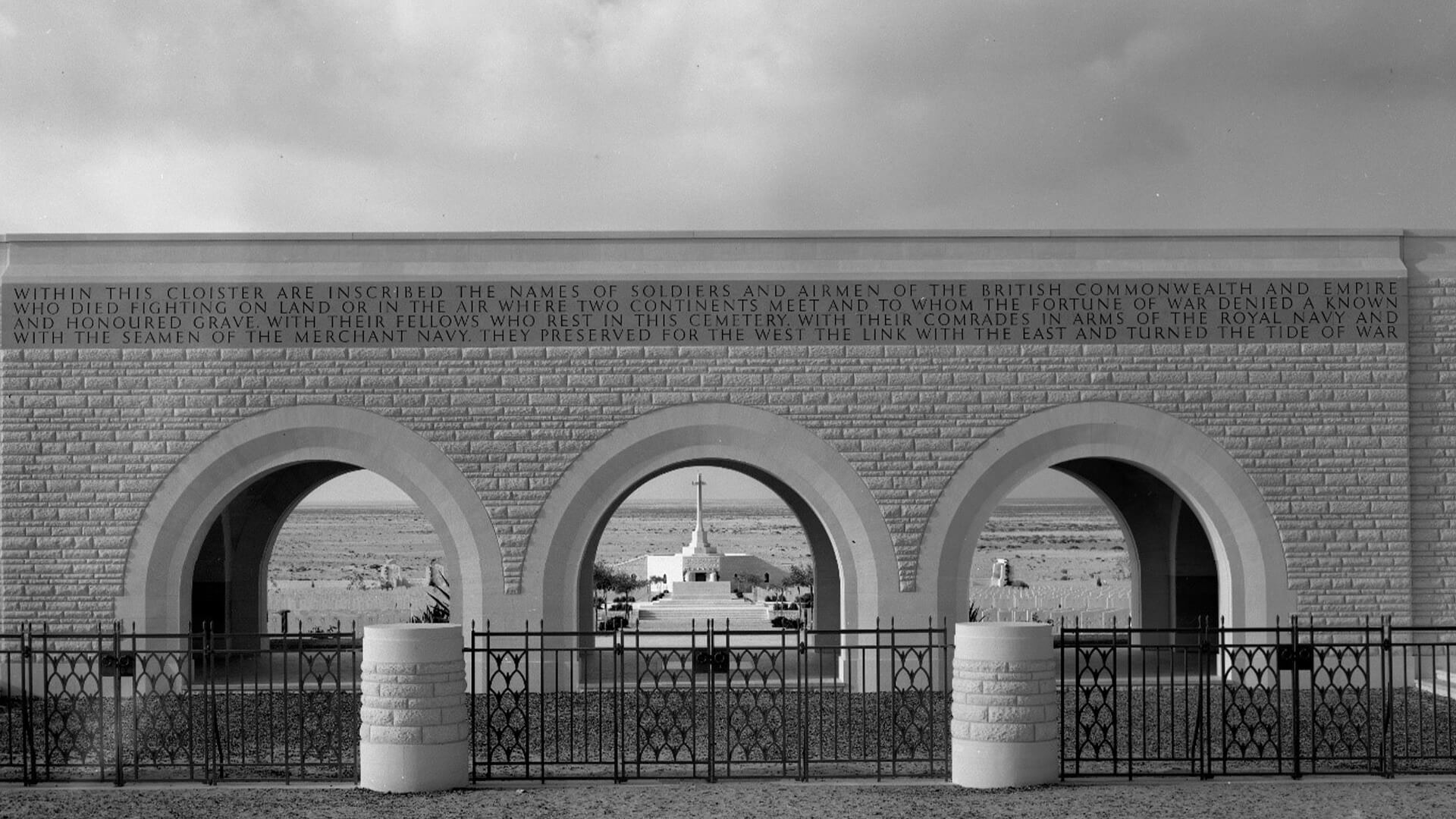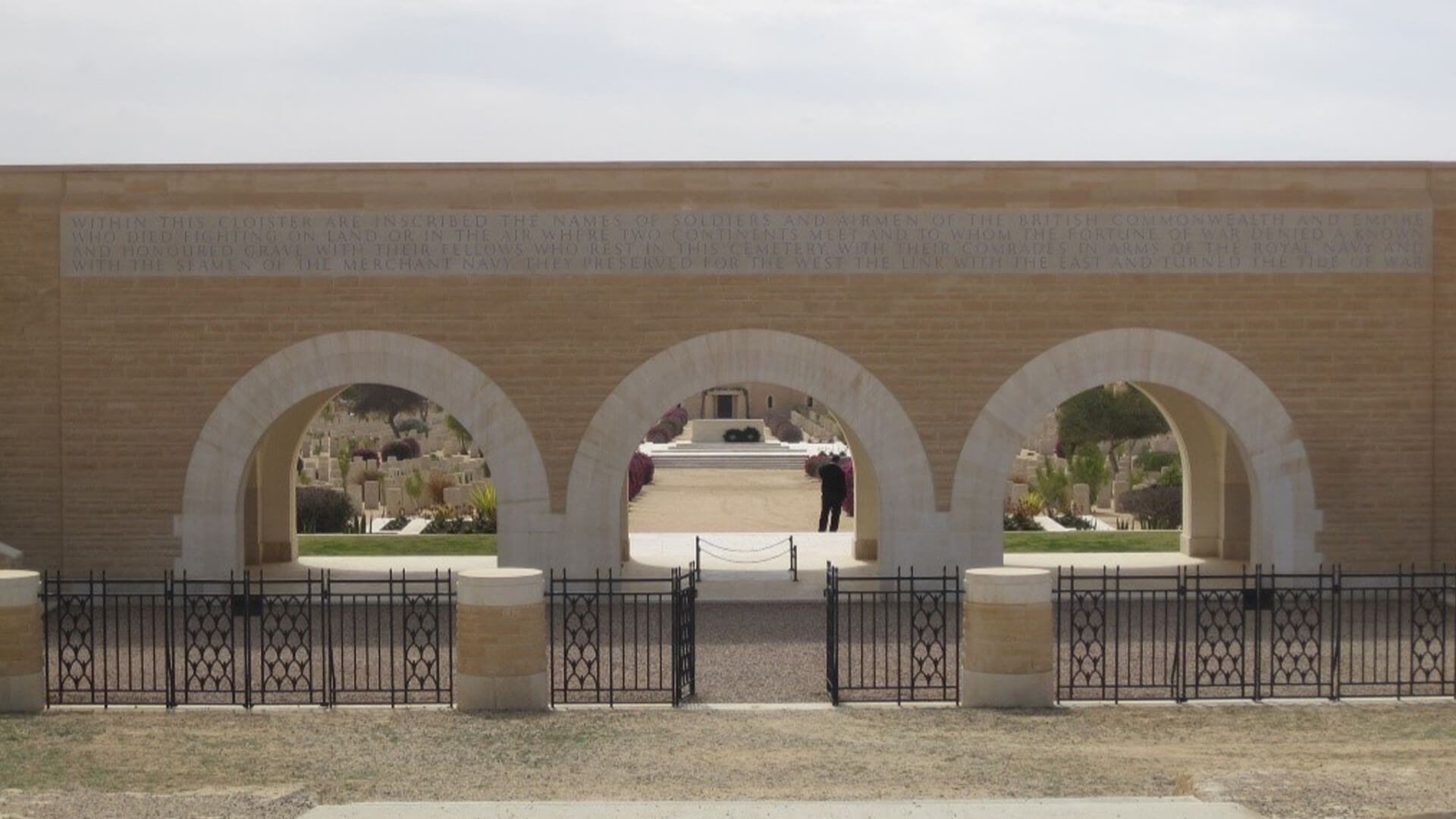 Flight Lieutenant William Joseph 'Timber' Woods
William Joseph Woods was born in Ireland in 1913. moving to England with his family in 1925. He was commissioned into the RAF in 1938 and was awarded the Distinguished Flying Cross in December 1940 for his role in the defence of Malta. Woods departed for Egypt at the start of 1941, from where he was posted to Greece in early January 1941 to become a flight commander in No. 80 Squadron. Woods is buried in CWGC's Phaleron War Cemetery in Athens, Greece.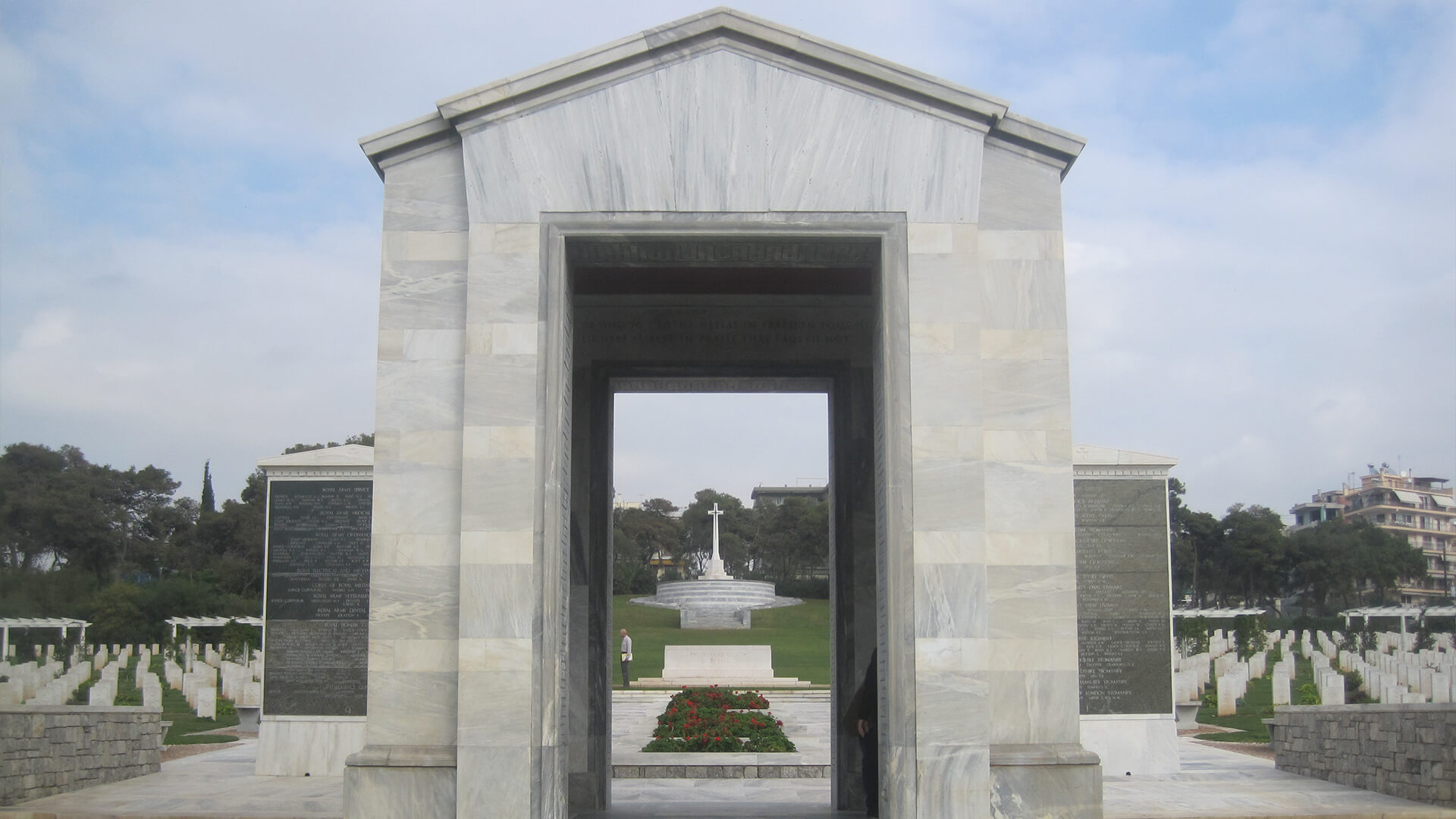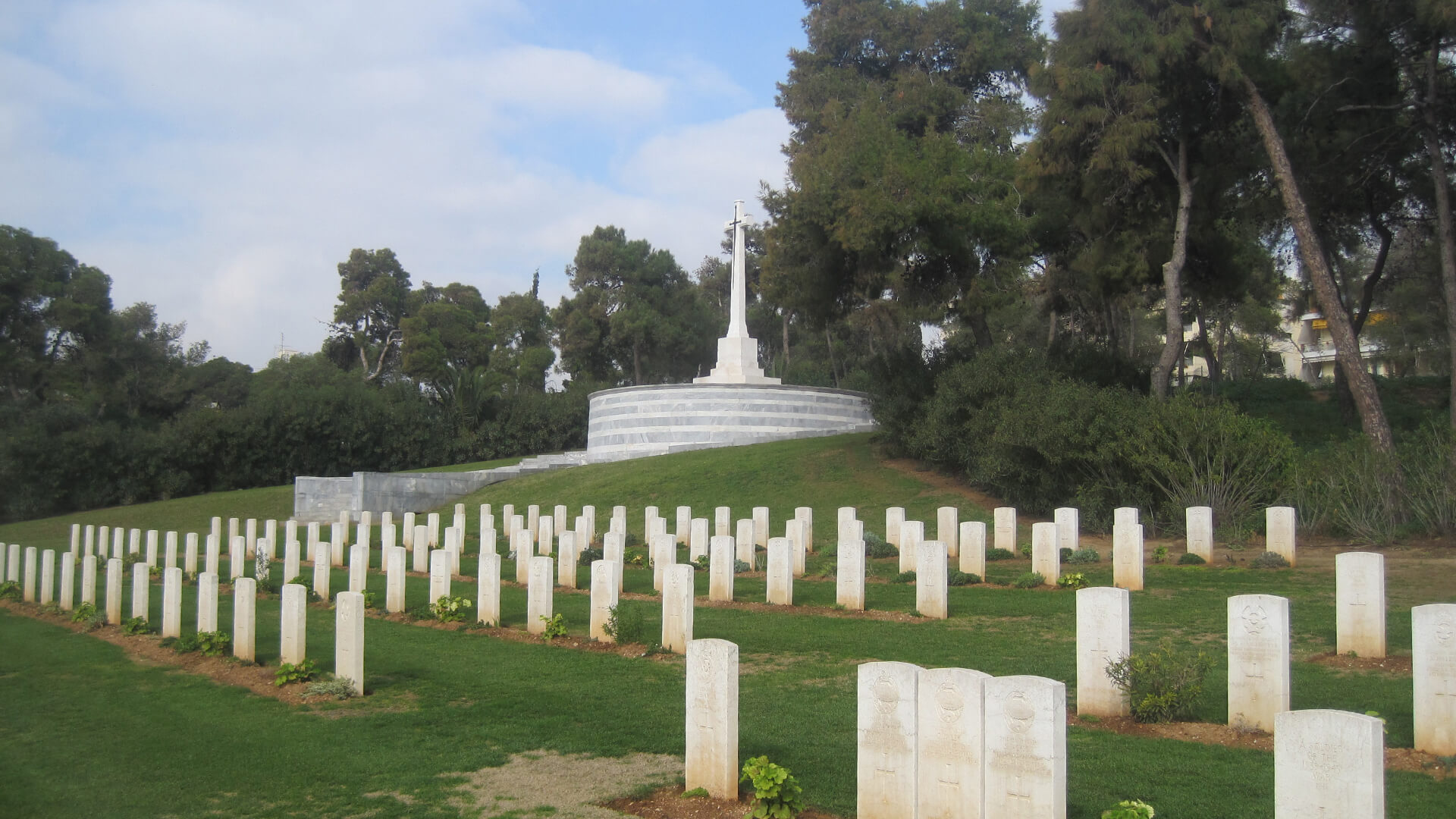 The men who fought to defend Greece, and those who battled over the city of Athens, wrote their names alongside the likes of Achilles, Jason and Theseus into the martial history of the region. Just like the heroes that came before them, their names will be remembered in perpetuity.