04 December 2020
The Real Queen's Gambit

You might have seen Netflix's new hit miniseries called the Queen's Gambit, which follows the life of an orphan chess prodigy as she becomes one of the world's greatest players. But did you know the first ever Women's Chess World Champion is commemorated by the CWGC? Lynelle Howson, CWGC's Historian, and Elizabeth Smith, Public Engagement Coordinator for the North East, explore her story.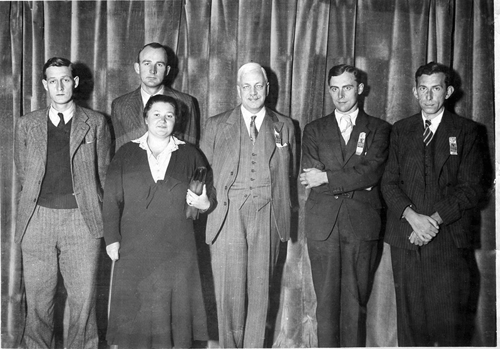 Vera Menchik with the England team, 8th Chess Olympiad. Thanks to Leonard Barden and British Chess News.
I am sure many of you have become enthralled by the latest Netflix drama 'The Queen's Gambit'. The fascinating portrayal of competitive chess in the Cold War era combined with a flawed heroine and captivating performances by the cast make it a compelling drama and it is no wonder that it is taking the world by storm. Inspired, we decided to find out more about women players in the world of chess and discovered a link between the first Women's World Chess Champion, Vera Menchik, and the Commonwealth War Graves Commission.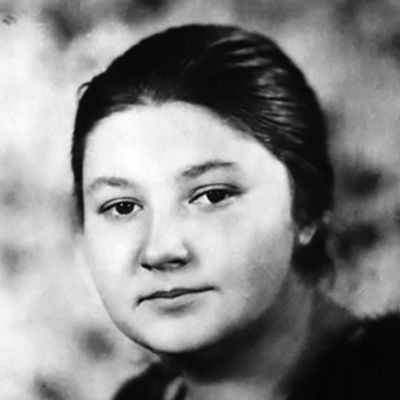 Vera Menchik was born in Moscow in 1906 to an English mother, a governess, and a Czech father who managed several country estates. Vera's younger sister, Olga, was born 15 months later. Details of their life in Moscow are sparse but it would appear that the girls enjoyed a relatively comfortable life in pre-Revolutionary Russia. They were introduced to chess by their father when Vera was about 9 years old. The years following the Russian revolution in 1917 were hard for the family. They lost their income and their home, and the family spit up. In 1921, Vera, Olga and their mother moved to England to live with their grandmother, whilst their father returned to Czechoslovakia.
It was in England that Vera took up chess more seriously, joining her local chess club in Hastings in 1923. At this time, it would have been unusual to see women playing at a chess club. For Vera it seemed like a natural move as her spoken English was very poor, so sitting in silence suited her perfectly. Vera's talent was quickly recognised, and she became a pupil of Geza Maroczy, a Hungarian Grandmaster. Soon she was representing both the Hastings Chess Club and Sussex County in team matches and making good progress.
In 1927, the World Chess Federation held the first World Championship for women. At the age of 21, Vera was its first winner, beginning a streak ended only by the Second World War. She was the first woman to compete on the international elite chess circuit, travelling Europe and the Americas to do so. In 1937 she married Rufus H S Stevenson, who was involved in the chess world, moving into his house in Clapham, bringing her mother and sister with her. She was Mrs. Stevenson at home, but Vera Menchik in chess.
1939 found Vera at the 8th Chess Olympiad in Argentina, winning her 7th consecutive Women's World Championship. War broke out during the Olympiad, and the England team (all men) returned home immediately, although they had qualified for finals. Three of the five team members went into top secret code-breaking work at Bletchley Park.
Vera continued to give chess lessons and was Games Editor for the magazine CHESS. She also managed the National Chess Centre in London until its venue – the John Lewis building on Oxford Street - was destroyed by bombing on 18 September 1940, 11 days into what would come to be called The Blitz. On the same day, the Imperial War Graves Commission's Vice Chairman, Sir Fabian Ware, sat down to write to Prime Minister Winston Churchill.
Ware put it to Churchill that 'we have to consider the commemoration of civilians, men, women and children, by the deliberate slaughter of whom the enemy is creating a new category of normal war casualties. The Commission cannot omit to commemorate these if the higher purposes inspiring their work are still to guide them.' Ware suggested that for the moment all the IWGC would do was collect their names, ready for making some kind of permanent commemoration in the future. Churchill agreed, and the IWGC began a wholly new stream of work, having been responsible only for military dead since its creation in 1917. The IWGC reached out to cities, metropolitan boroughs, councils and rural districts, and directly to ordinary people, asking them to submit forms advising details of 'victims of enemy attack'.
By April 1942 they had over 42,000 names, and felt it was time to recognise publicly 'civilian heroism and sacrifice' by publishing and displaying the work compiled thus far. Ware approached the Dean and Chapter of Westminster Abbey about placing a copy of the Roll of Honour in the Warrior's Chapel. The Dean agreed, but the Government did not. No publicity of the scale of loss would be permitted until the war was over.
As 1943 drew to a close, although saddened by the recent death of her husband (he was 65, 28 years her senior) to Vera, having lived through 1940-41, it must have seemed like the worst of the Blitz was well behind them. Our Civilian Roll of Honour records nearly 23,000 dead in 1940 and 20,000 in 1941 in the U.K., while 1943 has just 2,900. 
On 13 June 1944 a frightening new weapon surprised the people of London. Just after 4 a.m., Grove Road in Mile End was hit by what came to be called a 'Doodlebug' or 'buzz bomb': a V-1 flying bomb. This pilotless winged warhead was powered by a jet engine. At a predetermined distance it would dive for the ground, engine cutting out, and 850kg of high explosive would explode on contact. In inner-London suburbs of terraced housing, up to 20 houses could be obliterated by a single V1 blast, with injuries and destruction spread further still. In just four days from 15 June, in just one part of South London 65 V1s fell.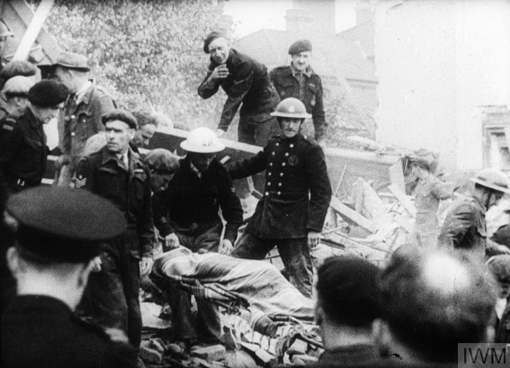 © IWM MH 24293 Stretcher party recovers a casualty after a V1 attack, London. © IWM D 21211 Civil defence workers search rubble for survivors after a V1 attack, London. 
Vera, with the rest of London, must have been keeping a constant listening watch for the terrifying uneven engine note and more terrifying sudden eerie silence preceding a deadly explosion. Nine nerve-wracking days after the first V1 hit Vera's neighbourhood of Clapham, a V1 struck near 74 Gauden Road. Eleven people were killed, among them Vera's mother and sister (Olga Menchik, 59, Olga Menchik Rubery, 37) and Vera - Vera Stevenson, 38. Their names are recorded forever in the CWGC's Civilian Roll of Honour.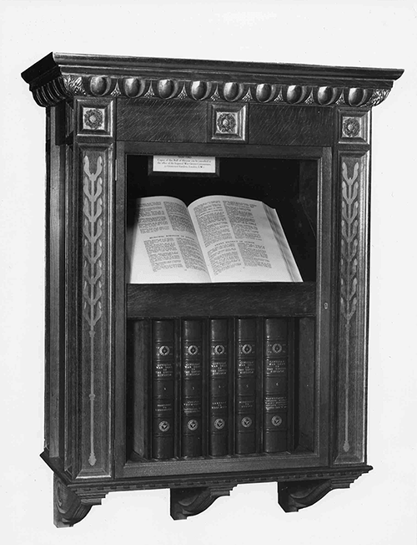 Ware's initial war-time suggestion for a fitting place for the Roll of Honour, Westminster Abbey, became its permanent home. Designs were considered for various register containers – a table or an upright shelf or cabinet. This photograph from our archive shows the final form chosen. The Roll's 67,000 names can be searched online via our website.
While 'The Queen's Gambit' is a fictional account of the world of chess, there are some interesting similarities between the character Beth Harmon and the real Vera Menchik. Both had a fractured childhood, Beth by her mother's death, Vera by the Russian Revolution. Vera, brought up speaking Russian, has to learn English when she moves to Britain; Beth learns Russian to help her understand her Russian opponents. We see Beth finding escape and solace in chess; for the young Vera, chess gave her a way of interacting with people without the need to speak much.
'The Queen's Gambit' portrays a trail blazer and breaker of gender norms; Vera really did this, and 30 years earlier. The fictional Beth Harmon plays chess against the background of the Cold War. Vera Menchik lived through five years of a hot war – a war that claimed the lives of millions, including hers. We're proud to commemorate the Commonwealth servicemen and women – and the civilians, like Vera – who died in the Second World War, so that their names will live forever.