23 January 2023
Commemorating the Chinese Labour Corps
A vital part of any large military operation is the logistics and supply element. With the need for every able-bodied serviceman to fight increasing as the conflict on the Western Front ground on, the need for skilled and unskilled labour in the supply chain grew more acute.
Members of the Chinese Labour Corps carrying shells. © IWM Q23575
Men volunteered from across the British Empire and formed units like the South African Native Labour Corps, but more men were still needed. The British Government approached the neutral Chinese government and after negotiations Chinese volunteers were recruited and the Chinese Labour Corps (CLC) was formed as a non-combatant part of the British Army.
The Labour Corps undertook important logistic roles, building and repairing docks, railways and airfields, loading and unloading supplies and munitions, vehicle repair, and once the conflict was over, battlefield clearance.
Offering a higher rate of pay than they were used to, with food, clothing, housing, medical support and a family separation payment, many Chinese individuals volunteered and the first 1,088 men sailed from China in January 1917.
Their three month journey took them across the Pacific, Canada and the Atlantic to Liverpool, until finally to France. By the end of 1917, 54,000 Chinese labourers were working in France and Belgium where they earned a reputation for hard work, ingenuity and improvisation.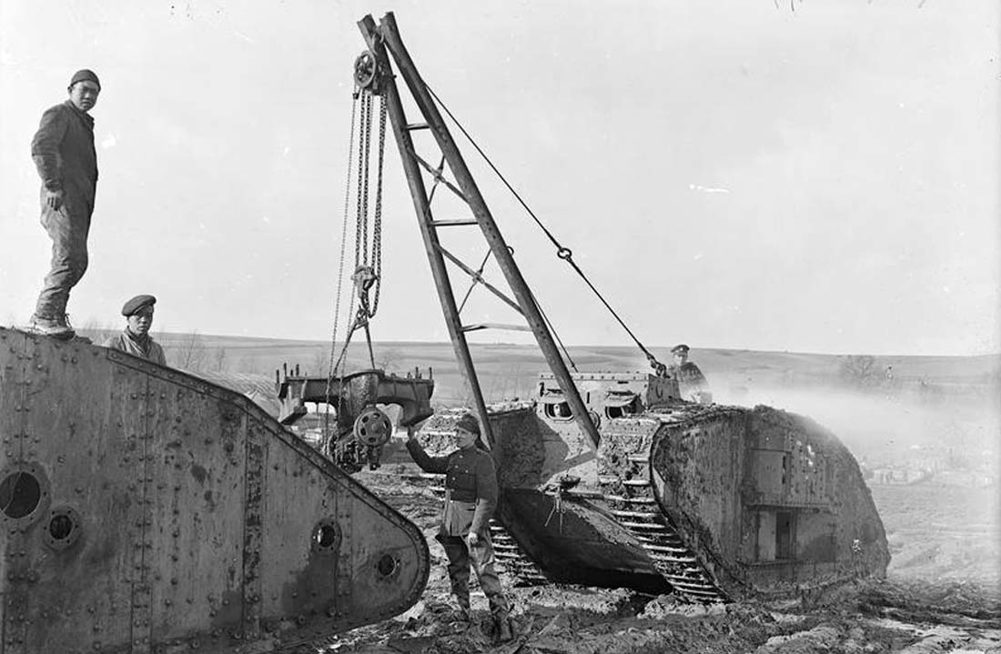 The Chinese Labour Corps hoisting parts from a salvaged tank, 1918. © IWM Q 9865
By 1918, more skilled workers and mechanics were required, but due to a lack of ships to transport them recruitment to the CLC was halted. By the Armistice the CLC numbered nearly 96,000 members.
Although non-combatant, there was always risk to working near the battlefields and nearly 2,000 members of the CLC died during the First World War, many during the Spanish influenza epidemic in 1918-19.
All CLC deaths were classed as war casualties and the IWGC marked their graves with a headstone featuring English and Chinese inscriptions, carved by CLC members.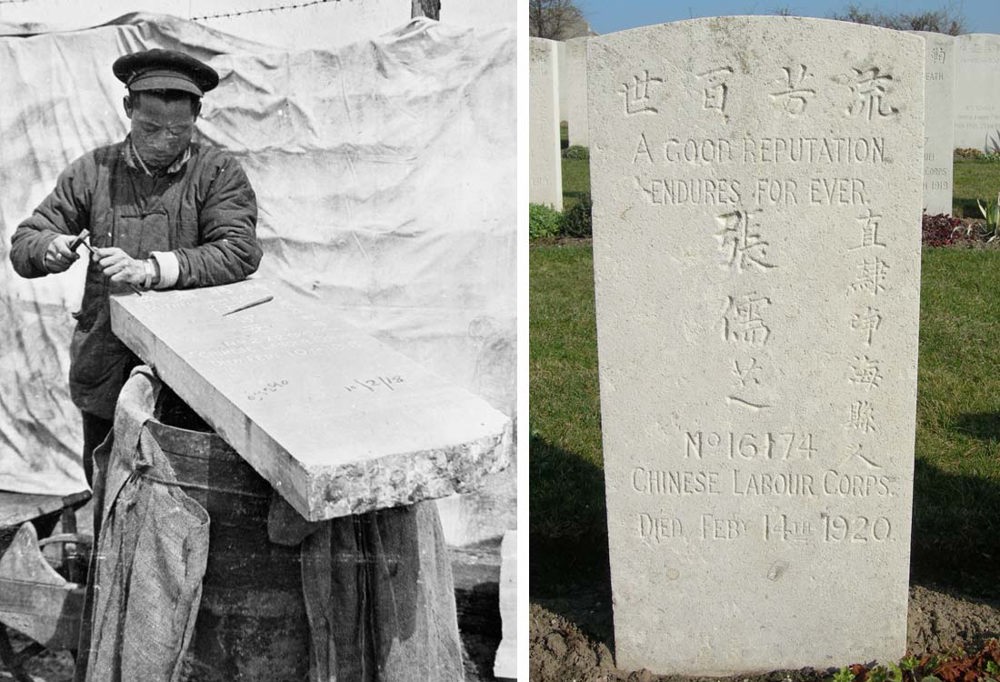 A member of the Chinese Labour Corps carving an inscription on a CLC headstone.
A Chinese Cemetery and Memorial were built at Noyelles-sur-Mer in France, originally the CLC base depot and today the distinctively inscribed CLC headstones can be found in many of the CWGC cemeteries on the Western Front including Ruminghem Chinese Cemetery, St Etienne-au-Mont Communal Cemetery, Les Baraques Military Cemetery and Arques-la-Bataille British Cemetery.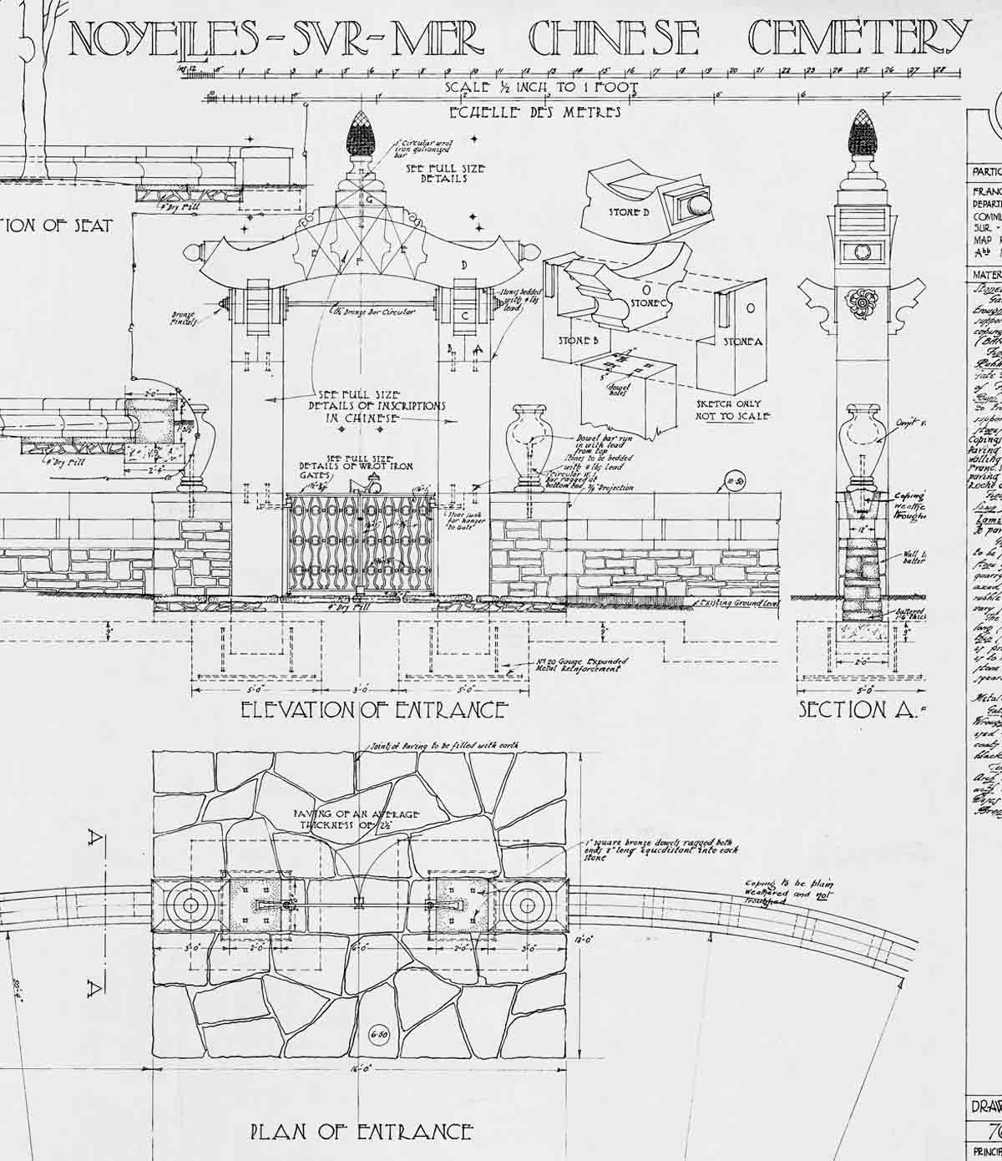 The IWGC (now CWGC) architectural drawing for the entrance to Noyelles-sur-Mer Chinese Cemetery.