27 January 2021
Creating replacement Ibadan Panels – Our Work Continues
Recently the bronze dedication and name panels on the Ibadan and Calabar Memorials in Nigeria were stolen. To replace them, and to prevent another theft, we called upon the talents of the CWGC Drawing Office.
The dedication panel, before and after
The bronze dedication panel displayed two embossed African soldiers alongside the dedication. The easiest solution was to trace an image of the two soldiers and draw them onto the aluminium composite that had been chosen to replace the bronze and deter future theft.
However, this method wouldn't produce the desired effect. The original bronze work was finely detailed, standing out from the bronze panel in relief. To create a closer match, the team used high-quality photos of the original panel. They cut out the original soldiers and added them into the new design using our Computer Aided Design software.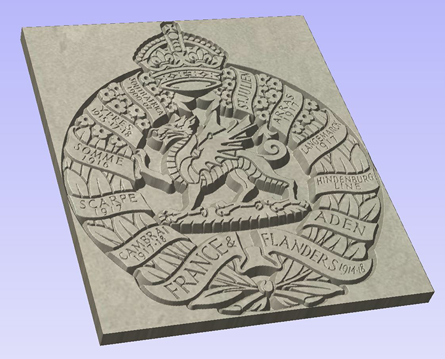 The new panels were created and coloured to match the original bronze. The results were outstanding. The new method meant that the soldiers were still embossed, maintaining the design of the original panels.
The Drawing Office work with our teams across the Commission. They design new headstone and panel layouts, site plans and a broad range of drawing work. Each year, they produce layouts for 10-15% of the headstones we engrave. They also design detailed layout drawings for all the new engraved panels we install around the world. 
The team have also been working hard to digitise headstone badges based on the original hand drawings by Macdonald Gill. One of the most recent creations is the Monmouthshire Regiment, a very complex undertaking.