29 April 2021
CWGF Wildflower seed mix available at your local garden centre
Did you miss out on a chance to claim your free packet of the Commonwealth War Graves Foundation's Wildflower Mix earlier this year? Now a limited number of packets are available from Hayter stockists at garden centres across the UK.
In the build up to War Graves Week, we want you to remember those who died in the world wars by creating your own wildflower memorial with a seed mix that echoes the wildflowers that grew on the battlefields of the Western Front after the First World War.
You can pick up these seeds at no cost, but we'd love for you to donate to the work of the Commonwealth War Graves Foundation. Your donation will help us to engage and educate people about our work.
Once you have picked up your free seed packets please do share this on social media by tagging in the CWGC and using #WarGravesWeek. Please also share your progress of planting and growing of the seeds and you could win a prize. Learn more about War Graves Week.
Plants and flowers are an important part of ensuring that the high standards our sites pay tribute to the men and women we commemorate. As such, we are one of the largest horticultural organisations in the world, employing more than 850 gardeners across the globe.
At the end of the First World War, some of the first gardeners the then Imperial War Graves Commission employed included former soldiers who took to caring for the land that they had spent the previous years living and fighting in.
Read more about the history of our early gardeners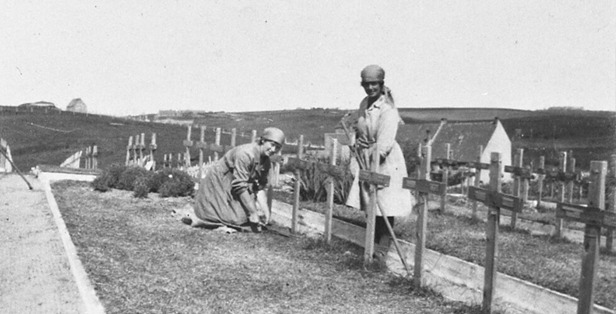 We also employed the women of the Women's Army Auxiliary Corps as early as 1917. The first 14 WAACs arrived on the Western Front on 31 March 1917, and were tasked with sewing grass, planting trees and roses, and laying wreaths sent by families.
Read about the women gardeners of the First World War
This gardening expertise lives on in the CWGC with our teams tending to our sites around the world. Our teams create a peaceful atmosphere at each of our sites, and with our wildflower seed mix you can create your own corner of remembrance in your own garden.
Free packets of our wildflower seed mix are available at the following Hayter locations:
Alton Garden Centre Ltd, SS12 9JG
Felthorpe Lawnmower Services , NR10 4DP
Paul Prettejohn , EX14 4RZ
Whites ES Ltd , MK43 7RX
AMP Services, BN5 9XR
Garden Solutions (Surrey) Ltd , KT24 5LY
Paul Prettejohn , TA21 9HY
Wyton Mower Centre , PE28 2NX
Briants of Risborough, HP27 9SG HP27 9SG
Garlick Garden Machinery Ltd, PR4 4ZE
Phil Basford Garden Machinery, WR11 7RE
Wyvern Garden Machinery Ltd, SY5 8NY
Chelford Farm Supplies, SK11 9AS
Gills Leeming Bar, DL7 9AB
Redblade Mowers , L40 1UJ
 
Cheltenham Garden Machinery, GL50 3HU
Goodrowes Of Chichester Ltd, PO19 8PE
Simmonds Saws Garden Machinery Ltd, GU28 9LH
 
Chester Small Plant, CH4 8RQ
Grassbox, SL7 3ND
Springfeild Lawnmower Services , PR9 0NW
 
Cliftons Turf Machinery, GU21 4ZA
Hart Garden Machinery Limited, RG27 8SL
Stalham Engineering Co. Ltd, NR12 9QG
 
Colin Bush Machinery Ltd, SN15 2LZ
Invicta Groundcare Equipment Limited, DA3 8LJ
Stephen Barker Garden Machinery Ltd, IP14 4PP
 
Cranleigh Garden Machinery Ltd, GU6 8LT
Kingfisher Lawnmowers, B78 3DX
Stuart Brown Limited, MK45 2BG
 
Dean Morris Lawnmowers, SK9 6JB
Kingsbridge Hire & Garden Machinery, TQ9 7FA
Stuart J Daws , CT4 8DX
 
Dobsons Garden Machinery, YO12 7BX
Moggs of Wells (Engineering) Ltd, BA4 4NB
Ted Hopkins , Newport
 
Keep up to date with War Graves Week
To hear the latest War Graves Week news, and other updates from around the Commission, sign up to our mailing list.
Sign up now