10 July 2018
First World War serviceman laid to rest a century after his death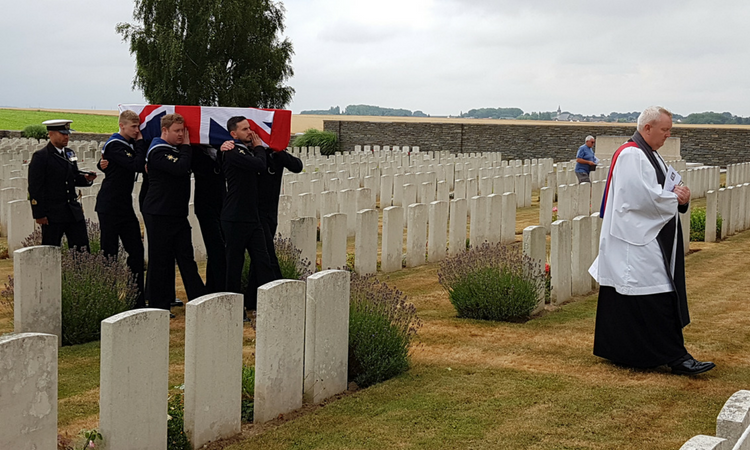 A burial service for Able Seaman James Cameron Robertson, Anson Battalion, Royal Naval Division took place at the Commonwealth War Graves Commission's Orchard Dump Cemetery, France at 10:30am on 11 July 2018.
With more Naval reservists than were required on board the ships of the Royal Navy, thousands of men like Able Seaman Robertson fought as infantry soldiers. The eight battalions of the Royal Naval Division were named after naval commanders, Drake, Benbow, Hawke and Collingwood, Nelson, Howe, Hood and Anson.
Born in Aberdeen on 21 April 1891, James Cameron Robertson served with Hood Battalion during the Gallipoli campaign and then in France. After recovering from wounds to his leg and throat he was transferred to Anson Battalion in January 1917. Able Seaman Robertson was killed on 28 April 1917, during an attack on the Germans lines near the village of Gavrelle, as part of the Battle of Arras.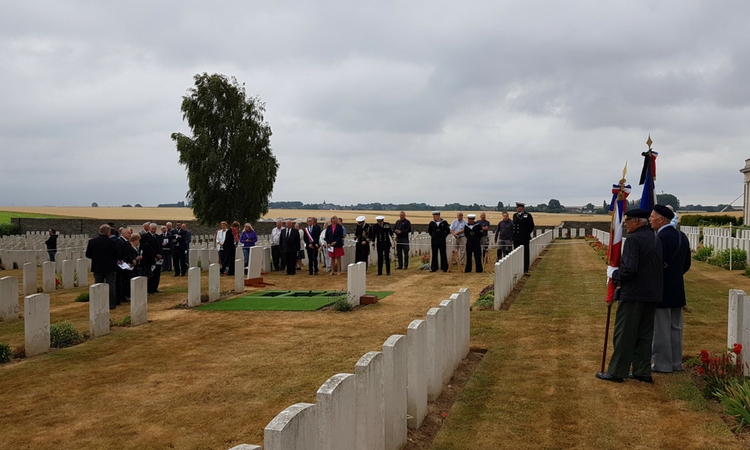 The Commonwealth War Graves Commission's Orchard Dump Cemetery was begun in April 1917 by units taking part in that battle. The cemetery was greatly enlarged after the Armistice by the concentration of graves from other small burial grounds and from the surrounding battlefields, including the area where Able Seaman Robertson was killed. The site was given by the widow of a Captain in the French 72nd Infantry Regiment, killed in action in August 1914.
The CWGC has marked his grave with a headstone bearing his military and personal details together with a personal inscription chosen by his family.
The service was organised by the Joint Casualty and Compassionate Centre, Ministry of Defence and was attended by family members, British Defence Staff, navy representatives, CWGC staff and local dignitaries.
Steve Arnold, CWGC said "I was honoured to be able to recover Able Seaman Robertson from the battlefield where he lay for 100 years and privileged to be here today to see him laid to rest alongside his comrades. We will care for his grave here at the Commonwealth War Graves Commission's Orchard Dump Cemetery forever."