15 January 2021
Flood defences completed at Imphal Indian Army War Cemetery
A flood-prone Commonwealth War Graves Commission cemetery in northeast India will be better protected from water damage thanks to new defences.
Imphal Indian Army War Cemetery has historically suffered during the monsoon season.
The summer monsoon season in Manipur state is normally from July to September when heavy rains often lead to flash floods and have overwhelmed previous attempts to protect the site.
Unless this water drains quickly then the turf and ornamental plants can be killed as there is no oxygen supply to the roots. In the longer-term waterlogged soil could start to compromise the foundations of structures.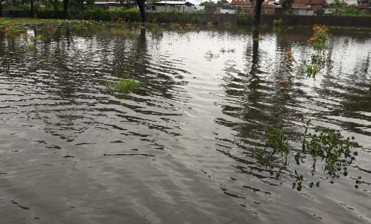 Flood walls and underground tanks to contain excess rainwater have all helped to reduce the problem in recent years.
However, now CWGC has successfully completed the final stage of its flood defence project. It saw the installation of a larger barricade and channels to divert flooding safely around the cemetery, allowing it drain away naturally without causing damage.
Work was nearly completed when the Covid-19 pandemic put the project on hold for more than six months. The final stages had to be completed during the annual monsoon and have now passed initial tests.

Imphal is the capital of Manipur State, on the border of Myanmar. During the Second World War it was the site of the deadly Battle of Imphal.
Imphal Indian Army War Cemetery is the resting place of 828 Commonwealth burials, most of whom were Muslim soldiers who served in the Indian Army during the conflict.
It was designed by Colin St Clair Oakes who had served in the Burma Campaign in the Second World War.
At the southern end of the cemetery is the Imphal Cremation Memorial. It lists the names of 868 Hindu and Sikh soldiers and airmen who were cremated in accordance with their faith.