26 October 2022
Historical research shines light on abandoned war graves in Karungu and Kisii, western Kenya
CWGC's Nairobi-based team of anthropologists and heritage experts have for the first time used archival sources to conduct extensive fieldwork in order to try and locate potential burial locations from the East African campaign of the First World War.
In this case, it was associated with the fighting around Karungu and Kisii, along Lake Victoria in Kenya, in September 1914.  
These sources, drawn from the UK National Archives, the Kenya National Archives, and the CWGC's own archive, had been built up over time by the historians.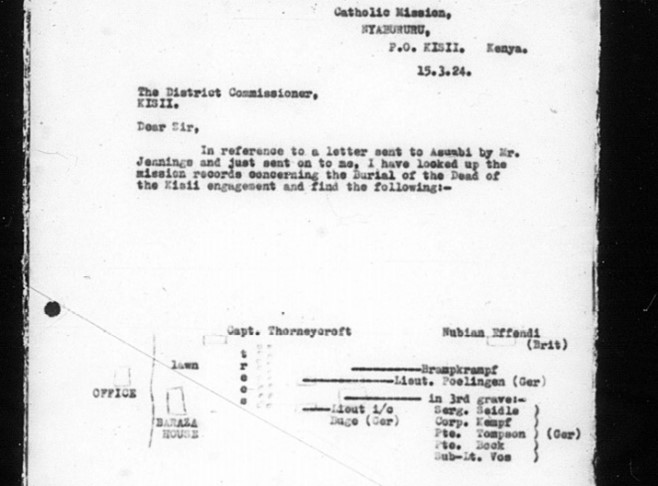 After the First World War, Christian missionaries were particularly active in Kenya and Doyle's letter was written from the Christian mission at Kisii, and referred specifically to the burial of the dead in September 1914.
This was particularly helpful to our teams as it meant they could work to identify the locations and set up a series of interviews with the chief and elders at Karungu, the Kisii Members Club, and the Nyabururu Mission Station. They also used the sketches to plan visits to archives at Kisii University, Kisii County Library, and the Cardinal Otunga High School. 
Doyle also left letters, and these indicated the church at the Nyabururu Mission Station could be linked to war graves. Documents also showed this mission's founder, Father Wall, conducted war grave burials in 1914 but it was more likely these burials took place elsewhere – the two graves on the grounds are not related to the world wars.  
In September 1914 heavy fighting in Kisii meant significant British and German lives were lost. The Kisii Boma Military Grave site holds the grave of one of the fallen - Captain Edward Thorneycroft – although diary evidence shows he died alongside his African officer, Bojuruta/Bazruta Effendi. 
Moreover, other sources refer to large numbers of askari dead on all sides, and as the graves likely sit within the bounds of the Kisii Members Club this gave us a clear point for investigation. A metal bar planted at the forest edge is thought to be the remnant of the grave for the fallen German soldiers.
Oral histories also suggested graves of regular askaris may have later been marked by trees; the club's golf caddies took us to two tree-marked sites suspected to contain the remains of both German and British African soldiers. 
At Karungu, on the shores of Lake Victoria, was also included within sources. Here Karungu's Chief Barnabus Majiwa and local elders Patrobas Odiwa and Robert Jakoyo helped us navigate the landscape and locate sites, marked by stone cairns. 
The team recorded modern-day GPS locations and findings for further investigations. The team has embarked on a search of other relevant reference materials from the National Archives, Nairobi to verify the ground findings.
Historical research, strong community connections and anthropological field work are enabling us to ensure the contribution and sacrifice of all those who served and died are remembered.