24 December 2021
Horticultural renovation at Arnhem Oosterbeek War Cemetery
Important works have taken place at the entrance to CWGC Arnhem Oosterbeek War Cemetery giving both practical and aesthetic improvements.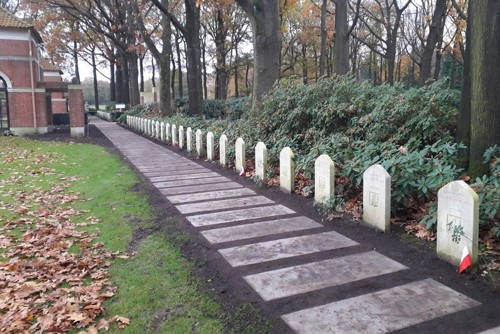 The works were necessary for horticultural issues around the buildings and Polish graves whose shady location and high visitor footfall had led to the turf and border plants not thriving.
The Commonwealth War Graves Commission conducted in-depth research, studying the current visitor walking routes while coordinating with the gardeners to arrive at the best solution. It was equally important this would fit within the historical horticultural plans, taking into account reference lines to important structures such as the Cross of Sacrifice and the Stone of Remembrance.
The CWGC horticultural and works departments have now placed stepping stones separated by thin strips of turf in front of the graves, added colourful flower borders and shrubs more suited to a shady environment and new creepers now grace the pergolas in the cemetery.
With an opening in the hedges that flank the main entrance these renovations now give easier access to the buildings and Polish graves.