03 February 2021
Ieper Information Centre reopening
The CWGC Information Centre at Ieper will reopen today, 3rd February 2021, following its closure over the winter months.
The centre was scheduled to close during December and January, but unfortunately had to close earlier last year inline with Belgian regulations surrounding Covid-19.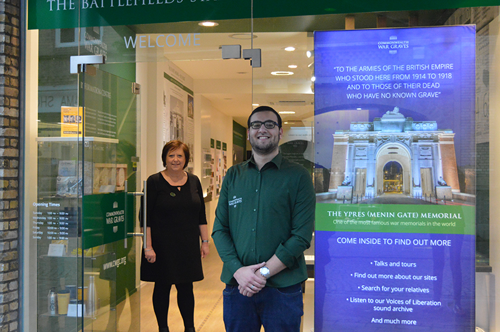 We are now able to reopen provided we adhere to the updated rules and regulations: wearing a facemask is obligatory in the streets of Ieper, as well as when entering the Information Centre. We will also be limiting entries to four people at a time and providing disinfectant gel.
The centre's opening hours have also been adjusted as part of the new regulations. It will now be open from Wednesday to Sunday, from 10:00 to 18:00.
If you visit, a member of our friendly team will be on hand to help you find out more about our local sites, undertake research on our database or answer questions you may have about our work. You can also pick up a souvenir from the CWGC shop.
Our Lego Menin Gate is also on display. It's is a custom model that took six months to complete and is made of 54,000 LEGO bricks - one for every name on the memorial.
The real Menin Gate is just a short walk from the Information Centre, an essential part of any trip to the region – however there is currently no update on the restarting of public viewings of the Last Post ceremony, which takes place at the memorial every evening at 20:00.