10 September 2020
Meet the father and son gardeners of Paris – Our work continues
Keeping it in the family
A father and son gardener duo have been keeping the show on the road in Paris. Coronavirus restrictions have meant our normal teams can no longer travel and work together in the same way.
Thanks to one of the many families who work for us here at CWGC, Paul Bird and his son James have been able to take to the roads and look after our war graves in the French capital. Living in the same household means the pair can safely travel and work together without putting themselves or anyone else at risk.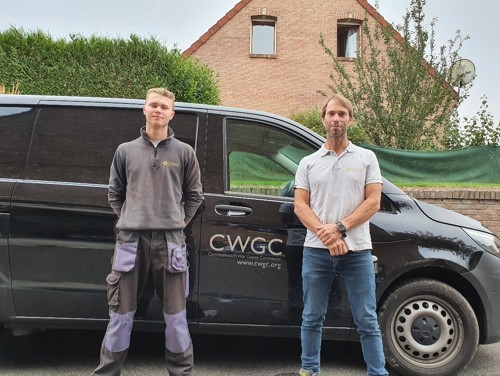 James Bird, gardener, and his father Paul, ready to head out to CWGC sites in Paris
With certain restrictions now lifted, they have been able to undertake regular visits to bring these sites back up to standard after a three-month absence earlier in the year.
Paul has worked here for more than 30 years, while James joined last year, becoming the third generation of their family to work for us, following in the footsteps of his grandfather Roger Bird, who retired from CWGC in 2010 after a long career with us.
Before and after, Paul and James have made quick work of returning City of Paris Cemetery to high standards
All around the world we have many personal connections in our workforce and in cases like this, we find a family solution to the unique situation we're living through.
With a little help from our friends
The future of some of our war cemeteries in Belgium has been secured thanks to an important partnership with the Flemish Government. In 2017 an agreement was signed with CWGC to help us carry out restoration at 24 war cemeteries in Flanders.
So far 14 cemeteries have been restored and this year, despite the interruptions from Coronavirus, work continues at a further six sites, including here at Hospital Farm Cemetery.
Our careful conservation approach means that we only renew brickwork where we have to, making sure any replacement bricks we use are traditionally made, local bricks, known as Boomse Bricks.  We always use lime mortars which are much more suitable than cement for older brick and stone walls.
Our conservation approach means that damaged bricks are individually checked and marked for replacement where necessary.
Sadly, the front wall of cemetery had deteriorated beyond repair and had to be dismantled and rebuilt again.
Back in July, Matthias Diependaele, Flemish Minister of Heritage, visited Hospital Farm Cemetery to see the work in action and sign the decree to allow this year's phase of restorations to continue.
Left to right, CWGC Director General Barry Murphy and Area Director Geert Bekaert welcome Matthias Diependaele, Flemish Minister of Heritage to Hospital Farm Cemetery