21 May 2023 to 27 May 2023
Haslar Royal Navy Cemetery - War Graves Week Tours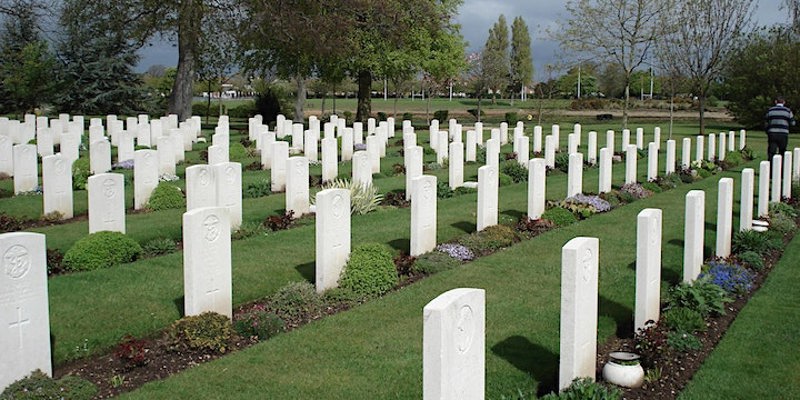 War Graves Week is an initiative aimed at encouraging people from the local community to come together and discover the World War heritage on their doorstep – learning about the stories of those commemorated by the CWGC and the skills, dedication and expertise of those CWGC staff and volunteers who work to keep their memory alive.
MEETING POINT: Main cemetery gate.
During both wars, Gosport was a significant sea port and Naval depot, with many government factories and installations based there, as well as the Haslar Naval Hospital. No 5 Squadron Royal Flying Corps were based at Gosport just before the outbreak of the First World War and during the Second World War the town acted as base to No 17 Group Royal Air Force and the Royal Navy Light Coastal Forces. Haslar Royal Naval Cemetery, which was attached to the Naval Hospital of 2,000 beds, contains 772 First World War graves, 2 of which are unidentified. Most are scattered throughout the cemetery, but the 42 officers and men of HM Submarine "L.55" whose bodies were brought back from the Baltic in 1928 lie together in a collective grave and their names appear on a Screen Wall Memorial. The Second World War graves number 611, 36 of them unidentified. A number of the graves are scattered throughout the cemetery, but the majority lie together in one or other or five groups, the largest of which contains more than 350 burials, the smallest 25.
Please note, the large main gate is not opened at weekends and is locked after 1500 on weekdays. Access is then only possible via a small wooden gate. Entrance is through the side gate by the Sexton's Cottage to the left of the Main Gate and at the corner of the Cemetery.
There is parking nearby. There are on-site facilities, including toilets. The ground is level.
Please dress for the weather and wear suitable footwear.