20 May 2023
Milford Haven Cemetery - War Graves Week Tours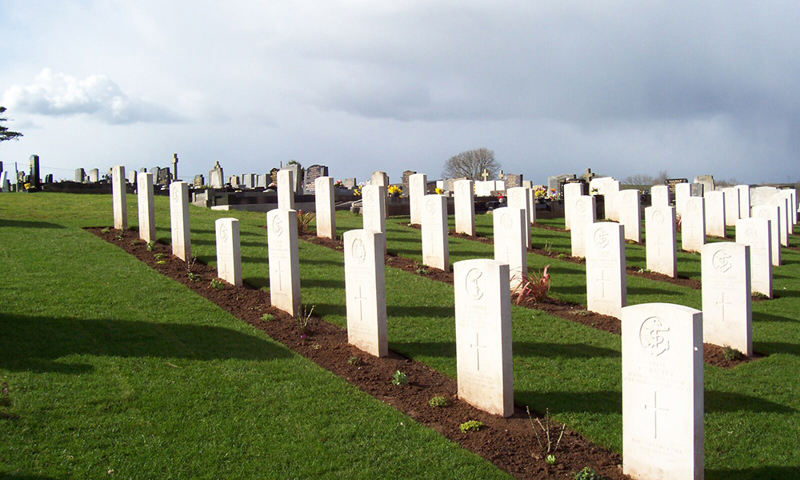 War Graves Week is an initiative aimed at encouraging people from the local community to come together and discover the World War heritage on their doorstep – learning about the stories of those commemorated by the CWGC and the skills, dedication and expertise of those CWGC staff and volunteers who work to keep their memory alive.
MEETING POINT at the Cross of Sacrifice at rear of the cemetery.
The cemetery, owned by Milford Haven Urban District Council, is on high ground a mile South-West of the town. It was opened in 1880 and contains war graves of both world wars. The burials of the 1914-1918 War are scattered in various parts of the cemetery. During the 1939-1945 War, two pieces of ground were set aside by the local authorities for service war burials in parts of Sections E and F, which together constitute the War Graves Plot and contain 76 burials. The remainder are scattered elsewhere.
The 42 burials in that part of the plot which is in Section F include 30 victims of a naval disaster which occured off St. Ann's Head on the night of 25th/26th April, 1943, when H.M. Landing Craft Gun, 15 and 16, making the voyage from Belfast, capsized in a heavy sea and 73 of their officers and men lost their lives. Many of the bodies were not recovered, and not all of those recovered could be identified; but of those identified 15 were sent home for burial and 23 are buried here, as are 7 others whose identity is not known. Of these, 28 were men of the Royal Navy and Royal Marines from the two landing craft and 2 were naval men from H.M.S. "Rosemary" sent to assist the L.C.Gs.
A naval funeral was conducted at the cemetery on 30th April, at which Detachments from the Royal Navy, Royal Marines, Merchant Navy, Royal Air Force, Women's Services and Civil Defence attended. There are now nearly 30, 1914-1918 and almost 100, 1939-1945 war casualties commemorated in this site, 24 of the 1939-1945 war casualties are unidentified.
Limited parking on-site; no facilities or toilets; hilly or steep slopes.
Please dress for the weather and wear suitable footwear.