Freetown (King Tom) Cemetery
Country

Sierra Leone

Total identified casualties

393 Find these casualties

Identified casualties from

First & Second World War

GPS Coordinates

Latitude: 8.49255, Longitude: -13.24653
Please note
Please bear the following in mind when considering visiting this cemetery:
Avoid visiting during the rainy season, between June and November.
There may be lizards present. It is important not to provoke or corner them, as they may bite.
The Gabian sea wall is at the far end of the site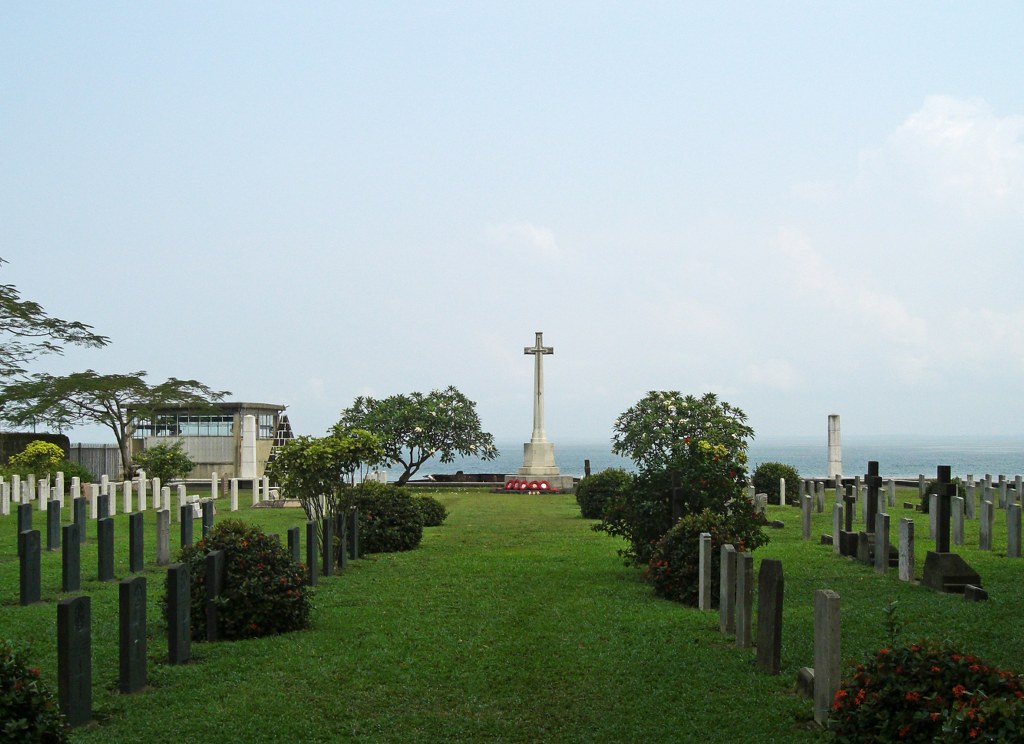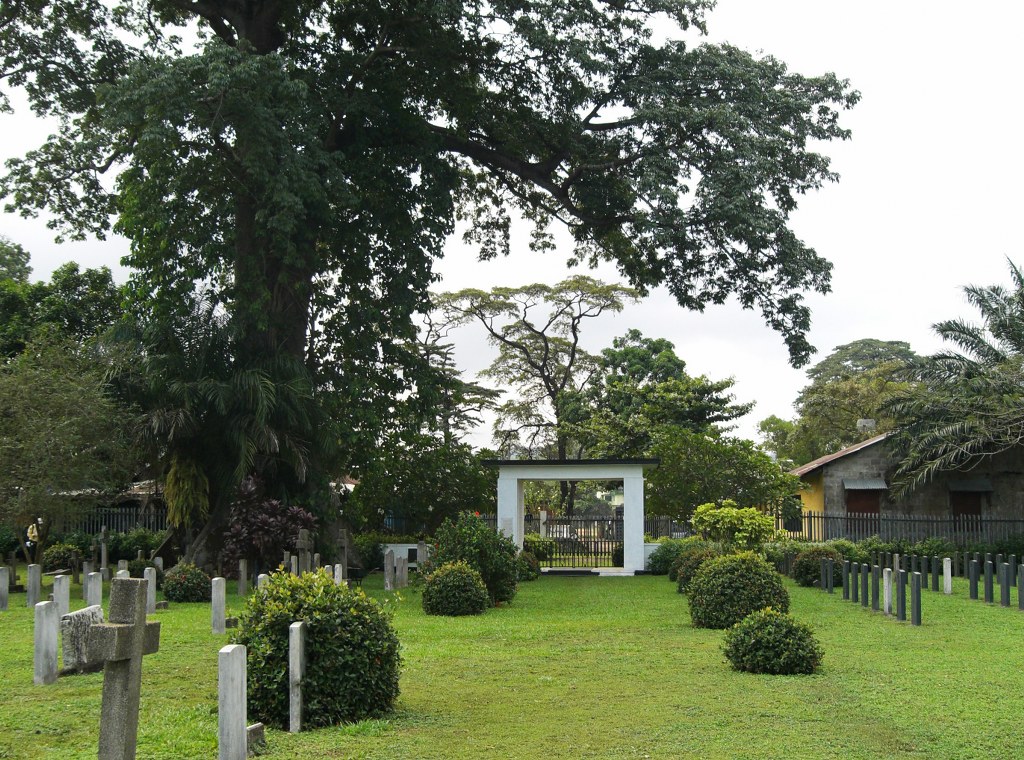 CIVIL WAR TO CIVIL ENGINEERING
KING TOM WAR CEMETERY
Location: Freetown, Sierra Leone   Language: English   Altitude: 10m   Rainfall: 2,945mm   
Temperature: 23°c - 33°c   Biggest challenge: Site at risk of collapsing into sea
"I spent most of Sunday morning lying on the floor of my room with the mattress propped against the window in case of flying glass. Throughout the morning there were repeated visits to the hotel from the rebel soldiers who shot at and robbed guests."
This was the account of David Richardson, then a Commission horticulture manager, on a working visit to Freetown, Sierra Leone in 1997. Partway through his trip to oversee replanting and renovations at our war cemeteries, civil war broke out.
He and other foreign visitors were holed up in their hotel for days until UN planes were able to evacuate them.
Due to the sheer global scale of our work, world events occasionally impact us. Thankfully staff have never had as close a call as this since. The priority is always to ensure people's safety. Stones and planting can be replaced. The long-term nature of our work allows us to bide our time when things become unsafe.
By the noughties a gradual return to Sierra Leone was possible.
Despite the forced absence, the main site in Freetown, King Tom Cemetery, was still in relatively good condition. Until a new threat emerged from the weather.
The old sea wall at King Tom Cemetery seen to be collapsing after flash flooding.
Record rainfall in 2016 saw a deluge of water hit the cemetery. The sea defences were destroyed and the site was at risk of collapsing into the ocean.
Against a backdrop of flooding and an outbreak of Ebola, we had to balance complex needs.
One option only considered in extreme circumstances, would have been to exhume the war dead away from the coast to higher ground.
But it would have been near impossible to get approval to dig up human remains during an epidemic, regardless of when they had died. Almost a quarter of the war dead buried in King Tom were killed by Spanish flu during the First World War. No one was going to question people's nerves in the face of this new contagious disease – we had our own reminder of their costs.
"The mayor also told us the cemetery had become part of Freetown's heritage. So we respected local wishes and stuck to an engineering solution," said area director Rich Hills.
It took time, but an answer to the problem was found, as well as an excellent local partner to completely rebuild a brand new sea wall.
"It was one of the Commission's most complicated engineering projects and we couldn't have done it without local support. Making such a huge achievement in a country that we'd been evacuated from only a few decades earlier made it all the more poignant."
The complicated rebuild begins.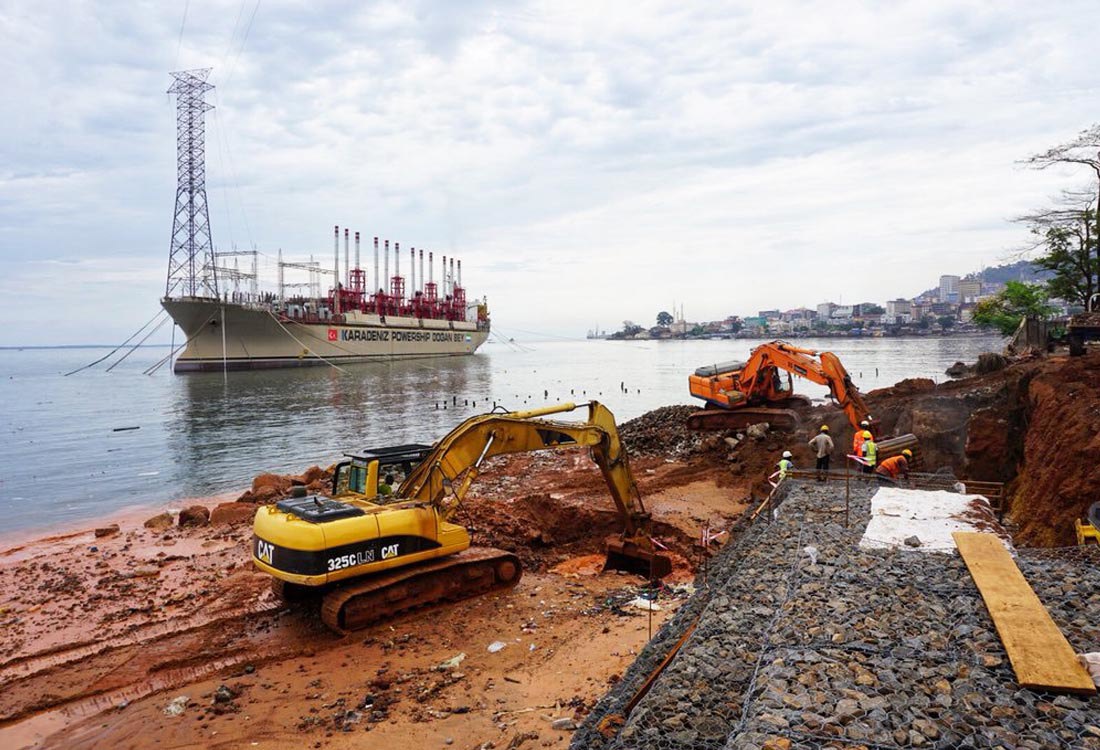 The work went right up to the water's edge.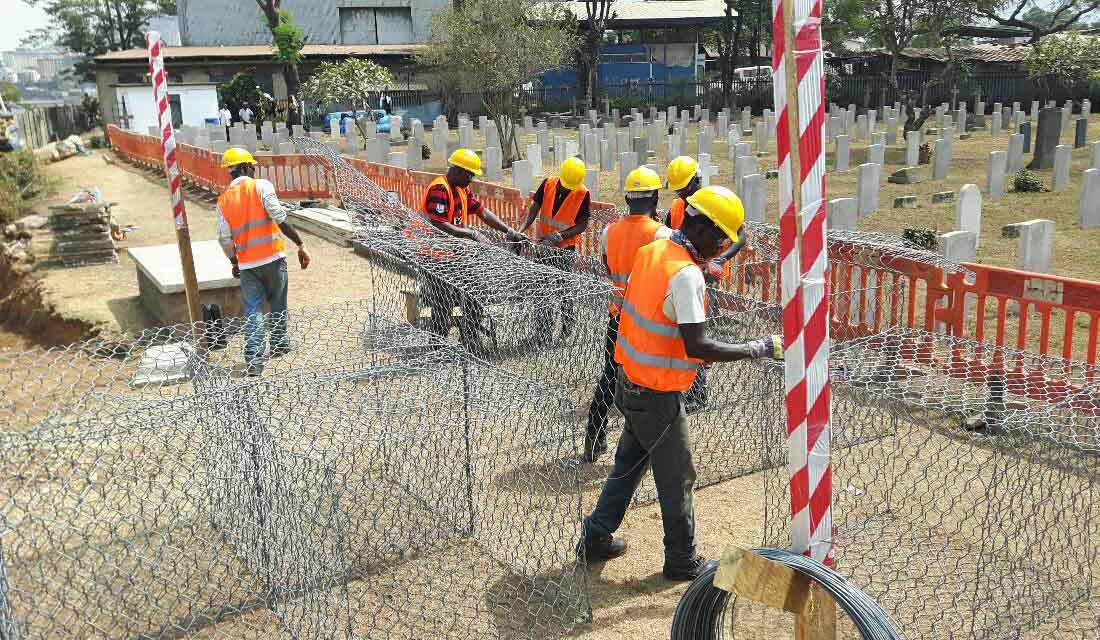 Preparing the metal baskets.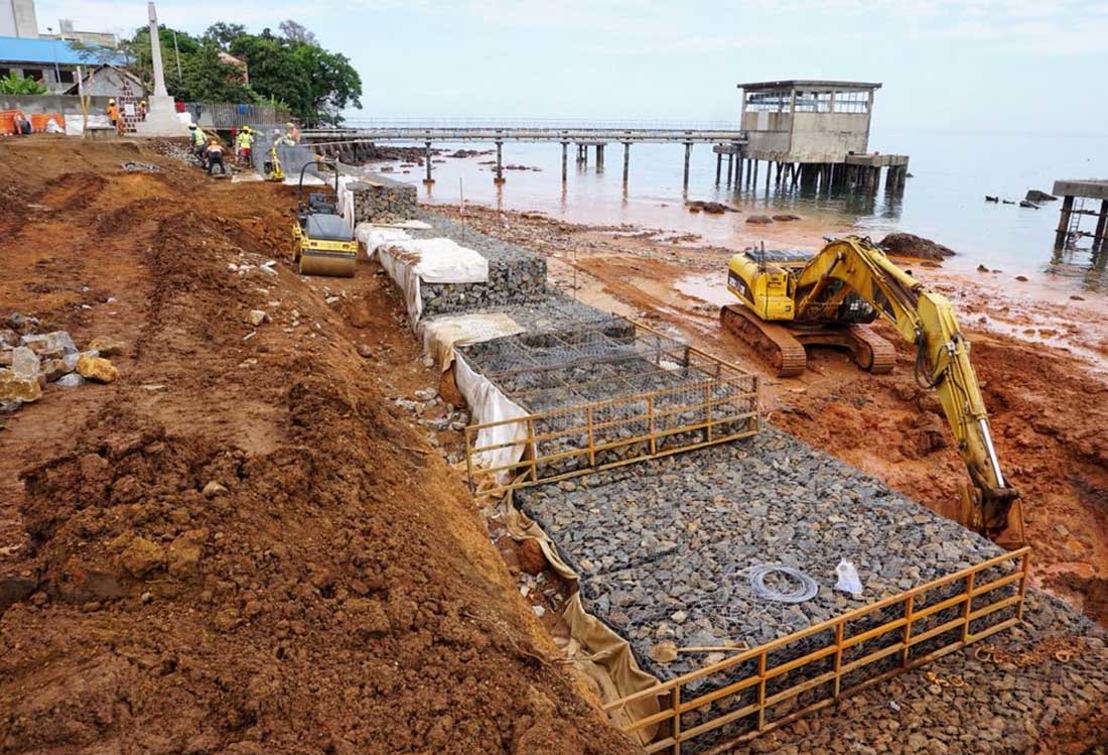 The rubble-filled baskets protect the ground above while dissipating the force of the waves.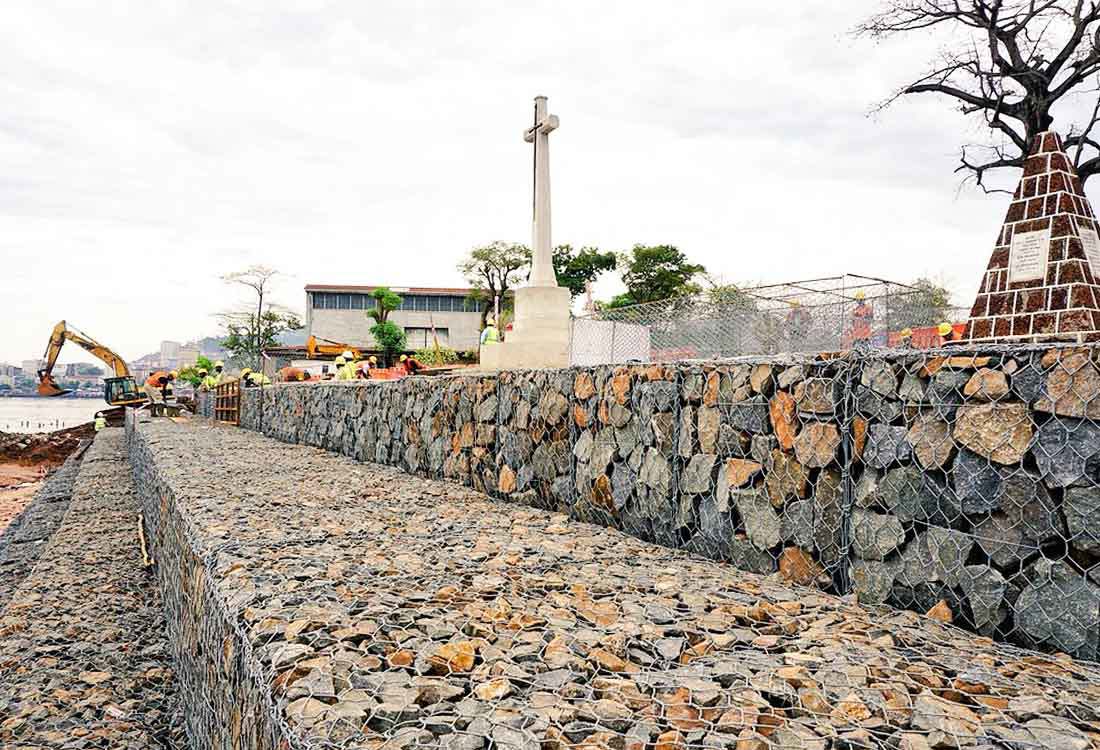 King Tom's Cross of Sacrifice, now protected from collapse into the sea.
Workers celebrate the completion of the new sea defences in 2018.
Location information
Freetown (King Tom) Cemetery is enclosed by the old King Tom Dockyard, now the Police Mechanical Repair Workshop, on the north-eastern shore of King Tom Peninsula. It is about 10 minutes by taxi from the main centre of Freetown to the cemetery area.
Visiting information
Freetown (King Tom) Cemetery is open every day between 06:00 and 18:00.
Download Cemetery Plan
History information
During the Second World War the four territories in West Africa - including Sierra Leone - became bases for recruiting and training men for the armed forces and their ports and harbours were of great value to convoys bound for the Middle East, India, South Africa and South America. By the end of 1942, coastal defence artillery had been installed and manned in all the principal West African ports. Freetown became a naval base.
FREETOWN (KING TOM) CEMETERY contains 248 Commonwealth burials of the Second World War, two of which are unidentified. There are also 129 First World War burials, many of them due to an epidemic of sickness in September - October 1918. The cemetery also contains 135 non-war burials and 21 war graves of other nationalities which are in the Commission's care.
A MEMORIAL located in Freetown (King Tom) Cemetery commemorates 35 casualties from both World Wars whose graves elsewhere in Sierra Leone were deemed unmaintainable.