Welcome to War Graves Week
War Graves Week is our annual celebration of the work of the Commonwealth War Graves Commission at home and around the world. Running from 20 May to 28 May, we've packed the week full of tours, events and other opportunities for you to find out more about what we do and how we do it.
This year we're bringing War Graves Week to more of our sites than ever before!
As well as tours and events at our sites in the UK, we'd like to invite you to join us at our sites in Europe – including France, Belgium, Italy and Malta.
Follow the link to our tours page and discover an event near you.
We invite you to Discover, Learn and Remember about the lives of the 1.7million men and women of the Commonwealth commemorated by the CWGC.
Discover - the work of the CWGC 
Who are the CWGC?
The Commonwealth War Graves Commission's mission is to ensure those who died in service, or as a result of conflict, are commemorated so that they, and the human cost of war, are remembered for ever.
We are a global leader in commemoration. Founded by Royal Charter in 1917, we work on behalf of the Governments of Australia, Canada, India, New Zealand, South Africa and the United Kingdom to commemorate the 1.7 million men and women from the Commonwealth who lost their lives in the two World Wars.
We believe that remembering individuals who have died in conflicts is of universal, perpetual relevance, and that reflecting on their deaths is of continuing and paramount importance for us all.
The cemeteries, memorials, graves, landscapes, and records in our care will be found at 23,000 locations and in more than 150 countries and territories. They are both the practical means of our commemoration of the fallen and vehicles for discovery, inspiration, and engagement.
We believe that each one of those we commemorate were people like us, with their own ambitions, hopes, and dreams. It is our duty and privilege to care for their graves and memorials and through our charitable Foundation, keep their stories alive.
Discover our story, from the founding of the then Imperial War Graves Commission during the turbulent days of the First World War through to our day-to-day work more than 100 years later. The CWGC continues to care for the fallen and will continue to do so in perpetuity.
Discover the world war casualty who lived near you
When we say we can help you discover your local history, we mean it.
Using our postcode search tool, you can discover which of our casualties lived in your area and then discover where in the world they are commemorated.
We commemorate more than 1.7 million men and women, each with their own story and unique experiences – finding the person who live on your street, or in the area you grew up in is the perfect way to start a journey of discover with the CWGC.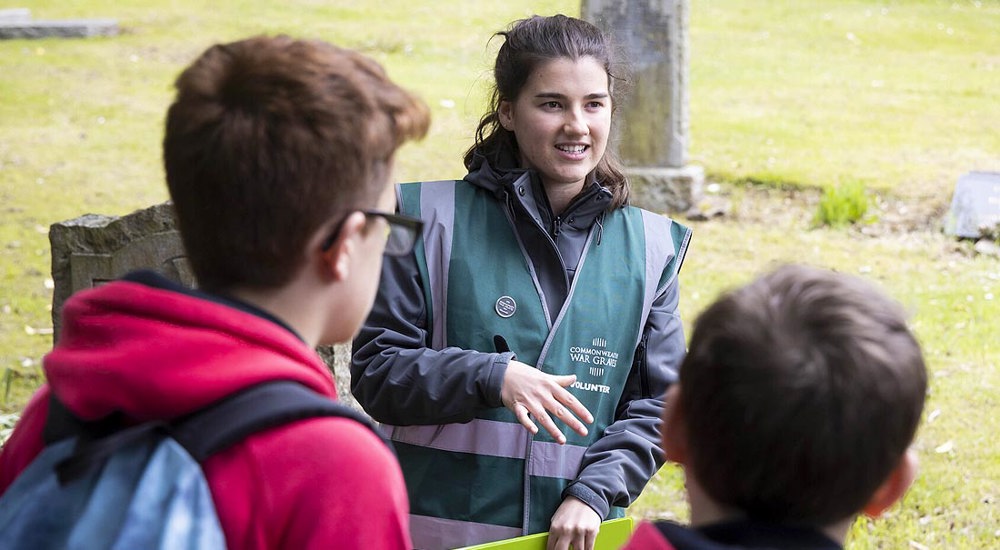 Learn - about the history on your doorstep
Get out and about this War Graves Week
We're hosting a range of talks, tours and events at some of our most interesting cemeteries and memorials. You'll be able to discover more about how the CWGC cares for the casualties of the world wars and hear some of the stories of the men and women commemorated near you.
We've got a wide range of events, but book quickly, as spaces are sure to be snapped up.
War Graves Week tours and events
How to research World War One casualties
Do you have a relative who's world war service you'd like to learn more about? Or have you stumbled across a CWGC headstone in your local cemetery and want to know their story?
We can help you get started with our How to Research guides.
These bitesize guides will help you take the first steps towards finding out more about your casualty. Each guide is tailored towards some of our main casualty groups and are packed full of tips for discovering more about your chosen casualty.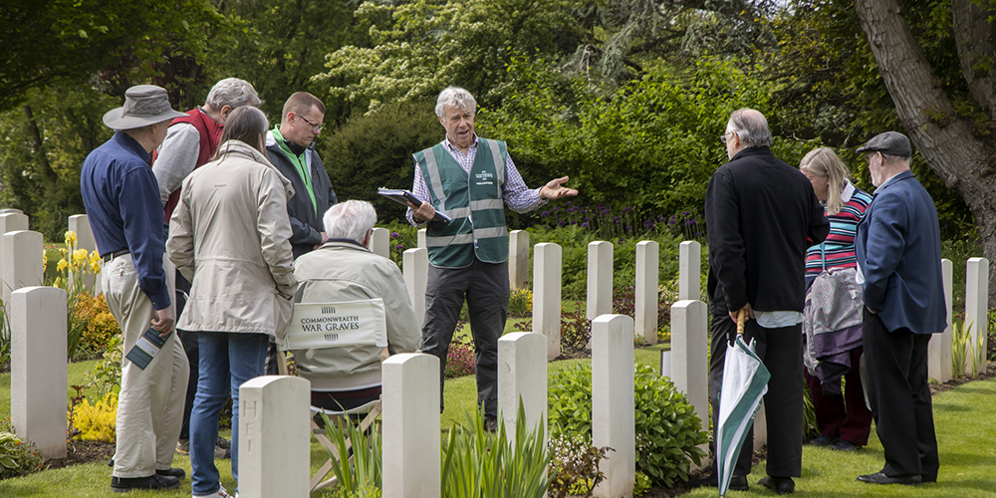 Remember - the 1.7 million Commonwealth war dead
Start exploring our sites
During War Graves Week we take the opportunity to celebrate the work that goes into commemorating 1.7 million Commonwealth casualties around the world – but throughout the rest of the year, we are working hard to ensure that you can visit our picturesque cemeteries and iconic memorials across the world.
If you want to start visiting our sites, we've got a few tools to help you get started.
Got a specific battlefield in mind but want to know which of our sites are nearby, or want to learn more about a certain site before you visit?
Our Find Cemeteries and Memorials tool is the best place to start your journey. Or if you're on the go, you can use the CWGC App to discover locations near you while you're out and about.
Find Cemeteries and Memorials Download the CWGC App
Want a more curated experience? Why not start your journey in the in Great Britain? We've selected some of our most interesting sites from around the country that we'd love for you to go and explore. You'll find historical and visiting information and access to downloadable guides that you can take with you.
Book a CWGC talk or tour
Now that you've piqued your interest, you're ready to dive into the ins and outs of our work.
We offer a range of talks and tours designed for groups, lead by our Public Engagement Coordinators and team of volunteers.
Our tours can be held at a cemetery near you, and will focus on some of the stories of the men and women commemorated in your area, as well as the work of the CWGC at home and around the world. We'd be delighted to welcome you to our cemeteries and memorials.
Or we can come to you. Book a talk and one of our volunteer speakers will visit you at a time and date of your choosing to deliver one of a range of talks about our work, gardening, architecture, conservation and more.
Join the Foundation
The Commonwealth War Graves Foundation is the CWGC's charitable arm and works to spread the word about the work of the Commission and tell the stories of the men and women we commemorate.
The Foundation is at the forefront of several projects that help spread the work, including our Eyes On, Hands On project, volunteer speakers and our Guides program in France and Belgium.
Their work is only made possible through the generous contributions of our Foundation supporters who also get access to a range of exclusive content – including our free magazine, calendar, and impact reports, but also early access to a range of events throughout the year.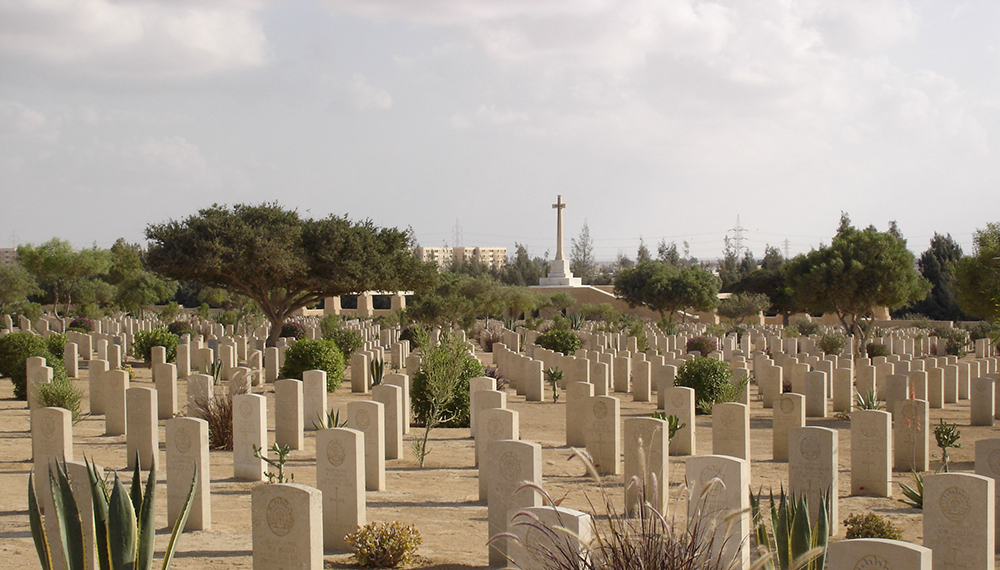 Keep up to date, sign up to the CWGC Newsletter
Sign up to our mailing list to get regular updates on our work around the world.
Newsletter sign up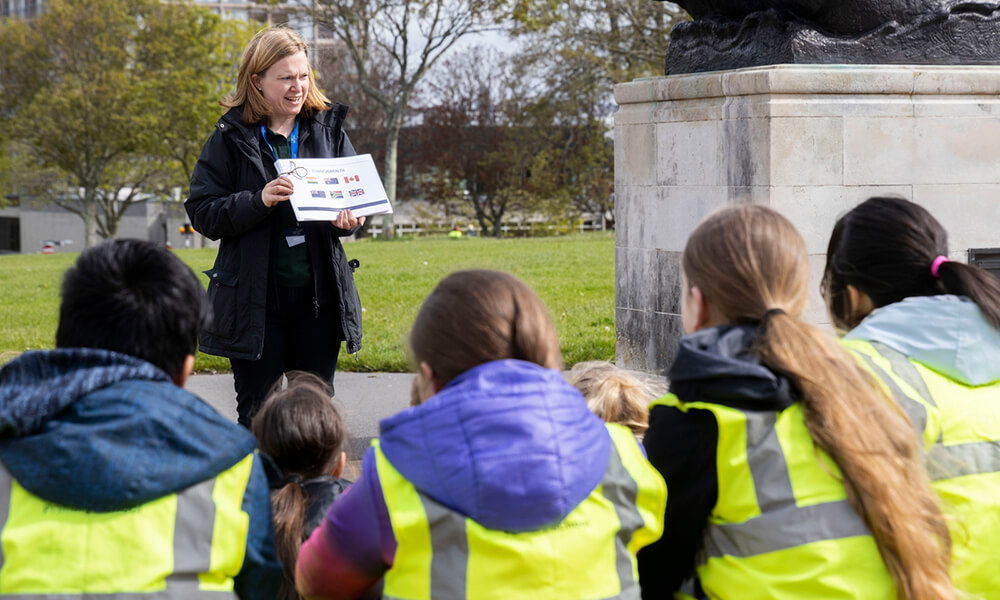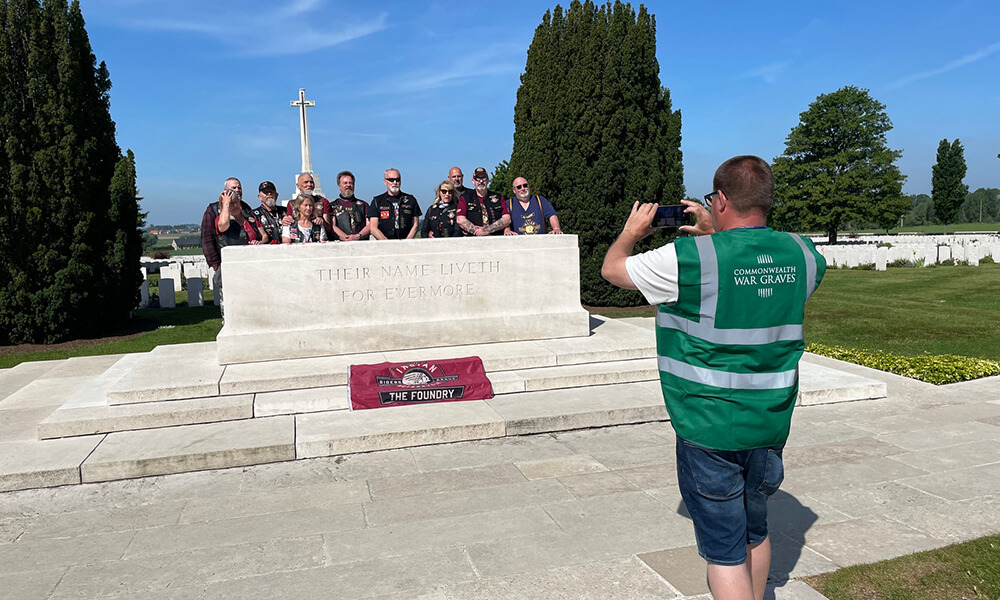 Join us at War Graves Week
Find out what War Graves Week events are happening near you! We've got talks, tours and other events happening throughout the week. 
Events, tours and talks