18 November 2022
Taking the field: Footballers who died in the World Wars
With England and Wales about to commence their 2022 FIFA World Cup campaigns, we remember the Commonwealth international footballers that gave their lives in the World Wars.
Footballers at war
International footballers serving in the ranks
On the face of it, footballers have many attributes that would make them ideal soldiers:
They're fit, active young men in the prime of their lives
They already know about the value of teamwork in competitive environments and the bonds it can forge
They have a cutting edge that makes them want to win and succeed at all costs
Indeed, many thousands of professional players would enlist during the World Wars, joining many other athletes serving in wartime.
During both conflicts, football was used by enlisted men for some much-needed recreation.
Regiments, battalions, companies, ships, and squadrons all formed their own sides for friendly competition to help blow off some steam after their frontline service.
Then there is the now legendary Christmas Truce football match. Yuletide 1914 brought a miraculous day of peace and reconciliation between Imperial German and British sides fighting in Northern France.
A letter published in the 1st of January 1915 edition of The Times from a Royal Medical Corps officer suggests his regiment played against Saxons, resulting in a (typical) 3-2 victory for the Germans.
While there is little corroborating evidence to suggest the event happened from the British side, Johannes Niemann, a German lieutenant in the 133rd Infantry Regiment, wrote of the game.
Many soldiers wrote of attempts to arrange a match between the two warring powers too.
It's more likely a series of impromptu kickabouts were organised up and down the line as the guns fell silent on Christmas Day.
Whatever the truth, the stories go to show the power of football and sport in bringing people together in the most extraordinary circumstances.
The Great War and the birth of the Football Battalions
Image: A recruitment poster for the Football Battalions (Wikimedia Commons)
Between 1915-1919, professional football was cancelled. Exhibition matches and tournaments would continue to take place, but manpower needs meant every available man was expected to take part in the war effort.
Professional clubs, whose livelihood at that point relied almost entirely on match day takings, were against having their talents serve and games suspended. Public opinion began to turn against football clubs.
There was even a suggestion that King George V should remove his patronage from the Football Association.
However, politician William Joynson-Hicks organised the 17th (Service) Battalion as part of the Middlesex Regiment in December 1914. The Football Battalion was born with England international Frank Buckley being the first professional to enlist.
A second Football Battalion, the 23rd (Service) Battalion was formed in 1915 with former Tottenham Hotspur player Alan Haig-Brown assigned as its commanding officer in 1916.
Entire teams signed up. Leyton Orient – then Clapham Orient – signed up to fight as one, as did the Heart of Midlothian squad from Edinburgh, who served with the 16th Royal Scots (McCrae's Battalion).
At the breakout of the Great War, there were around 5,000 professional footballers in England and Wales. By the war's end, 2,000 or so signed up to serve. Approximately 300 would lose their lives during the conflict.
Speaking of the professional footballers who served in his unit, the 17th (Service) Battalion's Commander Colonel H.T. Fenwick said:
"I knew nothing of professional footballers when I took over this Battalion.
I have learnt to value them. I would go anywhere with such men. Their esprit de corps was amazing.
This feeling was mainly due to football - the link of fellowship which bound them together.
Football has a wonderful grip on these men and on the Army generally."
Football during World War Two
Competitive football was cancelled in the UK once again during World War Two. Professional footballers all had their contracts terminated for the duration of the war.
Even so, footballers still signed up to serve in large numbers relative to their profession's small number. According to Picture Post magazine, 629 professionals had joined the armed forces, the majority of whom served in the British army, in 1940 alone.
Some of those considered the best British footballers of all time saw service. The "Wizard of the Dribble" Sir Stanley Matthews and Preston North End legend Sir Tom Finney served in the Royal Air Force and British Army respectively, for instance.
Competitions, such as the Wartime League and Wartime Cup, and exhibition matches were organised. For example, England played 29 internationals against Wales and Scotland between 1939-1945.
Football played the same role as it had in the Great War: a way for service personnel to blow off steam in their down time, and relief for civilians with the many exhibition events taking place up and down the country.
Stories of Fallen Footballers
James Williams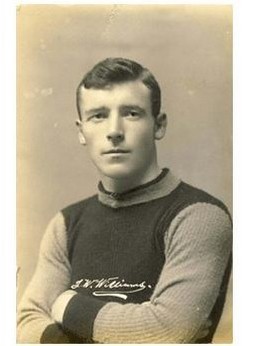 Image: James "Ginger" Williams in his Crystal Palace kit (Wikimedia Commons)
Upon the sombre limestone panels of the Arras Memorial, you'll find over 34,000 soldiers whose bodies were never recovered. These men died in and around the crucial French city where the Memorial sits, Arras, which sits upon a network of deep, winding tunnels.
If you're a football aficionado with a familiarity with the game's early days, you might recognise the name John Williams, better known as James "Ginger" Williams.
James was like many who donned the red shirt of Wales and took to the field: a skilled yet fairly unremarkable player, dwarfed by the talents of some of his international colleagues. However, the stocky forward was not without spirit, hard work or an eye for goal.
During his time with Crystal Palace between 1909-1914, he scored 58 goals in 142 appearances. While Palace was playing in the lower leagues at the time, James' tally is still a very impressive return. Perhaps James' greatest on-field moment came against Southend United in September 1909 when the diminutive Welshman scored five times.
James' fighting spirit and wholehearted approach to the game earned him the nickname "The Palace Terrier". It also earned him two calls up to the Wales national team, where he played alongside such luminaries as Manchester United's Billy Meredith.
James had started a new chapter in his playing career when he joined Millwall in 1914. By then, war had come calling.
James left his wife Sarah and young son Kenneth behind to join the 17th (Service) Battalion, aka the Football Battalion, to serve in Northern France in 1915.
By 1916, James had transferred to the Royal Engineers, taking on the dangerous duties as a sapper. Ultimately, his role with the Royal Engineers claimed his life when he was killed in a mine explosion in June 1916.
James' death was widely reported, including a report in the New York Times. As well as his commemoration on the panels of the Arras Memorial, James Williams is also remembered at Millwall's home ground The Den.
Jimmy Speirs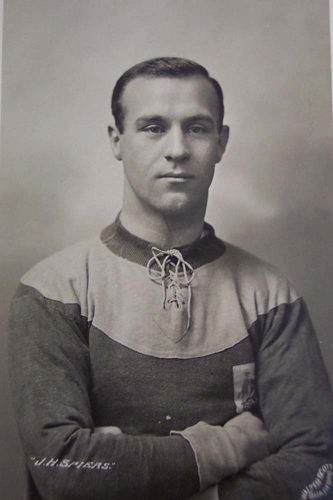 Image: Scotland international, FA Cup winner and Military Medal recipient Jimmy Speirs (Wikimedia Commons)
Across 226 appearances, Jimmy Speirs scored 96 career goals.
Born in Govan, Glasgow, the Scottish forward began showing signs of early promise playing in the blackened ash pits of Govanhill. Eventually, he would turn pro and play for one of Scotland's biggest clubs: Glasgow Rangers.
Despite finding the net 24 times in 53 games, including a hattrick in a 7-1 drubbing of Arthurlie in the Scottish Cup, Rangers were in a trophy drought during Jimmy's playing days.
Even without earning any silverware, Jimmy's performances at Rangers earned him a Scotland cap in a 2-1 win over Wales in March 1908.
Jimmy joined fellow Scottish club Clyde in 1908 before moving south to play for Bradford in 1909.
During his three-year spell with the Yorkshire club, Jimmy scored 29 goals in 86 appearances. His greatest footballing triumph came with Bradford when the team bested Newcastle United in the 1911 FA Cup final replay. Jimmy headed home the winning goal himself.
Jimmy Speirs part in Bradford's FA Cup triumph made him a legend. Over 100,000 Bradfordians flocked to the victory parade, seeing Jiimmy and his beaming smile as he triumphantly held the trophy aloft.
Jimmy left Bradford in 1912 to play out the final three years of his footballing career with Leeds City. He left Leeds with a further 32 goals.
With football suspended, Jimmy responded to the call for volunteers and joined up with the Queen's Own Cameron Highlanders in May 1915. Conscription was still a year away. If he'd have waited, Jimmy would have been exempt from service as he was married with two young children.
This wasn't the case and Jimmy was soon serving with his regiment's 3rd Battalion. Casualties overseas prompted Jimmy's promotion to Lance Corporal during training.
Jimmy was posted overseas in May 1916. He would soon establish himself as a battlefield leader, mirroring his footballing heroics and leadership abilities. He reached Corporal soon after he reached France but took an elbow wound later in 1916.
1917. The Second Battle of Arras. Jimmy's exploits during this chaotic and costly campaign resulted in his winning the Military Medal for bravery. The citation detailing how Jimmy won this honour is unfortunately lost, but he was promoted to Sergeant soon after.
Unfortunately, the gallant Scot would not survive the war. Caught amid the blood, mud and wire of the Third Battle of Ypres at Passchendaele, a bullet struck Jimmy in the thigh. He managed to find shelter in a shell crater and was given medical assistance, but his regiment was forced to move on.
Jimmy was never seen alive again.
Sergeant Jimmy Speirs, decorated soldier and one of Bradford City's most beloved players, is buried in Dochy Farm New British Cemetery in Belgium.
Donald Simpson Bell VC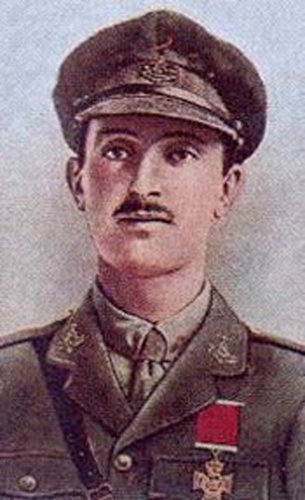 Image: A cigarette card of Donald Simpson Bell in his military uniform (Wikimedia Commons)
Harrogate-born Donald Simpson Bell holds two major distinctions that separate him from other professional footballers that served in the Great War.
Firstly, the former Newcastle United, Crystal Palace and Bradford (Park Avenue) FC player was the first professional player to join the British Army, ahead of the formation of the Football Battalions.
Donald enlisted in the West Yorkshire Regiment in early 1915. He was quickly promoted to Lance Corporal and eventually commissioned as a Second Lieutenant in the Green Howards (Alexandra, Princess of Wales' Own Yorkshire Regiment).
While on leave in June 1916, Donald married Rhoda Margaret, but any thoughts of long-term marital bliss were shattered for the couple. Donald was called back to the Front ahead of the ill-fated, bloody Battle of the Somme.
Initially, the Green Howards 9th Battalion were held in reserve for the titanic clash to come but were ordered to the front on 5th July 1916.
During the raging fighting, Donald earned his second important distinction: The Victoria Cross, Britain's highest military honour.
Donald's Victoria Cross citation reads:
"For most conspicuous bravery. During an attack a very heavy enfilade fire was opened on the attacking company by a hostile machine gun. 2nd Lt.
"Bell immediately, and on his own initiative, crept up a communication trench and then, followed by Corpl. Colwill and Pte. Batey, rushed across the open under very heavy fire and attacked the machine gun, shooting the firer with his revolver, and destroying gun and personnel with bombs.
"This very brave act saved many lives and ensured the success of the attack. Five days later this very gallant officer lost his life performing a very similar act of bravery."
According to a letter Donald wrote to his parents, his actions were just a fluke. Even if he was being modest, there's not doubt Donald's actions helped save the lives of his men.
Tragedy would strike a mere five days after Donald won his VC. A German sniper's bullet hit him in the head while he was leading an attack on a machine gun nest during an action near Contalmaison.
Today, Donald Simpson Bell is buried at Gordon Dump Cemetery. So far, he remains the only English professional footballer to earn the Victoria Cross.
Donald's VC was formerly displayed in the Green Howards Museum in Richmond, Yorkshire. In 2010, the Professional Footballers Association purchased the medal at auction for a reported £210,000. It now sits proudly on display in Manchester's National Football Museum.
Learn more stories of the fallen with the Commonwealth War Graves Commission
With our search tools, you can discover more stories of the Commonwealth's war dead, who they are, and where they are commemorated.
Find War Dead is your solution for discovering casualties from around the world. Search by name, regiment, location, and many more fields, to discover these men and women.
Want to visit one of our sites or want to learn more about their historical context? Use our Find Cemeteries and Memorials tool to learn more about CWGC locations across the globe.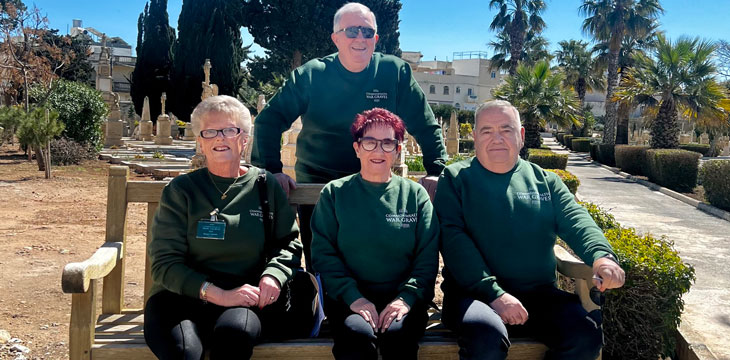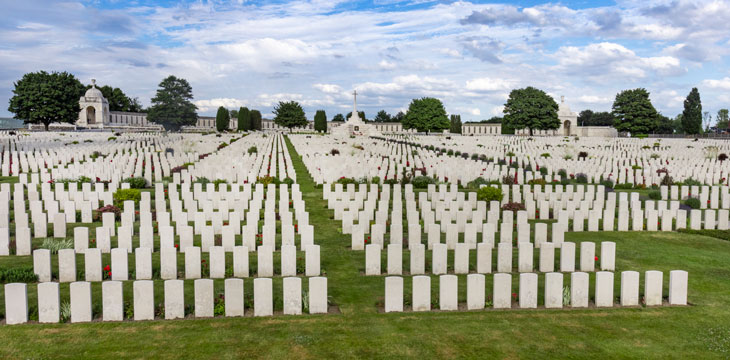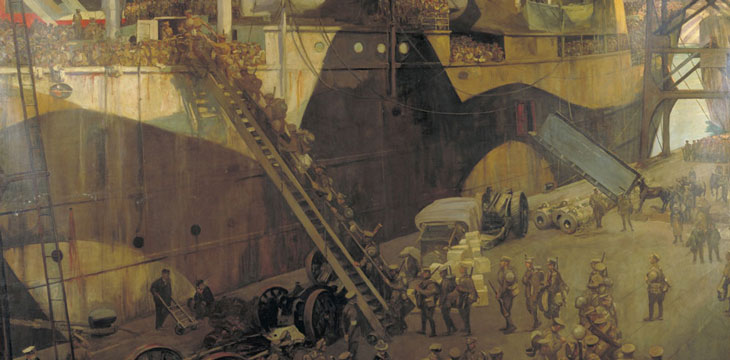 Read more blogs