20 September 2022
Thiepval at 90: Sustainable solutions for a spectacular restoration
The iconic Thiepval Memorial has been undergoing a full restoration over the past years – and we've been going green to ensure all activity meets our sustainability targets. Here's how.
Restoring the Thiepval Memorial
What is the Thiepval Memorial?
The Thiepval Memorial to the Missing of the Somme is a memorial to those who fell on Somme battlefields between 1915 and 1918 but have no known grave.
World War One battlefields and combat often meant that the recovery of bodies was not always possible. Men may have been killed by artillery, drowned in sucking mud, or generally never had their bodies found.
This is reflected in the memorial's epitaph:
Here are recorded

names of officers

and men of the

British Armies who fell

on the Somme battlefields

July 1915 February 1918

but to whom

the fortune of war

denied the known

and honoured burial

given to their

comrades in death.
The memorial was designed by Sir Edwin Lutyens and was unveiled in August 1932 at a ceremony featuring the Prince of Wales and then President of France Albert Lebrun.
Over 72,000 British and Commonwealth soldiers, including officers and enlisted men, are commemorated on the numerous stone panels that adorn each of Thiepval's piers.
Why did Thiepval require restoration?
For 90 years, the Thiepval Memorial has stood sentinel over the battlefields of the Somme. Its towering red brick piers and Portland stone facades can be seen in all directions for miles around.
90 years is a long time to endure the elements. Through the effects of weather, and general wear and tear sustained over the decades, Thiepval has unfortunately become damaged; its panels and some names worn away.
The memorial is built around a concrete core. While this remained strong, its outer red brick skin was beginning to separate from the core, causing gaps where moisture could seep in and damage the masonry.
An internal water drainage system, composed of a complex network of pipes, was also in dire need of an upgrade.
It's our duty to ensure the names and memories of the Commonwealth's war dead are kept in top condition as a fitting tribute to their sacrifice. As such, it was decided that Thiepval needed a comprehensive restoration.
We launched the first phase of restorative works in 2016 as part of a multi-year project to restore this exemplary World War One memorial to its former glory.
Works on the second phase of restoration were kicked off in March 2021, coming to a close in July 2022.
The memorial is back to its best, continuing to stand proudly in commemoration to all those fell during the Battle of the Somme but have no known grave.
The Commission's commitment to sustainability
The Commonwealth War Graves Commission is committed to achieving carbon neutral status by 2050.
That means we've started to shift the ways we do things. From changing how we treat our headstones to our conservation and horticultural efforts, to using greener, eco-friendly restoration methods as much as possible.
Thiepval is the ideal case study of how the Commission is embracing new technologies and methods to lower our environmental impact.
We want our memorials and cemeteries to stand in perpetuity so the names and stories of those we commemorate are never forgotten. Moving to more sustainable working practices will help us achieve this goal.
Thiepval's sustainable restoration
So, how did our team go about tackling restoring our largest memorial in the world with our sustainability targets in mind?
Brickwork and panels
Thiepval is famous for its red brick construction matched to its Portland stone panels. Over time, the memorial's masonry had become damaged by rain and general exposure to the elements.
Replacing or upgrading damaged panels was needed, with the project team taking a thorough examination of the brickwork and panels to identify the damage.
Sometimes whole name listing panels would need to be removed and replaced. Watch the video below for how stonemason Frank Michel went about this:
Stones and panels were only replaced if deemed too damaged to save.
The amount of bricks and stone replaced turned out to be actually very small. This meant we were reducing our carbon impact by reducing the amount of new masonry required. Emissions created from the quarrying of the stone and its transportation and installation were greatly reduced or removed entirely in some cases.
Repairing brickwork and masonry also helped us cut down our restoration carbon footprint. In fact, over 1,000 stone repairs were conducted during phase two. Previously, we may have just replaced damaged pieces wholesale.
Across Thiepval, coping stones sit atop the red brick of its monumental façade. Coping stones that had been dismantled because of excessive damage were removed and used to repair other locations on the memorial where possible. Why quarry and transport new stone when you can repurpose existing masonry?
The internal drainage and water management system's overhaul should also reduce the cost of maintenance in the years ahead by better protecting the stone.
We employed a selective sorting and waste management strategy with our on-site contractors. Different containers were used to separate out different waste types. Each container was then placed with specialist companies to ensure the waste was either recycled or disposed of in a responsible manner.
Now the 72,000 or so names of the missing of the Somme can be clearly seen and read once again on Thiepval's many panels.
Lighting & power
The names of those we commemorate on the Thiepval Memorial, and the memorial itself, are illuminated by external lighting.
To reduce electricity consumption, we have switched to LED lighting. LED bulbs provide clear, crisp, bright light at a fraction of the energy cost of traditional incandescent or halogen bulbs.
The lifespan of LED lighting is also substantially longer than their counterparts. If properly maintained, an LED bulb can last for up to 50,000 hours against 1,000 to 2,000 hours of incandescent or halogen units. Longer life means we'll have to replace fewer bulbs moving forward, once again helping us reduce our environmental impact.
Contractors were asked to use battery-powered machines where possible. We provided electricity on-site, reducing the need for diesel-powered generators.
Interpretive history aspects of the site, such as information panels detailing some of the stories of the people commemorated at Thiepval, are run by solar power. Each of the information panels contains a battery hooked up to strategically placed solar panels. Our information panels are thus self-sufficient, further reducing the site's reliance on fossil fuel-generated power.
Project management
Thiepval's sustainable restoration extended to how we handle our meetings.
Our head office is based in Maidenhead in the United Kingdom. Thiepval stands in the Somme Region of Northern France. In the past, we may have sent teams over via ferry, plane, or train to speak face to face.
For this phase of the restoration, preparation meetings were held via Microsoft Teams, eliminating much of the non-essential travel, further reducing the project's carbon emissions.
Cutting down on the amount of paper used was a priority too. Our contractors used Fieldwire construction site management software for their project requirements, helping us reduce to the volume of printed pages needed to lay out instructions and other previously printed requirements.
A greener future for the Commission
The techniques and solutions we employed at Thiepval are sort of acting like a sustainability roadmap we can apply to restoration works at our other memorials and cemeteries.
We'll be constantly exploring and evolving our sustainability strategy as we move forward to protect our sites and shared heritage for future generations to experience.
Please visit our Sustainability page to learn more about our green pledge and how we plan on reaching net zero greenhouse gas emissions.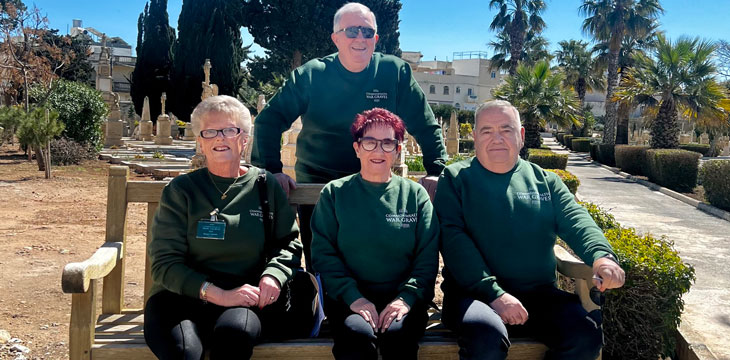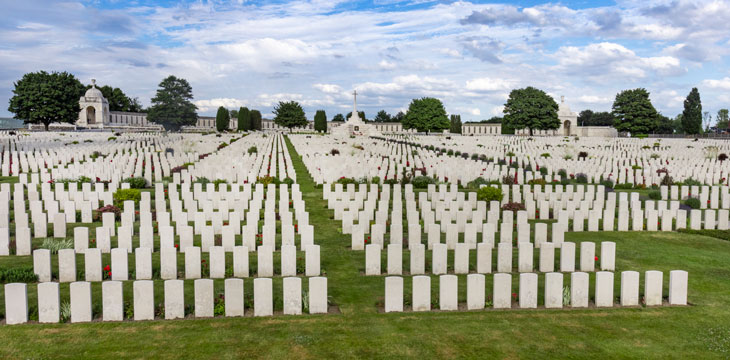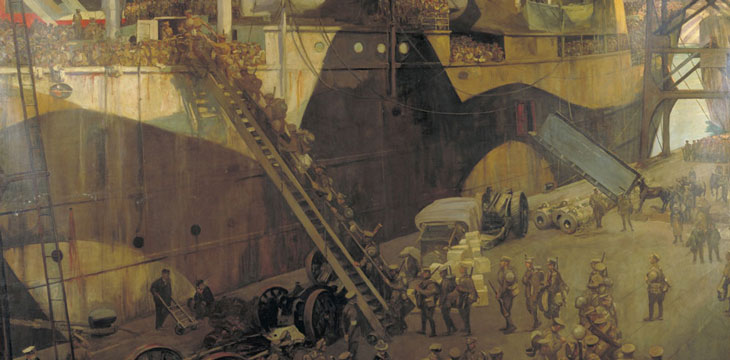 Read more blogs