13 November 2020
Belgian PM makes private Remembrance Day visit to Tyne Cot Cemetery
On a Remembrance Day like no other, Belgian Prime Minister Alexander De Croo made a private visit to CWGC's Tyne Cot Cemetery to pay his respects to the fallen of the world wars. Accompanied by his wife and children, the Prime Minister was given a guided tour of the cemetery by Geert Bekaert, CWGC Area Director WEA Central.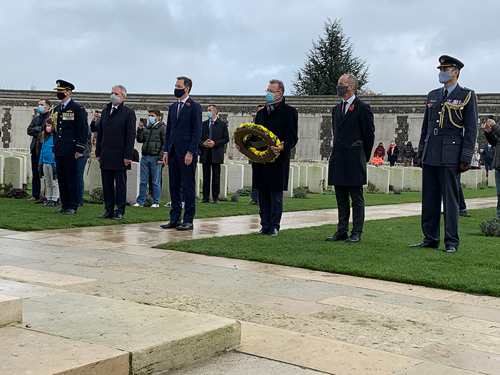 Following a visit to observe the Last Post Ceremony at CWGC's Menin Gate Memorial, Ypres, the Prime Minister travelled to Tyne Cot Cemetery, which holds almost 12,000 casualties of some of the bloodiest fighting of the First World War.
The Prime Minister and his family were escorted by Geert Bekaert who provided a guided tour of the cemetery, explaining the history of the Commission and some of those buried there – including the personal story of Richard Verhaeghe, a Fleming who emigrated to Canada in the early 1900s. Verhaeghe enlisted in the Canadian Army in 1915 and fought on the Western Front where he was awarded a Military Medal, before dying in the Third Battle of Ypres.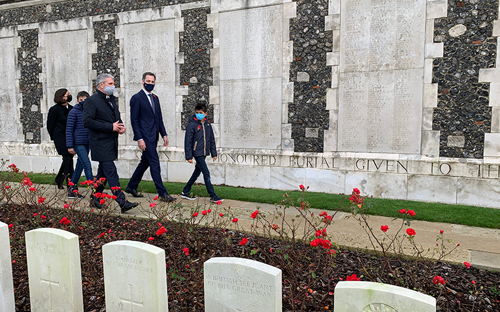 Ambassadors from the UK and Australia, who happened to be visiting the cemetery at the same time, invited the Prime Minister to participate as they laid wreaths at the cemetery's Stone of Remembrance. The representatives of the three nations then stood in silence in a shared and private moment of remembrance.
The Prime Minister said: "It is important that we remember the many men from all corners of the world who came here to fight and never came home.  Even in these difficult times, we must not and will not forget this. My children are now of an age when they can begin to understand this."